by
posted on April 27, 2016
Support NRA American Rifleman
DONATE
Trijicon's core competence is building battle-rifle sights like the ACOG, whose value to U.S. soldiers and Marines is well-documented. To excel in combat, those mil-spec Trijicons are purpose-built—and perhaps overbuilt—for unfailing durability. The same is now true of the Michigan-based company's new AccuPower scopes, a four-piece line intended to handle a broad range of shooting applications and to have broad appeal thanks to mid-level pricing.  
The rugged construction is immediately apparent. There are no plastic parts on an AccuPower, and apart from the lenses, externally it is a uniform, precision-machined billet of aircraft-grade hard-anodized aluminum rendered in the bulbous lines of high-end European optics. It's a unit that feels a bit heavy for its size. The tight-fitting turret caps shield adjustment dials equipped with click stops as deliberate as those on a high-grade socket wrench. The magnification ring is equally snug and sure-handed; there's no slop.
In recent months we have function- and field-tested various AccuPower models, and found they compare quite favorably to Trijicon's earlier, costlier, AccuPoint scopes. The major functional change is in how the reticles work. Whereas the AccuPoint—like other mainstay Trijicon optics—relies on tritium plus fiber optics to power its illuminated reticles, the AccuPower contains a CR2032 battery, housed within the illumination adjustment dial, for that purpose. The reticles, offered in four different styles, are in the second focal plane (non-magnifying) and can be had in red or green LED, delivered in 11 brightness increments with a convenient "off" setting between each step. The turret adjustment click values are the familiar 1/4-minute-of-angle (m.o.a.) or 0.1 mils, depending on the selected reticle. Battery life at the maximum setting is rated at 31 hours.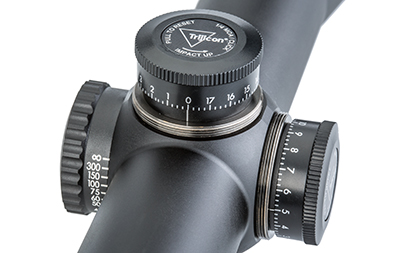 Imaging performance from the AccuPowers also proved to be more than satisfactory. The most versatile of the lot, the 4-16X 50 mm, delivered evenly sharp, clear and color-true images well after dusk, with only minimal fringing in transitional lighting. We found the AccuPower to compare favorably, with quite similar optical performance, to the AccuPoint 5-20X 50 mm. With both scopes set at 16X, headlines like the one on this page were clearly legible out to 105 yds. (in full daylight), and from 100 yds., black-and-white soccer ball sections could be distinguished until 45 minutes after sunset. The AccuPower's field of view is good, delivering 25.8 to 6.4 ft. at 100 yds.—in the middle of the pack of competitive models.
Our test scope was an early-production example equipped with a standard duplex crosshair, shown nearby. We used it in a rifle-test project, firing more than 200 rounds of .308 Win., during which the fine illuminated crosshairs were ideal for shooting bench groups, and there was no indication of point-of-impact shift. The 1/4-minute/0.1 mil clicks at 100 yds. were as stated, though when making gross elevation changes we noticed a slight left-hand drift, on the order of 1/2 m.o.a. over the span of 10". The total adjustment range is 80 m.o.a./23.7 mils. Current-production 4-16X 50 mms are also available with two different ballistic-compensating reticles, the MOA Crosshair and the MIL-Square Crosshair, completing an assortment geared to long-range precision shooting, but which will also serve most big-game hunting purposes.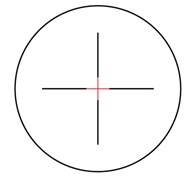 The scope's 30-mm tube, along with its lengthy 50-mm objective bell and eyebox, make it a rather substantial unit. We had no trouble mounting it on a short-action rifle, but, because it offers relatively little free mounting area, that may not be the case on magnums, and could necessitate the use of extension rings. At 23.3 ozs., this scope is comparatively heavy, ranging from 2 to 6 ozs. more than many corresponding models, though not the heaviest in its class. That could be a concern to owners operating in rough terrain or at high altitude, however that bulk, reflective of the scope's rock-solid construction, can actually contribute to a steadier hold when shooting. 
Our final test involved freezing the scope and then dunking it in warm water. There were no leaks and no internal fogging, and throughout our evaluation, its non-reflective, matte finish proved notably durable, as one would hope from a design and a brand that emphasizes durability.
Owners will appreciate the value of an optic that transmits bright, clear images in all practical shooting conditions, and which, more importantly, promises the level of dependability and ruggedness that has made Trijicon a preferred supplier to the most demanding users on the planet.