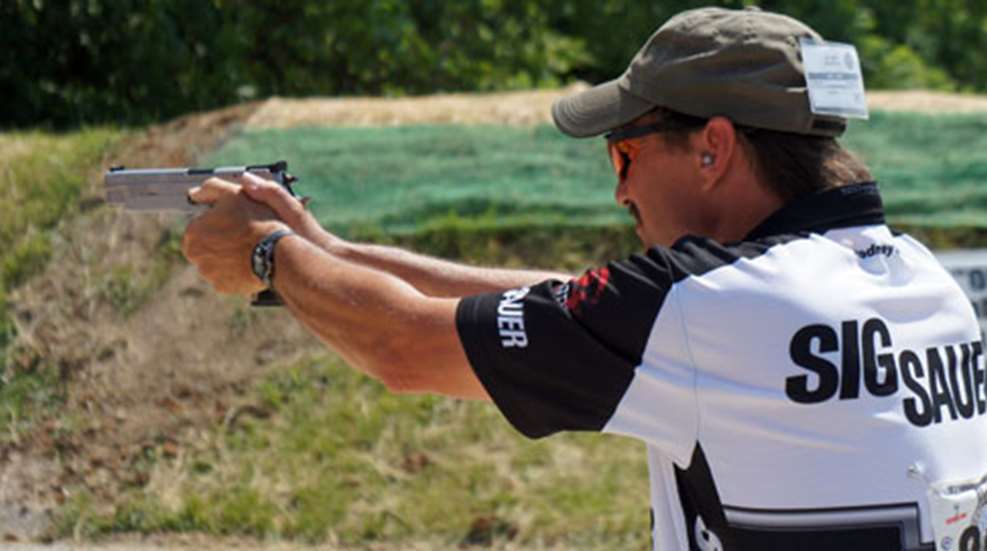 7/3/2013
NRA Action Pistol is a challenging sport. Its national championship, the Midway USA & NRA Bianchi Cup, is considered by many professional shooters to be one of the toughest events on the calendar each year due to the extreme accuracy required to win. I've been shooting the Cup for five years now, and over that time have collected some advice from the top shooters about the Bianchi Cup.
Accuracy
"Shoot the match with the same quality of sight picture regardless of the distance to the target." —Dave Sevigny, 2009 Production Champion.
Dave means that unlike other matches where your sight picture will vary based on the distance to the target, at Bianchi Cup it's important to have a crisp front sight focus picture at all times when you're shooting an iron sight gun. Letting your focus go hazy will put rounds out of the 10 ring and into the eight ring, or worse yet the five ring of the target. Keep that front sight crystal clear and you're on the path to success.
Time
"Six seconds is all the time in the world." – Bruce Piatt, multiple time Bianchi Cup champion.
At the new shooter's introduction in 2009, Bruce said that to a room of new shooters, myself included. I wrote it down and have remembered it since, because it's a constant reminder to slow down. At the Bianchi Cup, all the events are fired on a par time, meaning you have a fixed amount of time to fire the number of shots required by the string. Invariably, it's plenty of time. Too many new shooters rush and fire all their shots, instead of just relaxing, taking their time and only firing when the sights are where they should be.
Nerves
"Just relax and shoot 'em in the middle." – Julie Golob, 2012 Midway USA & NRA Bianchi Cup Women's Champion.
It's a big match! A national championship, with all the pageantry you'd expect from a match this size. There are social events, a huge awards banquet with a dress code, and just about every major firearm media outlet shows up to cover the match. It is only natural that you would be a little nervous.
But don't sweat it. It's easy to get wrapped up in the competitive spirit, but that just leads to the jitters. Don't worry about the jitters, just relax. After all, this is supposed to be fun, right?
That's really the best part about Bianchi Cup—it's fun. Yes, you get to challenge your shooting skills on a great match, but you also get to spend four days surrounded by some of the best people in the firearms community. The people who shoot the Bianchi Cup each year are close knit—everyone knows everyone, and yet it's extremely welcoming of new shooters.