by
posted on May 21, 2013
Support NRA American Rifleman
DONATE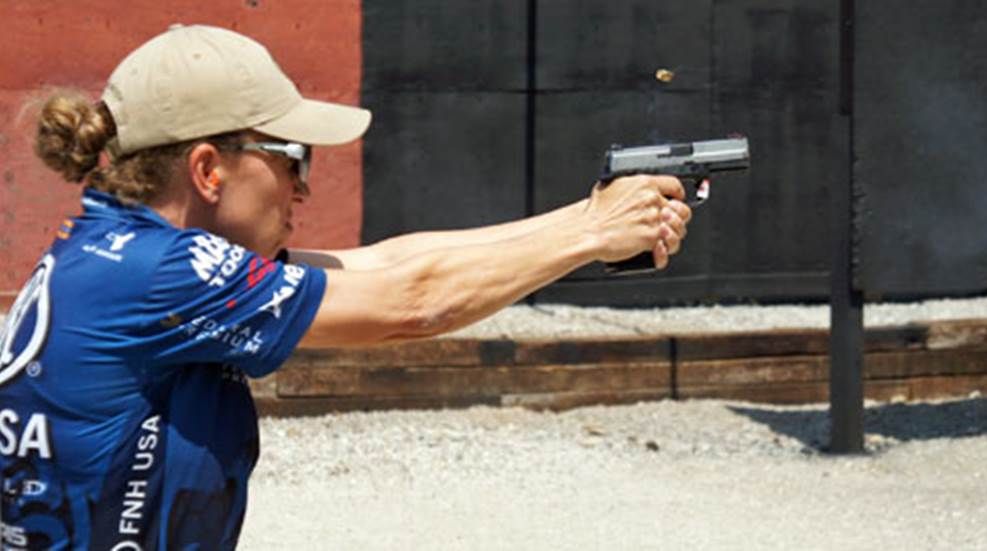 5/21/2013
The NRA Action Pistol National Championship, better known as Bianchi Cup, is held every year on the third week of May in Columbia, Mo. One of the oldest matches in the shooting sports, it has a prestigious history dating back more than 30 years, with a list of champions that reads like a "who's who" of action shooting sports greats.
Because of the history, many shooters think that getting into the Cup is an expensive proposition, with the cost of building a gun in the thousands of dollars. While that may be true for the Metallic and Open Divisions, since 2009 Bianchi Cup has featured a Production Division, and building a competitive gun for the Production division is simple and straightforward.
Step 1: Check your existing collection
If you're already a competitor in IDPA or USPSA, chances are you have a gun for Bianchi Cup Production division already. Even if you're not into either of those sports, chances are still good you have a gun that's good to go for Production. So, check your gun safe. If you have a Glock, Smith & Wesson M&P, SIG SAUER P226, Beretta 92FS or a Springfield Armory XD (m), you're in good shape. In fact, if you have pretty much any modern DA/SA or striker-fired handgun, odds are that you have a gun that's legal for Production division. Ideally, the gun should be chambered in 9 mm-factory 9 mm ammo will make the necessary power requirements for the Cup and allow you to maximize your money/training budget.
Step 2: Tune it up
You are allowed to make minor modifications to your Bianchi Cup Production gun. The recommended modifications are target style sights, an aftermarket barrel and an action job. In Production, your trigger pull weight must be 3.5 pounds or greater, so make sure when you're tuning the action (or having it tuned) that you keep that pull weight around 3.75 pounds.
The next important part is fitting the barrel. If you're shooting a Glock, there are aftermarket barrels available from KKM, Storm Lake, Lone Wolf and several other manufacturers. Lone Wolf and KKM have the best reputation for accuracy, generally speaking. The KKM barrel will require fitting in a Glock, while many of the Lone Wolf barrels are completely drop-in.
Aftermarket barrels are also available for the other "big two" striker-fired pistols, Springfield XD (m) and M&Ps. A good barrel can usually be had for between $150 and $300 depending on the manufacturer.
Good sights are especially important. According to the Bianchi Cup rules, you can use sights that fit the existing sight dovetail cut on your gun. Additionally, if you gun comes with adjustable sights, like a Glock 34 or Springfield XD (m) 5.25, you may replace the factory adjustable sights with aftermarket adjustable sights. For Glocks, the Dawson Precision sight is very popular. Popular fixed sight choices are Warren Tactical, Sevigny sights, 10-8 Performance or Dawson Precision.
Step 3: Test it
Once your gun is tuned, you'll need to hit the range to test it. Remember, accuracy is everything, so you'll want a gun that shoots less than 2 inch groups at 25 yards using your match ammo of choice. Make sure to test with the ammo you plan to use at the Cup so you know how well it functions and what your groups look like. The minimum acceptable accuracy for a Cup Production gun is less than 2-inch groups at 25 yards off a sandbag, a really good gun will be around 1 inch.
Now that your gun is built, it's time to head to Bianchi Cup and shoot! Columbia will be jumping starting May 22, 2013, as competitors from around the world come to shoot one of the most prestigious matches in the shooting sports.