by
posted on May 19, 2015
Support NRA American Rifleman
DONATE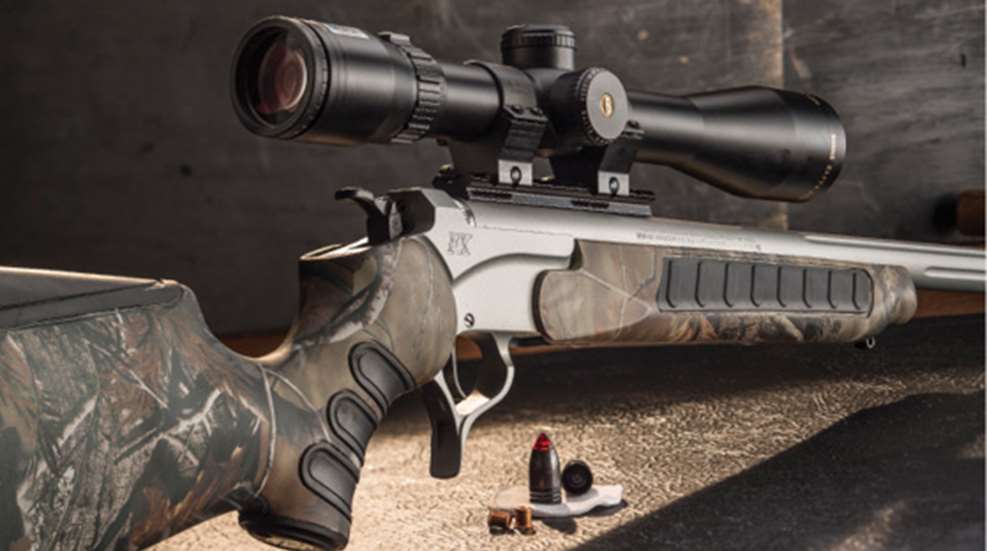 Given its unequaled adaptability and, thus, versatility, the single-shot, break-action Thompson/Center Arms Encore, which was introduced in 1997, was bound to become the most popular switch-barrel firearm ever—even eclipsing its predecessor, the Contender. What distinguished the Encore from the Contender was that, due to the former's "beefier" frame, it could chamber high-pressure, hard-hitting cartridges favored by hunters, such as the .300 Win. Mag. and .375 H&H Mag. Combined with a seemingly limitless array of barrel lengths and caliber options, including wildcats and rimfires, as well as smoothbore and rifled shotgun and muzzleloader barrels, the stage was set for success.

Interestingly, despite the aforementioned inherent flexibility, some hunters opt for an additional Encore in lieu of swapping barrels, preferring to keep the rifle as purchased. Moreover, in states where rifles are prohibited but muzzleloaders are permitted for deer hunting, such as Iowa and Illinois, there's little need—outside of a smoothbore or rifled shotgun barrel—to have barrel interchangeability; most of these Midwest hunters keep their Encores configured as muzzleloaders. Noting that trend, T/C announced the addition of the fixed-barrel Pro Hunter FX 209X50 Magnum muzzleloader to the company's muzzleloader lines.

Unlike its switch-barrel Encore Pro Hunter XT counterpart, the Pro Hunter FX 209X50 Magnum is a dedicated muzzleloader thanks to a non-removable, relocated hinge pin that is incompatible with Encore and Encore Pro Hunter barrels. As such, in most areas it is classified as a non-FFL item. It is worthy of note, though, that the design makes accessing the inside of the receiver for cleaning difficult. Fortunately, the stainless steel receiver is coated with the company's Weather Shield protective finish. This, coupled with a well-designed breechplug, minimizes the risk to metal parts.

The lines and contours of the FX mimic those of its XT counterpart, and operation is identical, too. Pulling rearward on the downward extension of the trigger guard permits the muzzle end of the barrel to tip downward, thereby exposing the breech (and breechplug) for insertion or removal of a 209 shotshell primer or the breechplug itself. Additionally, the muzzleloader's design permits it to be carried capped with the single-position hammer in the downward position; unless the trigger is pressed and held rearward the hammer cannot hit the firing pin. As with the Encore Pro Hunter XT, the FX does not have an external safety.
According to a Lyman Electronic Trigger Pull Gauge, the test rifle's average trigger pull weight was 4 lbs., 3 ozs. Although there was a hint of overtravel, there was no discernible creep. To enable easier cocking when the FX is topped with an optic, the rifle features a checkered, reversible (bilateral), blued steel "swing" hammer.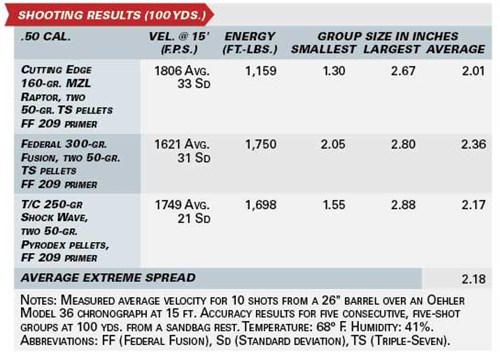 With the muzzle tipped downward, the user can access the grooved, stainless steel Speed Breech 3 breechplug for priming/de-priming or removal for maintenance. Touted as hand-removable, during testing we found that, even after only a few shots, we needed the provided tool to remove the breechplug. The Speed Breech 3 breechplug is of the fully enclosed (not exposed) design, which could impact its use in states with especially stringent muzzleloader hunting rules. Lastly, because T/C sought an especially tight seal despite widely varying tolerances of 209 shotshell primers, when closing the FX it must be done smartly so as to permit lockup, otherwise, the gun appears to be ready to fire but the hammer cannot be cocked.
As with the receiver, the Pro Hunter FX 209X50 Magnum's 26", 0.885"-diameter fluted barrel is coated with Weather Shield to enhance its corrosion resistance, and its eight-groove, 1:28" RH rifling is sufficient to stabilize all modern sabot bullets. To ease loading, the barrel features what T/C coined "Quick Load Accurizer" (QLA); essentially, the last inch of barrel length is devoid of rifling. This also protects the rifling from damage. Topping the barrel are Williams fiber-optic front and rear sights. The barrel is drilled and tapped for scope bases. Resting beneath the barrel is an anodized aluminum ramrod measuring 0.367" in diameter and threaded to accept 10-32-thread-pattern accessories. Nearing the end of the ramrod, circumscribing it, is a 1½"-long section of checkering to enhance purchase. In addition to a single Weather Shield-coated thimble, the ramrod passes through the dual fore-end retention studs.
Lastly, the Pro Hunter FX, like its XT sibling, wears a synthetic FlexTech "recoil-reducing stock" that is available in black or Realtree AP camouflage. Embedded into the butt are semi-rigid inserts that are purported to reduce recoil; however, more realistically recoil attenuation is accomplished by the unusually soft 7/8"-thick recoil pad. Inserts at the comb, pistol grip and fore-end enhance comfort and purchase.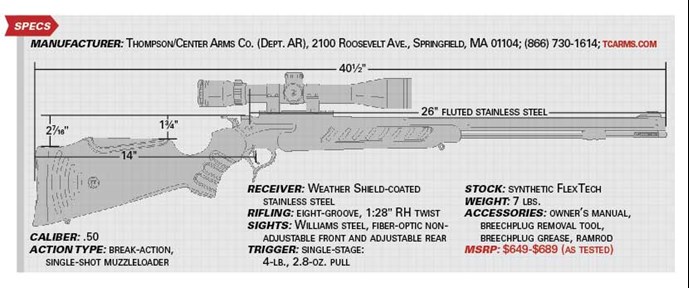 For testing, we mounted a Bushnell Elite 6500 2.5-16X 42 mm-DOA 600 scope in Weaver 30 mm detachable top-mount rings on a one-piece Weaver base and assembled a collection of blackpowder substitutes, sabot bullets and primers and then we headed to the range. As for the evaluation procedure, after each shot the gun was swabbed with a Montana Extreme patch soaked with Birchwood Casey No. 77 Muzzle Magic Foam, two dry patches, and then two primers were fired to clear moisture from the breechplug and the barrel. Between five-shot strings the breechplug was removed and cleaned, too. Firing five consecutive, five-shot groups, the most accurate combination proved to be Cutting Edge's 160-gr. MZL Raptor sabot bullet propelled by two .50-cal., 50-gr. Hodgdon Triple-Seven pellets ignited by a Federal Fusion 209 primer. Nearly as accurate was T/C's 250-gr. Shock Wave Bonded bullet propelled by two .50-cal., 50-gr. Pyrodex pellets ignited by the Fusion primer. There were no malfunctions encountered during testing.

For those hunters who prefer the Encore's unique contours and ergonomic design but don't need the original platform's adaptability, or who simply want a reliable and durable muzzleloader, the Pro Hunter FX 209X50 Magnum represents a smart choice.