by
posted on June 18, 2012
Support NRA American Rifleman
DONATE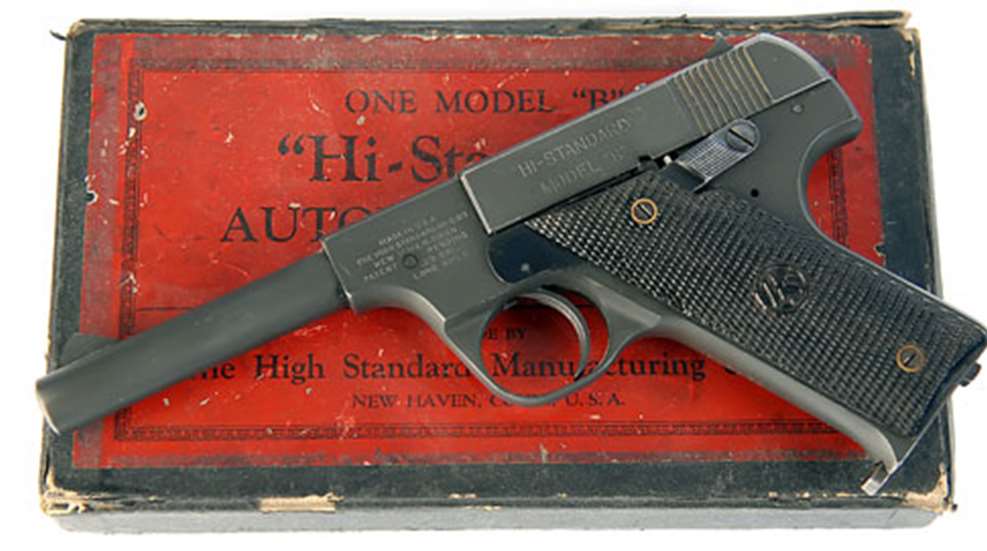 When the United States entered World War II, its standard sidearm was the M1911A1 .45 ACP Government Model—acknowledged to be one of the finest military pistols ever devised. Authorities felt that, while the .45 was certainly user-friendly, to those not familiar with large-bore handguns it might be a good idea to first train them with something a bit less intimidating. They decided to purchase some rimfire semi-automatics for just such a purpose. To an economy-minded Ordnance Dept., the savings in ammunition cost was an attractive incentive for adopting a training pistol that fired less expensive .22 Long Rifle ammunition. The top choice was the Hi-Standard Model B sporting pistol, which had been introduced in a few years earlier.
The High Standard Mfg. Co. was officially founded in 1926, and in 1932 it moved to a bigger plant in Hamden, Conn., where production began in earnest. Although sales were good, the government contracts following Pearl Harbor gave the relatively new company a real shot in the arm.
The Model B's simple notch-and-blade sights and grip angle were similar to those of the Government Model, but the controls on the .22 were nothing like those on the big-bore service pistol—and it was hammerless. Its 10-shot magazine also loaded differently, and the gun did not fieldstrip like the .45. Still, Model Bs were deemed adequate to teach basic gun handling and marksmanship skills. Early versions retained their civilian appearance, but beginning around serial number 99261 the shape of the frame was modified slightly, resulting in the Model B-US.
Military Model Bs had 4 1/2-inch barrels, were Parkerized like the .45, and stamped with appropriate military ownership markings. Stocks were checkered hard rubber, decorated with the company's "HS" monogram.
High Standard was the only supplier of .22 Long Rifle training pistols to the U.S. Army during World War II. The first was the Model B, but it was replaced in 1942 by the Model HD, which was thought to be ergonomically closer to the M1911 Government Model.
Between 1942 and 1943 some 14,000 Model Bs were made for the U. S. Army and Navy, and despite the addition of the Model HD to inventory, Model Bs continued to soldier on until the end of the war after which, for a short time, they continued to be manufactured for the civilian market.
Today they are popular with collectors and remain accurate and reliable pistols. The late-issue Model B-US pictured here is in NRA Excellent condition, showing little use. Value would be in the $750 to $800 range, adding another $125 to $150 for the original box.
Gun: Hi-Standard Model B-US
Caliber: .22 Long Rifle
Serial Number: 105174
Condition: NRA Excellent
Value: $750 to $800 (add $125-$150 for original box)