by
posted on January 9, 2012
Support NRA American Rifleman
DONATE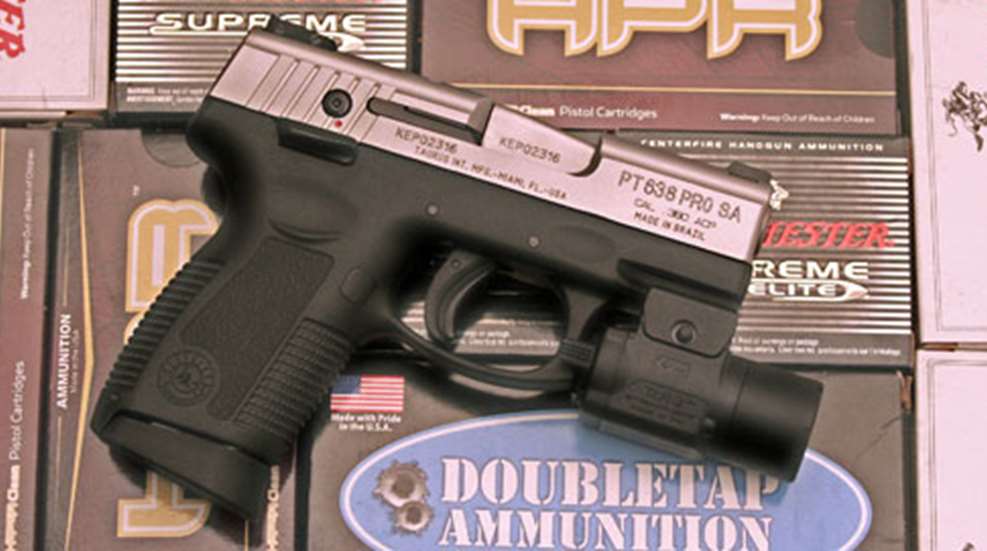 Not too long ago, I had the opportunity to meet with the representative of a well-known defensive firearms company who will, for the course of this conversation, remain anonymous. I learned that due to certain changes in its business plan, the company would soon have the capability to produce a top-notch full-size .380 ACP pistol with a tactical rail and other desirable, up-to-date defensive features. Note that I said they would have the capability, not the desire. When I expressed an interest in knowing when the pistol might be available, I was told there were no plans to produce it. Besides, he said, with all of the .45 ACP, .40 S&W and 9 mm versions of the company's pistols readily available, who would want a high-capacity .380 ACP anyway?
It was a disappointing, but not unexpected, response to the question. At the time of this conversation, I could think of several people I knew who would choose a tricked-out.380 if it were available. I'm talking about smart, dedicated individuals who want to enjoy the shooting sports and be prepared to defend themselves, but who also cannot or do not want to deal with the noise and recoil of a big-bore pistol.
Taurus, on the other hand, has long been a friend to small calibers like the .32 ACP and .380 ACP. One reason is that it sells pistols to markets outside of the United States, where civilians cannot own guns chambered in law enforcement or military calibers. Therefore, the company takes defensive handguns in smaller calibers seriously. As a result, it also provides American shooters with low-recoil defensive options that they will have a hard time finding in other gun companies' catalogs.
Pistol Features
The Taurus PT638 Pro SA is a medium-framed .380 ACP semi-automatic pistol loaded with the same features found on other members of the Pro series of handguns. The example used for this review arrived with a stainless-steel slide, but a blued version is also available. The slide is topped with a three-dot sight system, including a steel front sight blade and an adjustable polymer rear sight.
The slide is fitted with a 3.2-inch barrel, a two-spring dual recoil rod, a red loaded-chamber indicator and a Taurus integrated security lock. A red cocked-firing-pin indicator is located at the rear of the slide just below the rear sight. This pistol has a variety of safeties, including a firing pin block, an ambidextrous thumb safety and an integral trigger safety that must be fully depressed in order for the pistol to fire.
The single-action trigger features a grooved surface for an improved feel and a pull weight that gauged out at 7 pounds, 3 ounces. Although the trigger is on the heavy side for a single action, its short travel distance and no-creep crispness make it easy to work with. The trigger guard is curved to provide a finger rest, and the frame is dimpled on both sides above the trigger guard to provide a natural point for the trigger finger to rest.
The polymer frame features a full three-finger grip with molded-in checkering along the front and back straps. The short tactical rail allows for the attachment of various lights and lasers. Although the rail is not long enough to accommodate some of the larger modules on the market, it proved to be a perfect fit for compact units like the Laserlyte FSL-3 Subcompact V3 laser sight and the Streamlight TLR-3 tactical LED flashlight.
The textured magazine release fits flush with the grip frame to help prevent accidental bump ejections of the magazine, but the release's wide textured surface makes it easy to operate when it's time to reload. The blue-steel 15-round magazine quickly drops free of the frame when ejected. The unloaded weight of the pistol is 23.8 ounces, which provides enough weight to effectively reduce recoil while still keeping the pistol light enough for longer practice sessions.

At the Range
Before receiving the PT638 for testing, I had a chance to test fire it with a group of media members at a writers' event. As a result, I had a good idea of what to expect. All of the pistol's controls are ergonomically placed and comfortable to use. I have smaller hands than some shooters, but I can run everything on the PT638 without having to shift my grip.
I found the slide requires about a third less hand pressure and effort to rack back than similarly sized 9 mm pistols. Seating a fully loaded magazine in the grip with the slide closed only requires a modest tap instead of a hard slap. The only operation that proved to be on par with most 9 mm or larger pistols is loading the magazine. A good magazine loader, such as the UpLULA loaders from Butler Creek can be a big help if you find pressing rounds into a magazine to be challenging.
Accuracy testing was conducted from the bench using five-shot groups fired at 25 yards. A short-barreled pistol capable of producing shot-group averages of around 3 inches is a keeper. The PT638 kept every group right at or below the 3-inch mark. The best single group of 2.5 inches, as well as the best group average of 2.65 inches, was produced by Winchester's 95-grain PDX1 jacketed hollow points. DoubleTap's 95-grain brass-jacketed hollow points averaged 2.90 inches, followed by HPR's 90-grain Hyper Clean jacketed hollow points at 2.95 inches.
Where the PT638 really shines is in close range defensive drills. At ranges of 7 yards or less, informal testing was fun, if not downright addictive. The pistol's modest recoil and good sights make it a simple task to cut small, ragged holes at any point on the target you choose. Along with its point-and-shoot accuracy and wrist-friendly level of recoil, this pistol proved to be a "roach" gun. It gladly digested a variety of ball and hollow-point loads without a single hitch or hang-up from the first round to the last.
Final Thoughts
Once again, Taurus is the company choosing to step up to the plate and provide an uncommon, but practical, shooting solution. The PT638 Pro SA semi-auto is ready to fill a variety of roles. It's an ideal home-defense handgun for those who want less recoil. It's a solid primary carry gun for shooters who use a .380 pocket pistol as a back-up. This pistol is also an ideal candidate for training new or young shooters who are still mastering the basic skills. The PT638 has all the tactical goodness of the big-bore PT pistols, but with a level of recoil almost every shooter can handle.
Manufacturer: Taurus; Taurususa.com
Model: PT638 Pro SA (638SS-15)
Action: Single Action
Caliber: .380 ACP
Frame: Medium
Finish: Stainless Steel
Grips: Polymer
Sights: Adjustable 3-Dot
Barrel Length: 3.2"
Overall Length: 6.2"
Height: 5.3"
Width: 1.4"
Weight: 23.8 ozs.
Capacity: 15+1 Rounds
Twist: 1:9.84" RH
Suggested Retail Price: $498