by
posted on February 10, 2017
Support NRA American Rifleman
DONATE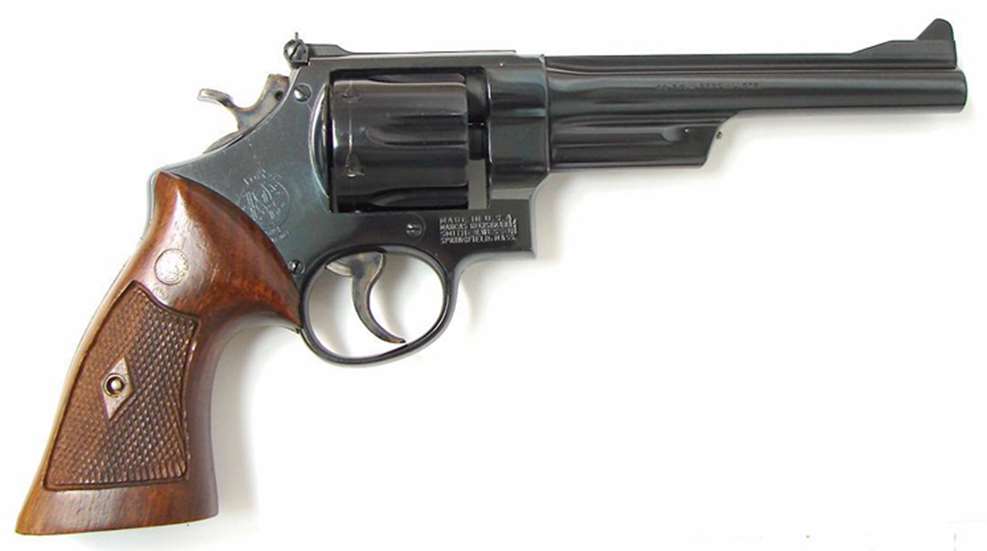 In 1905, Smith & Wesson was riding high on its Hand Ejector Series of double-action revolvers featuring a swing-out cylinder, 10 years before the Hand Ejector had been perfected to the point of starting to manufacture these revolvers on the I- (.32 cal.) and K- (.38 cal.) frames. However, plans for a new large .44-cal. frame were coming along. The first cartridge for this new frame would be an updated version of the .44 Russian round. Smith & Wesson's engineers lengthened the case by .360" and added 3 grains of black powder to a 246-gr. round-nose bullet yielding a muzzle velocity of 755 fps from a 6" barrel. The new cartridge was christened the .44 Smith & Wesson Special. Smith's new revolver would be called the .44 Hand Ejector First Model.
So concerned was S&W about holding the new revolver together to withstand the rigors of the new and powerful cartridge, that they added a third locking point to the cylinder. Heretofore, Hand Ejectors locked at the rear of the cylinder via an extension of the ejector rod into a hole in the recoil shield, and the other end locked into a spring-loaded pin mounted on a lug on the barrel. The third locking point was a lug on the yoke that mated into a recess machined into the frame. This third lug was drilled with a hole to accommodate the ejector rod. Shooters would soon deem this model the Triple Lock. Production of the Hand Ejector First Model began in 1907. This was the first Smith & Wesson revolver with an under lug on the barrel shrouding and protecting ejector rod.
It wasn't until the following year that the new revolver became available. The revolvers were available in either blue or nickel finish, and sights were either fixed or adjustable (target). Barrel lengths were 5" or 6 1/2", though a few were made with 4" barrels. An extremely limited number of these revolvers were produced in .38-40, .44-40 and .45 Colt, as well. The price was $21. Oddly enough the Hand Ejector First Model did not set the world afire. Sales languished at about 2,000 per year.
In a cost-cutting move, S&W decided to jettison the ejector shroud and third locking lug and reduce the price from $21 to $19. This would be known as the .44 Hand Ejector Second Model and was produced from 1915 until October 1917, due to a demand for large-frame revolvers to support World War I efforts. The factory resumed production of the Hand Ejector Second Model in 1920 and ran until 1940 when the needs of war superseded the civilian market.
It was during this period that a group of aficionados calling themselves the 44 Associates developed. Led by a sawed-off cowboy from Montana, one Elmer Keith, this group learned that by handloading, the .44 Spl. could perform much better than the factory loads of the day. Keith, along with his friend Harold Croft, developed a semi-wadcutter design of cast bullets that performed better than anything of the day for self-defense, as well as hunting. Belding and Mull made the molds to Keith and Croft's specifications, and they, along with their fellow 44 Associates turned a bunch of hobbyists into a near cult of handgun hunters. Their work would eventually lead to the .44 Rem. Mag. cartridge, but that's getting ahead of us.
Early on during the production of the Hand Ejector Second Model, a number of customers called for S&W to bring back the shrouded ejector rod. The company at first resisted the change feeling that it wasn't much of a seller the first time around, and it was expensive to produce. A company in Fort Worth, Texas, Wolf & Klar, placed an order for 3,500 Second Models with a shrouded extractor rod. Harold Wesson was leading the company co-founded by his grandfather in 1926, and he ordered that the shrouded extractor rod be produced. This became known as the Hand Ejector Third Model or sometimes the Model 1926. The Third Model was a special-order-only revolver and was not cataloged until after 1940. Post-war civilian production found most of the Third Models being made from parts on hand. Sales were a little lackluster, so the company decided to pursue a modernization of its line.
Such features included an integral rib along the top of the barrel, a shorter throw on the hammer—a.k.a. short-action—and a new micrometer-style adjustable sight. This revolver was called the Hand Ejector Fourth Model or Model 1950 Target Model. Initial sales were dismal—a mere 244 copies were sold during its first three years of production. It recoiled too much for the target shooters of the day, and with a 6 1/2" barrel it was quite a burden for most law enforcement officers. The only thing that saved the Model 1950 was Elmer Keith and his incessant ranting about his heavy .44 field loads. The .44 Mag. was introduced in 1956, thus putting another nail into the Model 1950's coffin. In 1957 the model number system took over Smith & Wesson's product line and the Model 1950 became known as the Model 24. It limped along until 1966 when the Model 24 was dropped from the line.
During its sputtering run, the Model 1950 or 24 had some limited, special-order runs with 4" and 5" barrels. But the overshadowing of the .44 Mag. kept these versions checked in terms of sales. A few smart guys glommed onto them, and today a factory 4" or 5" .44 Spl. has a lofty premium to its already stratospheric price.
Along came the 1970s, and a gun writer out of New Mexico, along with a few other ne'er-do-well cohorts began touting the virtues of the .44 Spl. cartridge and the Model 24 revolver. Skeeter Skelton was one of those handgun enthusiasts who was smart enough to latch onto a 4-incher. Skelton touted the accuracy and controllability of handloaded .44 Spl. cartridges in a lighter, easier-to-pack revolver than the .44 Mag. His articles were often spiced up with vignettes of adventure from his law enforcement background—Skeeter was a great storyteller—prompting a lot of handgun enthusiasts, including me, to scrounge about any purveyor of guns for a Model 24 Smith & Wesson. On those rare occasions when one surfaced, the price was usually about 50 percent more than the already outrageous scalper prices for .44 Magnums at that time.
So scarce was the Model 24 that a lot of us, again including me, resorted to getting another N-frame Smith converted to .44 Spl. by a cadre of pistolsmiths. In 1976 I bought a brand new Model 28 Highway Patrolman and with an original 6 1/2" 1950 Target barrel had it re-chambered and fitted. While my pistolsmith was at it, I had him shorten the barrel to 5", as I like the balance of that barrel length. It remains in my modest stash of guns and is one of my most accurate revolvers.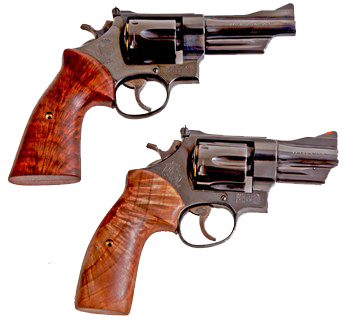 Smith & Wesson—like most gun makers—may be a bit slow to recognize a trend, but it again reintroduced the Model 24 in 1983 with a limited run of 2,625 revolvers with 4" barrels and 4,875 with 6 1/2-inchers. These are designated as the Model 24-3. Lew Horton, the Massachusetts distributor commissioned a special run of Model 24s with 3" barrels and a K-frame-sized round butt. I snagged one of them right away when I worked in a Wyoming gun shop. Later I bought an unfired 4-incher from a collector. Today any of these Model 24-3 revolvers command a premium north of $1,100. Smith & Wesson has done some additional limited runs, deemed the Model 24 Classic, but they are all 6 1/2-inchers. A Model 624 has also been produced having all the features of the Model 24-3 revolvers, but made of stainless steel.
Smith & Wesson has been tortured with competing business parameters. During its revolver heydays of the 1950s, '60s and '70s, the .44 Mag.—renamed the Model 29 and later the stainless steel Model 629—easily outsold its little brother. The American "bigger is always better" mindset kept the production line full of the magnum revolvers. Nonetheless, a cadre of revolver sophisticates kept relentless pressure on the company to maintain the Model 24 in its line. Yet nearly every time it produces a run of the Model 24 it just barely sells out, and the excitement wanes a while. Today, the company can't seem to produce enough semi-automatic pistols, even while revolver zealots pine for their favorites. Decisions…decisions…