by
Brian C. Sheetz, Editor In Chief
posted on June 4, 2023
Support NRA American Rifleman
DONATE
Recently, while writing about the Mauser 98 rifle, I needed to reference technical information about its internal construction. My first thought was to open Jerry Kuhnhausen's The Mauser Bolt Actions, M91 Through M98, A Shop Manual. Then, as I was working on that story, it came to my attention that the author had died in 2022. When I reached out to his company, Heritage Gun Books (gunbooks.com), Robynn Kuhnhausen-Browne, Jerry's daughter, let me know that both her father and mother had passed away last year. Since that difficult time, Robynn has resolved to preserve her parents' memory by continuing the business they started.
For anyone who has ever opened a Kuhnhausen shop manual, that is good news. The books' exploration of the inner workings of firearms and their practical guidance to repair and gunsmithing are unique. Titles cover such popular firearms as Colt, Ruger and Smith & Wesson revolvers, U.S. M1911 handguns, M1 Garands and carbines and Remington shotguns. Illustrated with meticulously rendered mechanical drawings and explained in painstakingly detailed text, they make even the casual reader instantly knowledgeable.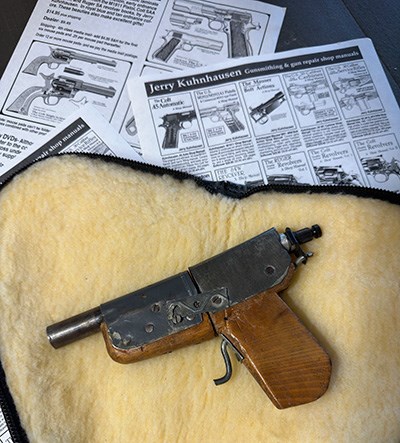 I spoke to Jerry, seen below at his drafting table, several times through the years, but I never met him in person, yet it came as no great surprise to me when Robynn said he was a quite private man. Nonetheless, she graciously provided the following biographical details to help us all understand how her father's life experiences and skillset resulted in contributions to the world of firearm knowledge that continue to enrich us.
Jerry Kuhnhausen was born in 1936 in Washington state, and he built his first gun (opposite) at age 11. He became an Eagle Scout in the 1950s, and, in the '60s, served four years in the Air Force where he was stationed in the Azores archipelago off Portugal. As a young family man, Jerry embarked on a self-guided education in engineering, mechanics, gunsmithing and art that continued throughout his career. He and his wife, Noel, owned a sporting-goods store with a focus on firearms in the 1970s and '80s where Jerry worked on guns for customers. His reputation for high-quality firearm accurizing, repair and modifications spread quickly and far.
When Jerry realized that his loose-leaf notebooks, filled with meticulous notes, photos and drawings, could be helpful to shooters and collectors, the couple closed the store and began turning them into shop manuals filled with high-resolution photos, typeset pages and professional line art. "In true Jerry Kuhnhausen form, he taught himself graphic design and how to use professional photography equipment and computers. He became a self-publisher and turned our house into the first home business I'd ever seen," remembers Robynn. "They put everything on the line to do this. It was a scary and very exciting time in the Kuhnhausen household, indeed."
From 1984 to 2021, Kuhnhausen wrote 12 gunsmithing shop manuals and produced three DVDs, regularly updating content and improving each title to ensure the best information for his readers. Having received some training as a mechanical engineer, he considered himself to be more of an old-fashioned craftsman. For seven decades, he repaired, accurized, built and restored quality firearms. Over time, he became known as one of the most highly qualified gunsmiths in America.
In 2022, Jerry Kuhnhausen passed away in Idaho at age 85, having just updated the Mauser shop manual. Robynn remembers her father as having, "a genius IQ, an extraordinary way of looking at the world and an amazingly quick wit." 
"He had great ideas and the skills and abilities to bring his ideas to life," she said. "He could take anything apart and rebuild it to make it better. He was a patriotic American who believed we all had the right and responsibility to bear arms, speak our minds and elect our leaders."
In continuing her parents' business, Robynn Kuhnhausen-Browne is providing an indispensable service to amateur gun tinkerers and professional gunsmiths alike—and to every American who has ever wondered how his or her instrument of freedom functions and how it can be maintained. Indeed, the Kuhnhausens' legacy is a heritage worth preserving.