by
Mark A. Keefe, IV, Editorial Director
posted on September 24, 2019
Support NRA American Rifleman
DONATE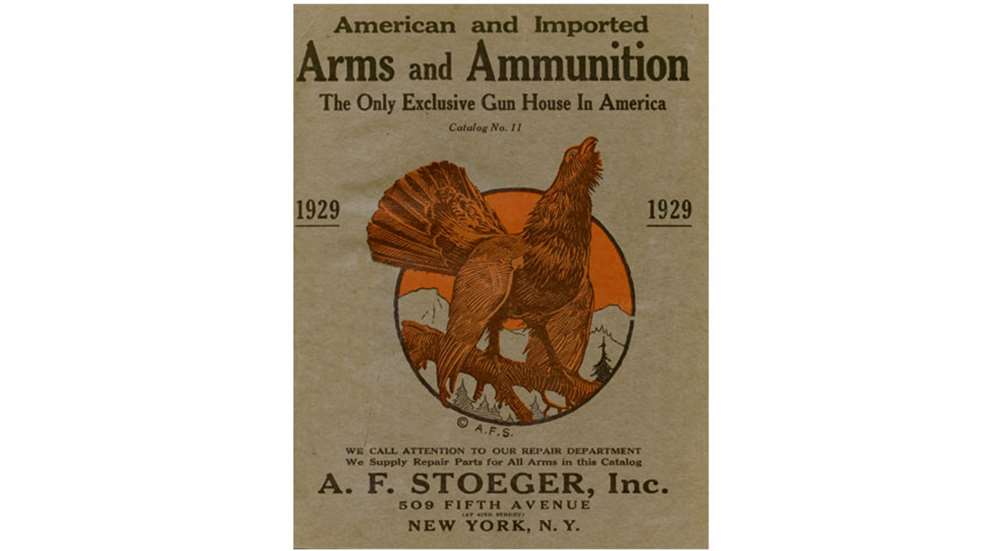 The company featured on the cover of the October American Rifleman has traveled an interesting road. It started on Fifth Avenue in New York City in 1918. That's when Austrian immigrant Alexander F. Stoeger sent out his first fliers advertising guns and accessories. Stoeger became a mail-order firearm and accessory company, and its "catalog and handbook" grew from a wire-bound pamphlet into an actual book, one that served as a snapshot in time for each year as to which firearms from around the world were commercially available. We know that book today as the Shooter's Bible.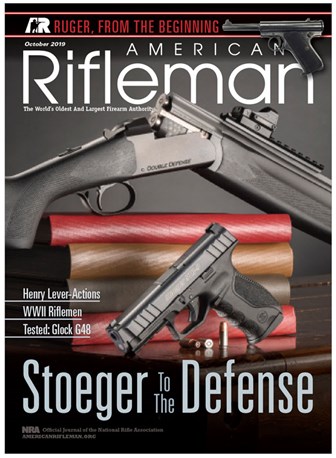 Stoeger was more than just a catalog operation, as it brought in Mauser actions from Oberndorf and, in the interwar years, was the "sole authorized" importer of German Luger pistols. As a matter of fact, the "Luger" name in the United States was owned by Stoeger. The firm's first sojourn into manufacturing came when it offered an "attachment"—really a barrel, slide and magazine—that converted .38 Super or .45 ACP Colt Government Models into .22 Long Rifle pistols. Stoeger also sold .22 Long Rifle versions of the Luger, made by Stanley Tool Co., in the 1970s. In the 90s, the company even offered its own 9 mm Lugers in stainless and blue finishes.
The firm closed its New York City showroom and moved first to Long Island and then to New Jersey in 1956. When I came onto the sce ne in the early 1990s, Stoeger—in addition to its book-publishing empire—was one of the most well-known importers in the United States, bringing in guns from Sako and Llama, as well as IGA shotguns. In 1994, Stoeger's majority owner became Finland's Sako Oy, which in turn was bought by Beretta Holding in 2000.
While Beretta USA was delighted to take over Sako and Tikka importation, Stoeger was moved to Maryland and fell under the direction of Benelli USA, which imports the Benelli, Franchi and Uberti lines. The Beretta Holding era saw the end of the publishing empire that was the bread and butter of the company for so many decades. There were a number of reasons for this, but Beretta is really good at making guns—books, not so much. That said, Shooter's Bible and some of the other titles are alive and well, just published by someone else.
Still in the Stoeger firearm line are the side-by-side and over-under shotguns—there's even a single-barrel trap gun—as made by E.R. Amantino in Brazil. Although they may have upgraded cosmetics and added new models—such as the Double Defense—their foundations are still the familiar IGA guns imported for decades.
Elsewhere, a company in Turkey was making a semi-automatic shotgun modeled very closely on the inertia system—and Benelli's patents were not up. Beretta Holding acquired the Versan factory, and now it reads "Stoeger" on the side of the building. Beretta invested heavily in what was a good plant to begin with, and it produces guns that are truly an excellent value for the money, starting with the Model 2000 inertia-operated 12-ga. shotgun. Since then, more pump-action and semi-automatics have been added. The STR-9, as covered this month by Mike Detty, is not the first handgun produced there, either—that honor goes to the Model 8000 rotary-locking pistol previously made in Italy as the Beretta Model 8000 Cougar. Regardless of their modest price tags, I have found Stoeger guns to be both reliable and unpretentious.

Additional Reading:
Stoeger to the Defense: STR 9 Pistol and Double Defense Over-Under Shotgun