by
Mark A. Keefe, IV, Editorial Director
posted on April 28, 2017
Support NRA American Rifleman
DONATE
Ansley Hermon Fox, was many things. A brilliant inventor, a top shooter, but modest, he was not. He declared his side-by-side "The Finest Gun in the World." When it comes to American doubles, he may well have been right. Adding fuel to Fox ego fire, President Theodore Roosevelt wrote in Scribner's of the A.H. Fox FE Grade he took on his 1909-1910 African Safari: "I had a Fox No. 12; No better gun was ever made."
Fox's A Grade, which sold for $50 in 1908, was declared in the shooting press "a popular all-round weapon for the sportsman who wishes to put his money into a dependable gun on which the greatest expenditure is for quality, not ornament." The guns were strong, yet small through the receiver, and Fox would make them as fancy as you wanted for the right price.
But Fox, despite his design brilliance, was not a very good businessman. To read the full story on A.H. Fox, I highly recommend Dave Campbell's recent piece "A Look Back at the A.H. Fox Shotguns." Suffice to say, by 1930, the A.H. Fox Gun Co. was owned by Savage Arms Co. and production moved from Philadelphia to Utica, N.Y. The Fox, as we know it, ended shortly after World War II. Except for the Fox Model B, but that's another story.
So, why all the focus on Fox? The Fox A Grade is back, thanks to Savage Arms Co. This announcement is one I had hoped would come for quite some time. Not quite worth wearing my pajamas backwards and putting ice cubes down the toilet, but I am delighted it has finally come to fruition—and with the right gun--one worthy of the Fox name.
Former Savage President Ron Coburn, who literally saved Savage Arms from the abyss, always wanted to do a Fox shotgun but did not want to compromise the brand founded by the mercurial Ansley H. Fox. No, if there were going to be imports they would bear the Stevens name. He was holding out for the right gun. An American-made gun.
Now part of Vista Outdoor, Savage Arms of Westfield, Mass., is offering the right gun. It is called the "Fox A Grade series presented by Savage." Seems like a confusing mouthful because it is. You see, Connecticut Shotgun Mfg. (CSM) in New Britain, Conn., already makes best-quality A.H. Fox guns that can cost more than a well-appointed house. This A Grade gun is priced at just below $5,000.
Last year I had the opportunity to visit CSM, and, needless to say, I was impressed. Anthony Galazan and his CSM crew are quite capable of making the "Finest Guns in the World." It's a unique mix of modern technology and old-school craftsmanship. There's a reason why people say they don't make them like they used to anymore. And that's because making them like they used to is terribly expensive, mostly due to handwork. In Galazan's fitting room, artisans use lamp black and files to make the joint between wood and metal for a best quality gun seamless. On the other side of the wall, banks and banks of CNC machines turn out precision parts.
No doubt CSM has the finest double gun manufacturing facility in the United States. Frankly, it is the only place were production side-by-sides and over-unders are made on American shores.



The new A Grade (there is only one grade "presented" by Savage at this time) is a boxlock side-by-side with a bone-charcoal, color-casehardened receiver (hardened, not merely colored). The joint between the buttstock and the receiver is straight—not scalloped like the high-end Fox guns produced by CSM—and it resembles the original Fox A Grade and Sterlingworth in that regard.




The example I saw had double triggers, a buttstock with an English-style straight grip (which is appropriate for a gun with double triggers) and a fairly straight comb, dropping 1 ½". Folks who don't often shoot vintage guns quickly find out that they often have far more drop then today shooters are a custom to shouldering. Not so with the A Grade. As this writing, all I have seen are images of the gun, and I cannot speak to how the barrels are joined or how the gun locks up or fastens.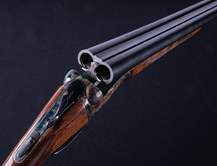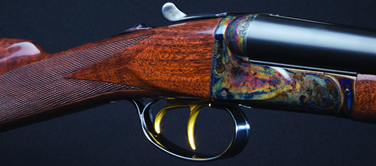 Barrels will initially be 26" or 28" in either 20 or 12 gauge, and they accept interchangeable choke tubes. The American black walnut stock, topped by a leather-covered buttpad, is oil finished and the wrist and fore-end checkered. The splinter fore-end appears to be retained by an Anson pushrod, rather than a Deeley & Edge recessed fore-end latch. There are some internal changes that do not betray the spirit of the original Fox; I am told the A Grade uses a simplified yet completely reliable trigger system.




At $5,000, the gun is not inexpensive, yet it is a classic American game gun updated, revised and now in production—in America. Not to be too corny, but I would suggest A.H. Fox would be pleased. I know I am.