by
Mark A. Keefe, IV, Editorial Director
posted on August 10, 2017
Support NRA American Rifleman
DONATE
New bolt shrouds for everyone! Well, not quite everyone. Just those who have purchased a Ruger Precision Rifle with an aluminum bolt shroud. And that is quite a few folks. The Ruger Precision Rifle is likely the top-selling chassis rifle in the country, as well as being number two among all bolt-actions according to the latest gungenius.com data. 
Always point the muzzle in a safe direction. I've heard that somewhere before. Oh, right. It is NRA's first rule for safe shooting. If you do that and then follow a misfire by patiently waiting for a minute before you open the bolt, even if you have a Ruger Precision that needs a new bolt shroud, you should be fine.
Ruger has discovered that there could be an issue with a very small number of its Ruger Precision Rifles. Those guns that have an aluminum bolt shroud could possibly have one that is out of spec and drags against the rear of the firing pin. If this happens it could retard the firing pin's forward movement. Ruger is calling it a "product safety bulletin" and it does not affect guns with a polymer bolt shroud. Frankly, your rifle will probably work without a bolt shroud at all. It would likely be unsightly, however, and allow debris to enter the rear of your action.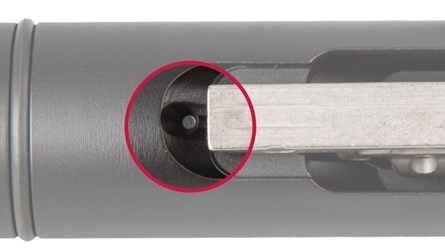 Ruger advises that most Ruger Precision Rifles will not need the new bolt shroud. For example, if you've fired 100 rounds through the gun and experienced no light firing pin strikes or misfires, you should be fine. That said, Ruger, being Ruger, will supply you with a new bolt shroud for the asking. And if you're not comfortable with installing a new bolt-shroud yourself, Ruger customer service will be happy to do it for you.





You can go to Ruger.com/RPRSafety for all the details regarding this issue. The full text of the bulletin reads as follows: 
Sturm, Ruger & Company, Inc. Issues Safety Bulletin for Certain Ruger Precision Rifles
Sturm, Ruger & Company, Inc. (NYSE-RGR) has issued a Safety Bulletin for certain Ruger Precision Rifles. Ruger recently learned that some Ruger Precision Rifles may experience interference between the aluminum bolt shroud and the cocking piece (also known as the firing pin back). In rare instances, the interference can disrupt the firing mechanism and cause it to not function properly. This interference can potentially lead to light primer strikes or, in extreme cases, the rifle may not fire when the trigger is pulled. If the rifle fails to fire when the trigger is pulled, it may fire when the bolt handle is subsequently lifted. In rifles where this condition exists, the issue often resolves itself as the parts wear and the interference is reduced. Therefore, rifles that have fired more than 100 rounds with no issues or concerns are unlikely to be affected, and no additional action is necessary
Although only a small percentage of rifles appear to be affected and the Company is not aware of any injuries, Ruger is firmly committed to safety and is offering free replacement aluminum bolt shrouds for affected rifles in order to eliminate the possibility of such interference. Ruger Precision Rifles (regardless of caliber) that have an aluminum bolt shroud and fall within the following serial number ranges are potentially affected: 1800-26274 to 1800-78345 or 1801-00506 to 1801-30461.
Not all rifles within these serial number ranges are affected; this Safety Bulletin does not apply to Ruger Precision Rifles with polymer bolt shrouds. Ruger encourages anyone with a Ruger Precision Rifle that has an aluminum bolt shroud and a serial number within the above ranges to visit Ruger.com/RPRSafety and use the lookup tool to determine whether their rifle is potentially affected.
Although all Ruger Precision Rifles with aluminum bolt shrouds within the above serial number ranges are potentially affected, most rifles will never experience this issue. Ruger Precision Rifle owners who have ever experienced light primer indents or failure to fire should visit Ruger.com/RPRSafety to sign up for the safety offer and obtain additional information. When consumers sign up, Ruger will ship the replacement bolt shrouds on a first-come, first-served basis. Actual delivery will depend upon demand, as Ruger is currently manufacturing replacement bolt shrouds for this program.
About Sturm, Ruger & Co., Inc. Sturm, Ruger & Co., Inc. is one of the nation's leading manufacturers of rugged, reliable firearms for the commercial sporting market. As a full-line manufacturer of American-made firearms, Ruger offers consumers over 400 variations of more than 30 product lines. For more than 60 years, Ruger has been a model of corporate and community responsibility. Our motto, "Arms Makers for Responsible Citizens®," echoes the importance of these principles as we work hard to deliver quality and innovative firearms.