by
posted on April 2, 2020
Support NRA American Rifleman
DONATE
Unlike so many of the gun makers that blossomed in the immediate post-WWII era, Heckler & Koch was a brand-new company, but they had roots in conservative, old-style German gunmaking. Although they inherited some machinery from the original Mauser plant, most of their equipment was new. Better yet, they obtained the services of a former Mauser designer named Max Siedel.

Initial HK products were military and police longarms, which were immediately successful. But by the mid-1960s, it was time for a semi-automatic pistol modern enough to appeal to police and civilian markets. Many references state that Seidel "copied" the Mauser HSc when he came up with HK's new HK4.

That gun was also his design and a respected product in its own right. Clearly, Seidel relied on his earlier design, but also was influenced by Walther and J.P. Sauer & Sohn pistols. Remember, change was in the wind and the gun market wanted concealable pistols with upgraded features. 


HK's first auto was a mid-size, all-steel pistol that was a pure blowback. It had a DA/SA trigger action, with a safety/decocker lever on the left side of the slide and an external hammer. The guns came with very small sights, sleek concealable contours and a multi-caliber system.

The pistol's designation—HK4—identified a compact auto that could fire four different cartridges. They were .22 Long Rifle, .25 ACP, .32 ACP and .380 ACP. Americans appreciate a multiple caliber arm, but Europeans absolutely love the things. Many European countries limit the number of guns a person may have, but one gun that shoots four different calibers counts as just one.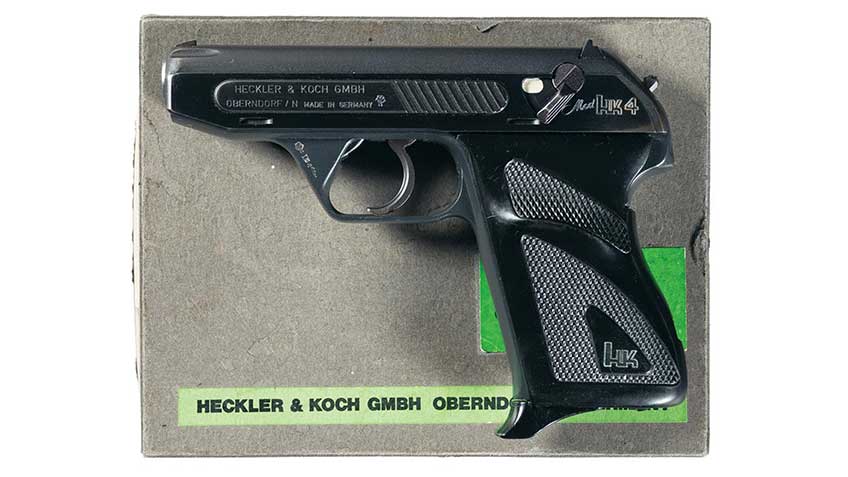 The HK4 had an ingenious system whereby conversion from one caliber to another required only a new barrel, new magazine and a caliber-specific recoil spring. When changing to .22 Long Rifle, the shooter had to reverse the position of a plate on the face of the breech.

The amount of engineering that went into this system is impressive and it worked perfectly. I had one of these guns for review several years back and fired it in all calibers. As I recall, I shot a 10-shot group with each and accomplished the entire evaluation in something like 15 minutes. I also recall a rather heavy trigger in both double and single action modes.

HK4s were marketed as single guns in each of the four calibers. A fairly large block of the original production run went to various German police agencies, but the majority went to civilian sales and export. Many of these guns were shipped as a single caliber, with the necessary parts to convert to the other three—a four in one situation.

When American shooters found out about the HK4, a demand developed. Eventually, the American firm of Harrington & Richardson imported some of them, with markings of both firms.

At least some of them were two-caliber conversions in .380 ACP and .22 Long Rifle. In a medium-sized auto, most American shooters have little or no need for a .25 or .32 auto. But both calibers are American favorites. This was a very well-made and beautifully designed gun that had some popularity in the 60s and 70s.

It also had another interesting feature that seems to be near forgotten. When an HK4 shooter ran his gun dry, the slide locked back like a good pistol should. But when he slammed another magazine in place, the slide automatically closed, chambering the top round. Talk about a speed reload!