by
posted on December 6, 2021
Support NRA American Rifleman
DONATE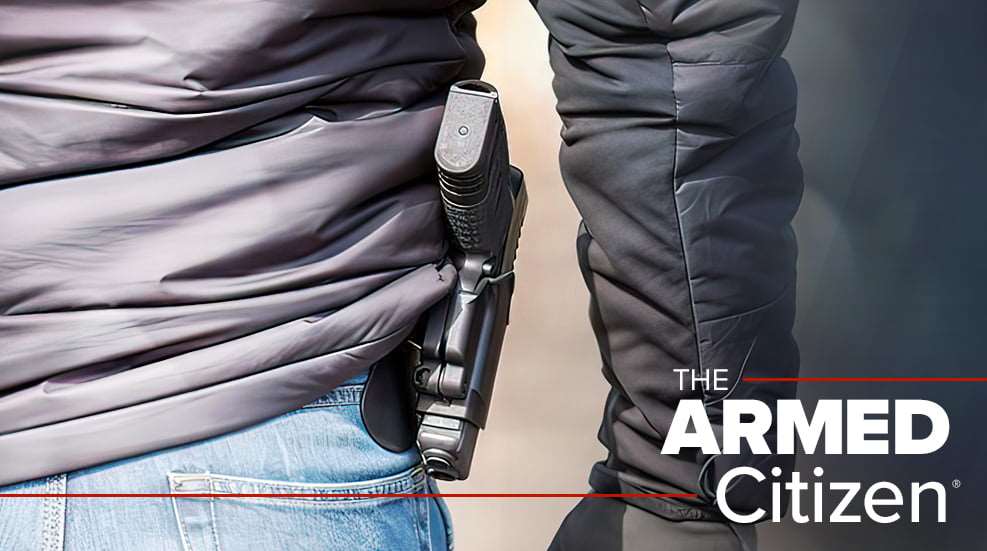 Armed Citizen® Today

When an enraged intruder forced his way into a Eugene, Ore., apartment on Oct 19, 2021, the resident was not defenseless.
The 28-year-old would-be home invader arrived at the apartment at 3:40 a.m. that Tuesday morning and pounded on the door. The sound woke up the 21-year-old resident and his 20-year-old girlfriend, who were asleep. Responding to the banging, the resident armed himself with a handgun and went to the front door to investigate, making contact with the stranger through a window next to the door. The man outside began yelling to see his wife while pounding on the window, with the noise being loud enough to prompt multiple calls to the police from neighbors.
In response, the resident told the man that his wife was not at the address and asked him to leave. However, the enraged man continued to hit on the window, and eventually broke it. He then entered through the broken window into the apartment. The intruder then began to advance on the resident, who retreated and continued to demand that he leave. But the intruder continued his advance and began to make comments about death. As the enraged intruder drew closer, the resident was forced to raise his pistol and fired twice.
The two rounds struck the intruder, yet, he remained standing, and then began advancing on the resident once more. This prompted a third and final shot from the resident, which sent the home invader to the floor, no more than a few feet away from a hallway leading to the bedroom. The resident and his girlfriend then called authorities. When the police arrived, they found the intruder inside the apartment. He was pronounced dead shortly thereafter. As it would turn out, the home invader had shared the apartment in the past with his estranged wife and also had a history of mental illness. (kval.com, Eugene, Ore., 10/21/2021)

From the Armed Citizen® Archives - Feb. 7, 1987
A teen entering a Beaumont, Texas, liquor store was carrying a paper bag and appeared to want to buy something. Instead, he produced a handgun and demanded cash from store owner Ann Countee. She walked toward the register, reached under the counter for a .38 Spl. and fired once, wounding the would-be robber. Authorities planned to charge the wounded suspect with attempted aggravated robbery. (The Enterprise, Beaumont, Texas)