by
posted on November 4, 2016
Support NRA American Rifleman
DONATE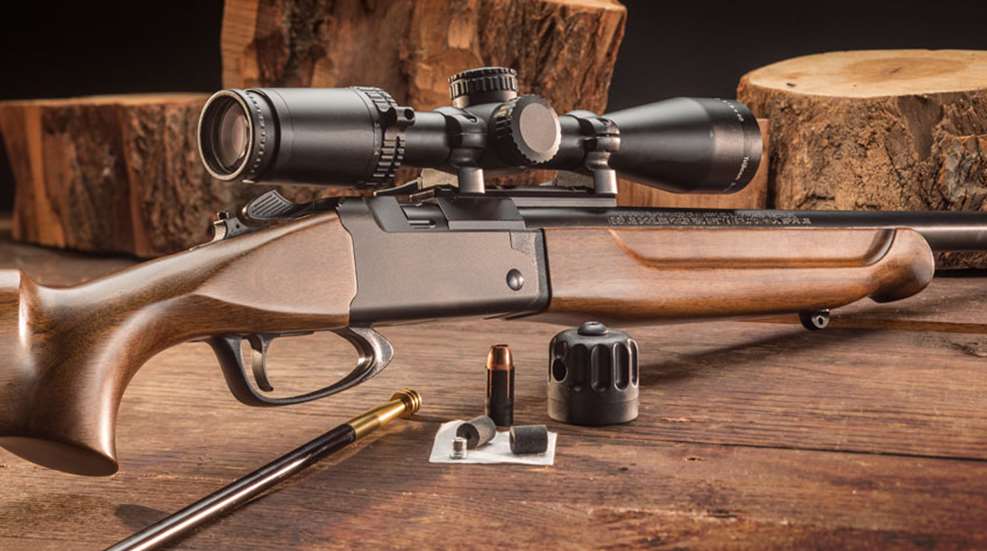 During the nearly 50 years that Thompson/Center has been in the muzzleloading business, it has produced rifles that helped to keep the sidehammer "smokepole" tradition alive, while at the same time serving as an innovative force for modernizing the category.
T/C's newest blackpowder entry, the Strike, fits squarely in the innovation camp. You can see that right away in the rifle's sleek lines and its stylish, pointy trigger guard. It's break-action operation and 209 primer ignition are rather conventional now—dating back to the trendsetting Encore of the late 1990s—but closer examination reveals some genuinely unique loading and fire-control features.
In fact, the Strike design originated a few years back when it was introduced as the LHR Redemption, the brainchild of former T/C product developers after the firm was acquired by Smith & Wesson. A limited run of Redemptions made it into circulation, then subsequently T/C acquired the rights and re-issued it as the Strike.
So far as we can tell, the one substantive change is the barrel, now made by T/C to replace the original's Green Mountain barrel. It is 24" long and bears a 1:28" RH twist, and, like the receiver and other metalwork, is finished in Armornite nitride, a salt-bath process that deposits an extremely durable, corrosion-resistant barrier. Notably, the Armornite application extends inside the bore, where it is intended to slow the ravages of blackpowder and substitute propellents. While most shooters in this market niche opt for the less-corrosive substitutes, fouling remains a pressing concern. But nitride finishes should help to alleviate worries while in camp and prolong barrel life. 
One marked innovation is the gun's Adapt Breech system, housed in a sturdy breechblock that bears similarity to an over-under shotgun's monobloc. Unique to this system is a press-fit primer adapter—the closest thing to a breechplug found on the Strike. Wearing a rubber O-ring, it snugs into an extension and is secured by a heavy retaining collar that screws onto the extension's external threads. As such, there are no internal threads to seize a dirty plug. For cleaning or removing a load, the .52"-diameter adapter is pulled free to provide an opening big enough to pass saboted bullets, pelletized or loose powder and patch-draped cleaning jags. Note, the adapter must be kept heavily greased, and even then, can get stuck during lengthy range sessions. Negating breechplug seizures can hasten cleanup, but largely, the same steps and effort are required. 


Reassembly requires hand-insertion of the primer adapter, which is then seated by turning the collar in place, also by hand—no tools required. The gun is supplied with two such adapters, one with a flat front face for use with pellets, the other deeply concave to optimize loose-powder ignition.         
When the collar is screwed on tight, a port in its cap gives access to the adapter, which is sized to hold the 209 primer in alignment with an inline touchhole. Loading convenience occurs up front too, where a false muzzle—lacking rifling—eases starting the bullet.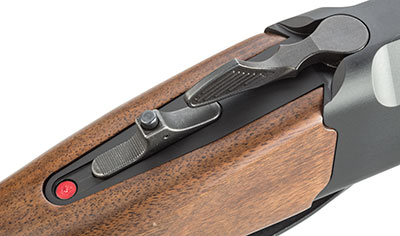 The rifle also offers what T/C calls the Stealth Striker, a contained firing-pin lock mechanism that eliminates the exposed hammer that's a fixture on many break-open muzzleloaders, and which occasionally can interfere with scope clearance and cause noise while hunting. Instead, there's a sliding cocking piece mounted on the tang. While new to most American shooters, this feature is becoming common on European hunting rifles, and once learned, is intuitive, quiet and safe. In fact, this is the Strike's safety mechanism, because the action is never cocked until the moment one is ready to fire. To activate, simply press the slider forward until it catches. To decock, press the slider's plunger and it releases. The resistance is great enough to prevent accidental manipulation, and it may be too much for children younger than mid-teens. According to T/C, the action will automatically decock if the gun is dropped.
The Strike comes with an installed Weaver-style rail and removable, adjustable V-and-post open sights that include luminous fiber-optic dots. Also included is a handy multi-tool that assists removal of the retaining collar and serves as a ramrod palm grip.
Our initial go with the Strike came when preparing for a deer hunt in Kansas, during which we tried multiple load combinations before settling on one built around Swift .452-cal. 300-gr. A-Frame bullets in MMP HPH/24 .50-cal. sabots. The T/C's consistent, clean-breaking trigger made it possible to hold groups around 2.5 m.o.a. An NRA editor used the Strike with this load to take a respectable Kansas whitetail buck, a one-shot, near-instant knockdown from 130 yds.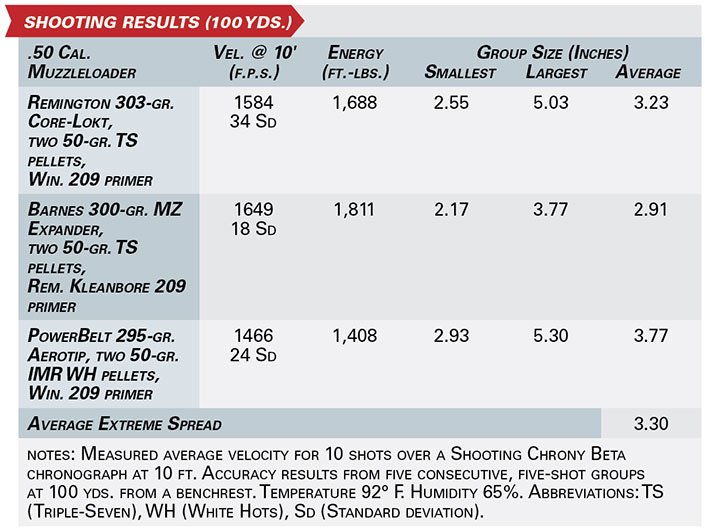 While beauty is in the eye of the beholder, the Strike likely will appeal to those not fond of the "pump-handle" grip style of leading break-action muzzleloaders. If avant garde in its appearance, the trigger guard is oversized to work with heavy gloves in keeping with the fact that much muzzleloader hunting occurs during frigid late seasons. Our test sample sported an attractive walnut stock, but hard-use options also include camouflage or black synthetic.
With the Strike, Thompson/Center again nudges muzzleloader development in a practical, user-friendly direction. Its high-end barrel and trigger will aid field marksmanship, and the ease of disassembly for cleaning complements the barrel's Armornite finish in promoting longevity. In addition, this made-in-America, mid-priced rifle comes with a limited, original-purchaser warranty.