by
posted on September 7, 2016
Support NRA American Rifleman
DONATE
Thompson/Center Arms' reputation for creating unconventional and well-made arms is deserved; in fact, the company was established on a break-action, single-shot pistol with barrel interchangeability—the Contender. Since 1967, when the Contender made its debut, the company has amassed an array of interesting gun designs. Some, such as the Encore and Venture, have been commercial successes, while others, including the Icon and Dimension, have been accepted with yawns—regardless of their unique features. Ultimately, decisions regarding T/C Arms' future had to be made, and its choice was to push forward, maintaining its current heading. That "heading" was the release of another bolt-action rifle, the Compass. Unlike its other bolt-actions, though, performance and price were paramount considerations. With a suggested retail price of $399, the American-made Compass challenges several entry-level rifles from prominent makers for the largest segment of the hunting rifle market. Is it a contender? Read on.
Trials And Tribulations
Nine years ago, T/C Arms' Rochester, N.H., plant began production of the Icon, a decidedly different direction for a company that primarily specialized in muzzleloaders and modular, single-shot handguns and rifles. The company spared no expense in creating its masterpiece, either. In fact, it would be nigh impossible to find a production hunting rifle with similar features—such as a machined, 4140 steel receiver with an integral Picatinny base, innovative bedding system, changeable bolt handle, detachable-box magazine or drop-out floorplate, and a full-diameter bolt with three lugs for a 60-degree throw—at its introductory suggested retail price of $889. But, despite its noteworthy features and superb craftsmanship, impressive factory rebates and fortuitous timing—Winchester's New Haven, Conn., factory closed its doors a year earlier and the new Columbia, S.C., Model 70s weren't available until 2008—the Icon failed to "strike a chord" with consumers. The looming presidential election of 2008 and parallel purchasers' penchant for buying center-fire semi-automatic rifles signaled the death knell for the Icon, though it loomed in the background until being silently purged from the lineup in 2012.
Recognizing that the marketplace had indeed changed, in 2009, T/C introduced the aptly named "Venture," an undertaking created to appeal to a large (and growing) market segment—frugal rifle buyers who demanded custom-like performance. It was a calculated risk for T/C Arms; in the end, though, there was nothing to lose as the Icon never achieved its namesake status and sales of interchangeable-barrel rifles, and handgun and muzzleloaders had slowed. Competition in this category was (and still is) fierce, though the Venture offered several of the Icon's standout "premium" features, such as its bolt design and the choice of 22" or 24" barrels with asymmetrical 5R rifling. Gone was the Icon's innovative but costly receiver; in its place was a receiver machined from round bar stock—typical practice for many bolt-action rifles. The trigger was user-adjustable, and the stock was fashioned from a durable polymer fitted with attractive and functional inserts. Wood wasn't an option. With an initial suggested retail price of $499, the Venture was at the high end of the "economical" rifle market, but it still sold reasonably well. Depending on configuration and finish, today they're priced from $537 to $638—too costly to compete in the realm for which they were created. More on this later.
Take three for T/C's attempt at bolt-action rifle manufacture, the Dimension, was introduced in 2012 and is still in production. For me, the Dimension's drastically different design conjures black-and-white images of a Frankenstein-like laboratory in which the Encore, Icon, Venture and a landscaper's bush axe (see the buttstock) were united via electricity provided by a bolt of lightning—undeniably radical. Nonetheless, the switch-caliber concept and modularity via the L.O.C. (Locking Optimized Components) system were immensely innovative; to create a system by which barrels, bolts and magazines can be quickly and, most importantly, safely, swapped by all shooters is astounding. Like the Venture, the Dimension borrowed technologies from its predecessors, including: a user-adjustable trigger; a 22" or 24" match-grade, blued, chrome-moly barrel with 5R rifling; and a fluted, full-diameter bolt with three lugs for a 60-degree throw.


Unlike its brethren, though, the Dimension's receiver is machined from lightweight 7075 aluminum. The barrel attaches to a steel extension, and a torque collar secures it in place. Its design ensures headspacing is accurate. Regardless, switch-barrel bolt-actions don't appeal to many Americans except for cartridge tinkerers (myself included)—an exceedingly small segment of the market—and the gun's unusual lines turned off most potential buyers. Moreover, its $689 suggested retail price places it in "no-man's land"; it costs too much for those hunters/riflemen seeking an entry-level tack driver and, for not too much more, a semi-custom rifle can be had. For these reasons, the Dimension has seen minimal success.
From the above, it's obvious that T/C needed an economical bolt-action rifle to stay relevant and compete with the other heavy hitters in the category, including the Mossberg Patriot, Remington Model 783, Ruger American and Savage Axis, among others. Its answer is the new Compass.
A New Direction
By circumstance or choice, American consumers have changed; at no price point is inferior performance permitted. Maintaining profit margins at a level required to remain "in the black"—while also satiating shoppers—is a perilous balancing act. For firearm manufacturers, performance ultimately trumps embellishments, so the latter are the first to be jettisoned on entry-level "economy" models. This holds true on T/C Arms' Compass, too. Gone are inordinate amounts of machining, as with the Icon, and unconventional approaches, as with the Dimension—these simply aren't needed. That's only the beginning, though.
Borrowed from the Venture is a blued, steel receiver machined from round bar stock—a simple, effective and inexpensive manufacturing practice. The top is drilled and tapped for scope bases, and T/C ships two-piece, Weaver-style aluminum bases with the rifle. On the left rear of the receiver is the bolt-release lever, which mimics that of the Icon, and the words "T/C Compass" are emblazoned on the receiver's side. Near the front of the receiver's bottom is a cutout that mates to a steel insert held in the stock. In addition to serving as the recoil lug, the union of the two ensures consistent positioning of the barreled action within the stock.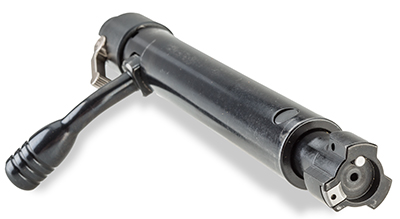 As for the bolt, the Compass draws from its Dimension, Venture and Icon predecessors. The steel bolt's full-diameter body affords smoother cycling, whereas the three-lug design reduces bolt lift to 60 degrees for improved scope clearance. A large channel on the bolt's left side mates to the tab on the bolt-release/stop. A sliding-plate extractor provides case removal from the chamber, while the plunger-type ejector propels them through the ejection port. The one-piece bolt handle/knob is different, to say the least. The handle has a unique combination of angles, and the minimalist knob is shaped like a lobster trap buoy or Minié ball. The three grooves that contribute to the latter's appearance are to improve purchase, but contribute little in doing so.
The three-position, Model 70-style wing safety is on the rear of the bolt. In the rearmost "safe" position the bolt is locked, while in the middle position it's still "safe," but the bolt can be cycled for loading or unloading. The forward position is "fire." There is a cocking indicator to show when the bolt's striker is cocked.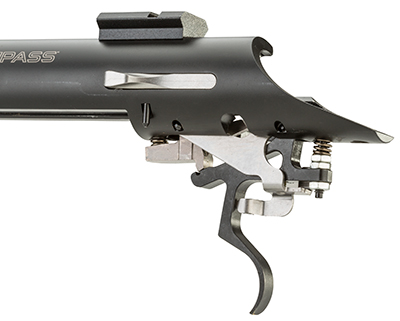 Affixed to the bottom of the receiver is a single-stage trigger similar to that of pre-2006 Winchester Model 70s. The unit is user-adjustable (with directions provided), though the test rifle's trigger didn't require any; it broke at 3 lbs., 12 ozs., with no creep and minimal overtravel. It's as good a factory trigger as I've encountered. Surrounding the trigger is an oversize, integral guard that will accommodate most gloved fingers.
Threaded into the receiver is a 22" (standard) or 24" (magnum) free-floating, blued steel barrel. As with T/C's other rifles, the Compass's barrel is button-rifled with asymmetrical (land opposes groove) 5R rifling, the benefits of which are touted as being easier to clean and providing improved accuracy. I have found this to be true of the Icon, Venture and Dimension rifles that I've tested. Concerning rates of twist, one choice stood out to me; whereas the 7 mm-08 Rem. has a 1:9" twist, the 7 mm Rem. Mag. has a 1:10". As such, the latter cannot stabilize some of the newer heavyweight VLD-style bullets, such as Berger's VLD Hunting and EOL Elite Hunter. Many companies have switched to 1:9" (or faster) twist rates in the 7 mm Rem. Mag. for this very reason. In addition to a recessed, target-style muzzle crown, the Compass' barrel has a threaded muzzle—1/2-28 for .204 Ruger, .223 Rem., and .22-250 Rem., and 5/8-24 for .243 Win. and larger—to add compensators, muzzle brakes and suppressors. A cap is provided when the aforementioned items aren't used.
Unsurprising to even the most novice gun buyer, the economically priced Compass wears a utilitarian synthetic stock. In terms of its feel and appearance, it ranks exceptionally low in my book. Also, it lacks rigidity. In fact, during testing it could easily be torqued when "stacking the bipod," which negatively affects accuracy. Unlike the Venture, which had inserts to improve purchase, the Compass' stock has molded-in, boomerang-shaped ridges to aid grip. They're both functional and unappealing. Additionally, the butt has a traditional-style cheekpiece (for right-hand shooters), 3/4"-thick rubber recoil, and dual sling swivel studs. On the pistol grip cap is a compass emblem.
Shooters today demand some type of bedding system on their rifle—even value-priced models. The Compass' barebones composite stock has dual aluminum pillars and a secured steel recoil lug to positively locate the receiver. Remember, consistency is the key to accuracy.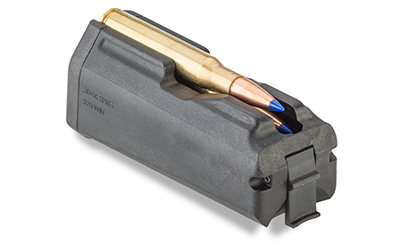 Straying from its past designs—detachable, single-stack, polymer box magazines—the Compass is fed from a detachable, flush-fitting, rotary-style polymer magazine that's similar to that of the Ruger American. Magazine capacity is five rounds in standard chamberings and four in magnums.
On The Range And Beyond
In an effort to show the Compass' "real-world" capabilities, I attached a Leupold Long Range 8.5-25X 50 mm riflescope in six-screw, tactical-type rings to the .30-'06 Sprg.-chambered rifle and gathered three representative loads—value priced and premium hunting—Federal Premium Vital-Shok 165-gr. Trophy Bonded Tip (TBT); Herter's Select Grade Brass Case 150-gr. soft-point cutting edge (SPCE); and LakOrr 165-gr. Nosler AccuBond. Firing occurred from a bench with a sandbag supporting the rear of the rifle and a Harris bipod beneath the front. Despite a temperature of 88° F during testing, reasonable effort was made to let the barrel cool between groups.
According to T/C Arms, the Compass is guaranteed to provide minute-of-angle (m.o.a.) accuracy—1" three-shot groups at 100 yds.—with premium ammunition. Although I noted such groups below, I adhered to the American Rifleman protocol of five consecutive, five-shot groups, which is far more stringent and telling of a rifle's capabilities. For those dire situations, doesn't it make sense that you'd want to know where the additional round(s) in your rifle would be impacting in relation to the first three? I think so.

I first shot the LakOrr load, producing four groups that met T/C Arm's accuracy guarantee. Naturally, overall group sizes increased with the addition of two shots. Still, with an average of 1.08" for 25 shots, the LakOrr load verified the capabilities of the platform and company's guarantee. Second up was Federal Premium's TBT, which, according to my own past testing, either performs well or not depending on the rifle. In this instance, the Compass appeared not to be a huge fan. Only two, three-shot groups were sub-m.o.a., and the overall average was 1.37"—certainly sufficient for big-game hunting, but not LakOrr accuracy, either. The last load I used was an "economy" option, Herter's Select Grade Brass Case SPCE. Three, three-shot groups fell within sub-m.o.a., accuracy and the five consecutive, five-shot groups averaged a respectable 1.25". With the perfect load and in moderate climate (remember the temperature), I do believe that the Compass is capable of consistent sub-m.o.a. five-shot groups. During testing there were no failures to feed, fire, extract or eject.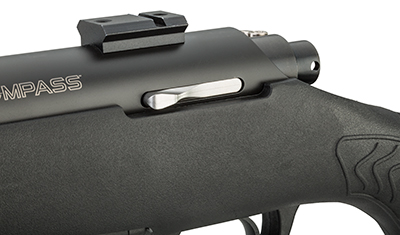 As I discovered on the range, there's a lot to like about the Compass. The trigger is top-notch, the barreled action is (obviously) well made—as it exhibited very good accuracy for an economy-class rifle—and the magazine proved to be sure functioning. Additionally, the bolt and safety designs are user-friendly and thoughtfully designed, and it has great balance for freehand shooting. Lastly, the threaded barrel will be a boon for sound suppressor owners.
Nonetheless, there is room for improvement. As mentioned elsewhere, the composite stock is somewhat easily contorted if pressure is applied to the fore-end, such as when "stacking" a bipod or cinching tightly on a sling (i.e. military-style or Ching Sling). This can affect the barrel's free-floating nature. Moreover, it has an undeniable "cheap" feel to it. Granted, the price of the rifle must be taken into account, too, and the stock does serve its purpose. It would also benefit shooters if T/C applied checkering or stippling to the bolt knob and/or increase its size to enhance purchase. That's nitpicking, I know.
Compass rifles are currently available in 10 chamberings ranging from .223 Rem. to .300 Win. Mag. As of yet, no left-hand versions are available.
By reflecting on its own past, considering its competitors and tracking market trends, T/C Arms has found its heading and the Compass is pointing the way. Let the journey begin.