Support NRA American Rifleman
DONATE
Plenty of folks have been packing snub guns like the Ruger SP101 and LCR, Smith & Wesson J-Frame and the Taurus 85 for years (including yours truly). However, over the last decade or so, a variety of affordably priced pocket-sized polymer framed .380 ACP and 9 mm pistols have been horning in on the sales of snub-nose 5-shot revolvers. During this same time period, some state legislatures have voted to crack down on semi-automatic handguns by limiting the ammunition capacity for carry pistols. As a result, defensive revolvers are enjoying increased sales in those states.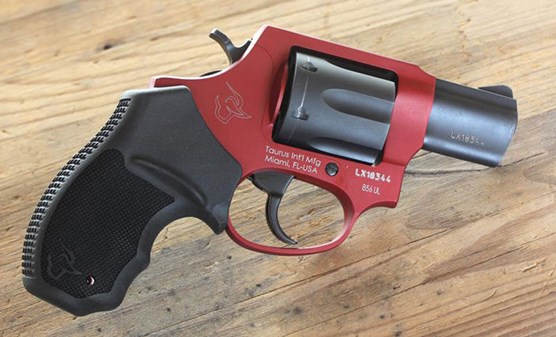 All of these dynamics have given wheel gun makers good reasons to spice up their concealed-carry offerings. And that spicing has, in most cases, has taken the form of a sixth chamber in the cylinder while keeping the frame sizes compact and easy to carry. As one of the most popular providers of budget-friendly concealed-carry revolvers, Taurus USA didn't want to leave its customers in the lurch.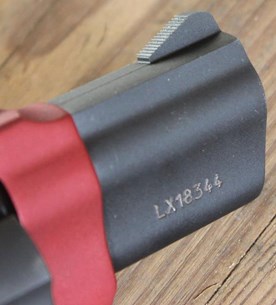 In 2018, the company launched a new all-steel version of the popular Model 85, with that oh-so-desirable extra chamber, called the Model 856 chambered in .38 Special. Available in blued and stainless steel finishes, they weigh in at around 22 ozs. unloaded. For 2019, the Model 856 lineup has been expanded to include the 15.7 oz. Model 856UL Ultra-Lite aluminum frame version in a variety of colors with DA/SA or DAO triggers. This review takes a closer look at the 856UL DA/SA with a Burnt Orange frame finish and matte-black carbon-steel appointments.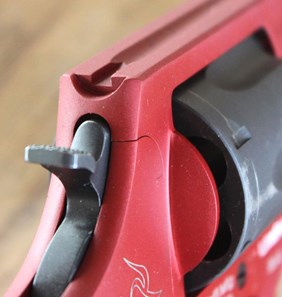 The tricky part of drilling additional holes in a carry revolver's cylinder has always been finding that often elusive, just-right balance of size and strength. The cylinder must be strong enough to handle the pressures generated by the cartridge while remaining small enough that folks will still want to carry it. When Ruger developed 6-shot versions of the SP101 and LCR revolver, they solved the cylinder size problem by chambering the guns in the slimmer .327 Fed. Mag. cartridge instead of .38 Spl. Unfortunately, despite being a terrific round, the .327 has not caught on with the mainstream shooting community.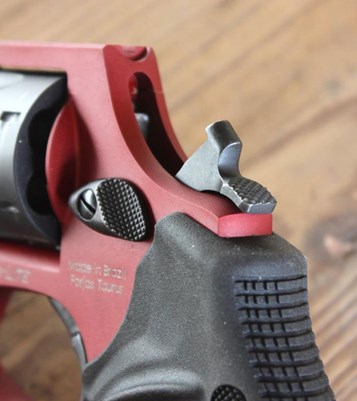 Instead of using a smaller cartridge, Taurus opted to keep the .38 Spl. and add a sixth chamber by increasing the cylinder size of the 856 just a bit, but not so much that it would no longer fit in their small revolver frame. The Taurus 85's 5-shot cylinder has a listed width of 1.346". The 856 series cylinder measured 1.40" across according to the digital calipers I keep on my desk. That's a difference of 0.054", which is the thickness of four typical business cards stacked on top of each other. In other words, there is no practical difference in size between the 5-shot and 6-shot beyond the fact that some wet-molded leather holsters for the 5-shot won't fit the new model.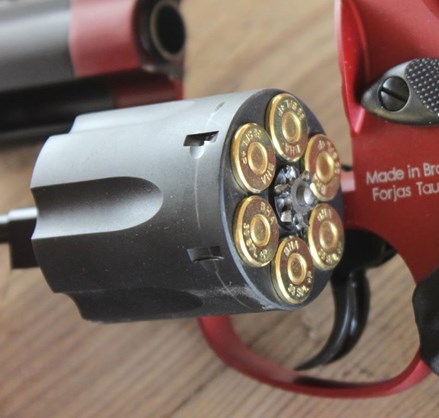 The Taurus Model 856UL is a double-action revolver that draws on the Smith & Wesson design, including the wedge-shaped cylinder release. The 2" steel barrel is set in a steel barrel housing which shrouds the ejector rod and is topped with a fixed, serrated front sight blade. The cylinder yoke of the revolver tested swung out easily to the left side when the cylinder release was pressed forward (toward the muzzle). The ejector was grit free when pressed and the cylinder spun freely in the open position. These are good signs during the bench check of a properly built revolver.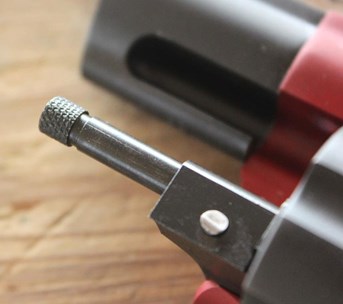 The trigger and hammer felt just as good to cycle. For comparison, I cycled the trigger side-by-side with a factory standard Ruger SP101 and a Smith & Wesson J-Frame Air Weight. Although the 856UL's trigger was slightly heavier, it was just as smooth as the other two (well broken in) revolvers. The double-action trigger pull was 11 lbs. 7 oz., according to a Lyman's digital trigger gauge, with the single-action trigger pull weighing in at 5 lbs. 11 oz. After measuring the trigger pull, I dry fired the revolver repeatedly to verify that the cylinder was properly timed. It never missed a beat during the bench check or at the range.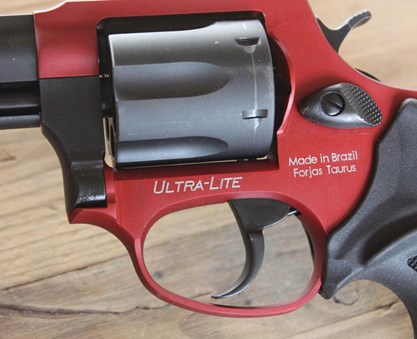 The exposed hammer has been shortened to reduce snags when drawing and checkered to make it easier to cock for double-action fire. The trigger has a smooth face and is housed in a traditional rounded trigger guard. I like the updated, progressively textured 2-finger rubber grip design. It's slim with a smooth finger grooved front, sides that are checkered and a back strap that features a more aggressive texture that grabs the palm of the shooting hand. This combination of three textures makes the grip feel comfortable and secure during recoil.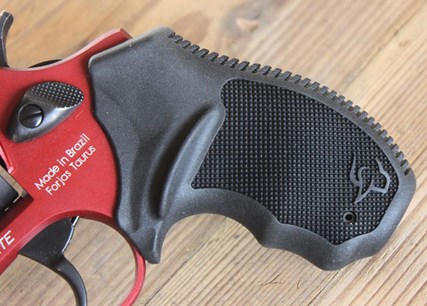 If you are in the market for a laser sight, Taurus has teamed up with Viridian Weapon Technologies to offer the 856/856UL laser grip. This compact rubberized 3-finger grip features an activation switch molded into the finger grooved front strap. Grasping the grip activates the red laser which is visible for up to 25 yards in daylight conditions. The red laser diode is located on the right side of the grip and is fully adjustable for windage and height. A pair of CR2032 batteries provide up to four hours of run time. The lightly textured sides feature the Taurus logo. It's a comfortable, hand-filling grip that won't spoil the concealable footprint of this revolver. Taurus will be offering a few 856 models with the grip installed at the factory or it can be purchased separately.


For those of us who are not Jerry Miculek, snubnose revolvers are short-range defensive handguns with practical defensive accuracy ranging from contact distance (arms length) out to around 7 to 10 yards. Like other lightweight pocket pistols chambered for medium center-fire cartridges, the 856UL can produce a snappy level of felt recoil with hot or heavy bullet .38 Spl. loads. However, there are several defensive .38 loads available that have been tuned for short barrel revolvers. They generate less felt recoil and reduced levels of muzzle flash.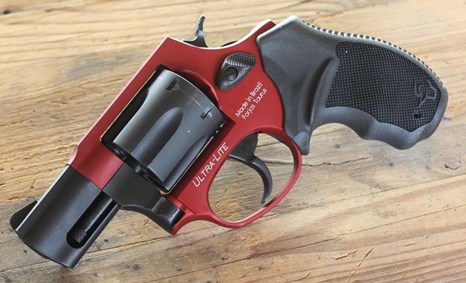 The 856UL operated flawlessly throughout the testing process. It loaded, fired and ejected all of the test ammunition without any issues. For formal bench rested accuracy testing at 7 yards, the revolver was fired in single-action mode using the factory iron sights. The gun was stoked with a low recoil practice load, a standard pressure defensive hollow point with a light bullet weight and a +P defensive hollow point. The accuracy results were on par with the results I've been able to produce with other similarly sized .38 Spl. revolvers.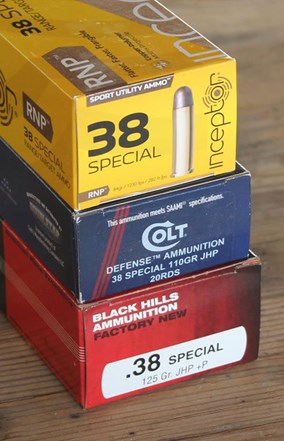 Inceptor's soft shooting 84-gr. RNP poly-copper round nose printed a best 5-shot group of 2.45" with a five group average of 2.73". Double Tap Ammunition's managed recoil Colt Defense 110-gr. jacketed hollow point punched out a best group of 2.41" with an average of 2.71". The full-power Black Hills 125-gr. +P jacketed hollow point yielded a best group of 2.65" with an average of 2.92".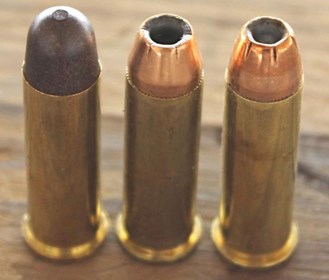 One of the challenges Taurus faces these days is overcoming a history of inconsistent quality control. When production has been good, the guns coming off the assembly line have been a real value for the price. But there have been times when revolvers left the factory with problems ranging from surface damage (scratches and dings in the finish) to triggers that required a team effort to cycle.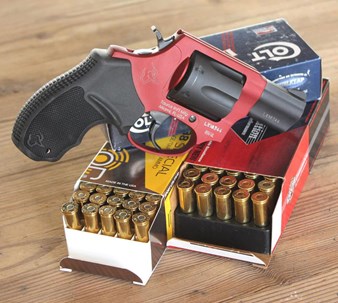 Having acknowledged that, I'm glad to report that the new Taurus 856UL I tested does not exhibit any of the quality issues I've seen in some past models. The fit and finish throughout are clean and professionally executed. The trigger and other controls are nice and smooth with a cylinder that spins freely outside the frame. The factory rubber grip feels good in the hand and provides plenty of purchase for managing felt recoil. Simply stated, I couldn't find anything to complain about with this Taurus revolver. With a real-world price closer to $300, it proved to be a rock solid little snub gun that I would have no qualms about carrying for personal protection.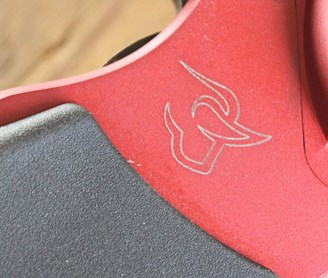 Specifications:
Manufacturer: Taurus USA
Model: 856UL (2-856021ULC13)
Action: Double-Action/Single-Action Revolver
Caliber: .38 Special +P
Frame Size: Small
Frame Finish: Hard Anodized Aluminum, Burnt Orange Color
Barrel, Cylinder & Appointments: Carbon Steel, Matte Black
Grip: Taurus Branded Textured Rubber
Front Sight: Serrated Ramp
Rear Sight: Fixed Square Notch
Safety: Transfer Bar
Double-Action Trigger Pull: 11 lbs. 7 oz. (as tested)
Single-Action Trigger Pull: 5 lbs. 11 oz. (as tested)
Barrel Length: 2.00"
Overall Length: 6.55"
Height: 4.80"
Cylinder Width: 1.40"
Weight: 15.7 oz. unloaded
Capacity: 6 Rounds
Rifle Grooves: 6
Accessories: Cable Lock, Owner's Manual
MSRP: $398.33
Viridian Weapon Technologies 856/856UL Laser Grip: $299