Support NRA American Rifleman
DONATE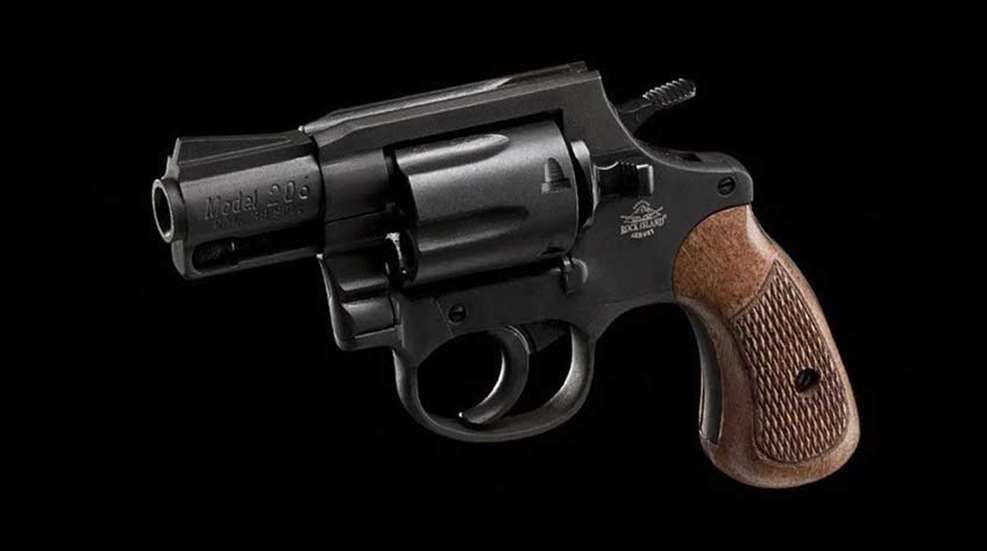 I'm a fan of hard-working .38-cal. revolvers for personal protection. They're reliable, simple to operate and pack a solid level of stopping power when loaded properly. But not everyone who wants a defensive revolver can shell out the kind of cash needed for some models.
Hoping to find a solution to this problem, I've spent the last few years looking around various trade shows in search of a useful and affordable new .38 Special or .357 Magnum. I wanted something that could be put to work as a truck gun, a kit gun or fill the important roles of home defense or concealed carry for those who are financially strapped.
For the most part, the fruits of this quest have been disappointing. When looking at new revolvers with prices under $400, some of what you'll find is downright spooky. Poor craftsmanship, mysterious and unidentifiable alloys, and triggers that feel like dragging a chunk of concrete across a sheet of sand paper abound.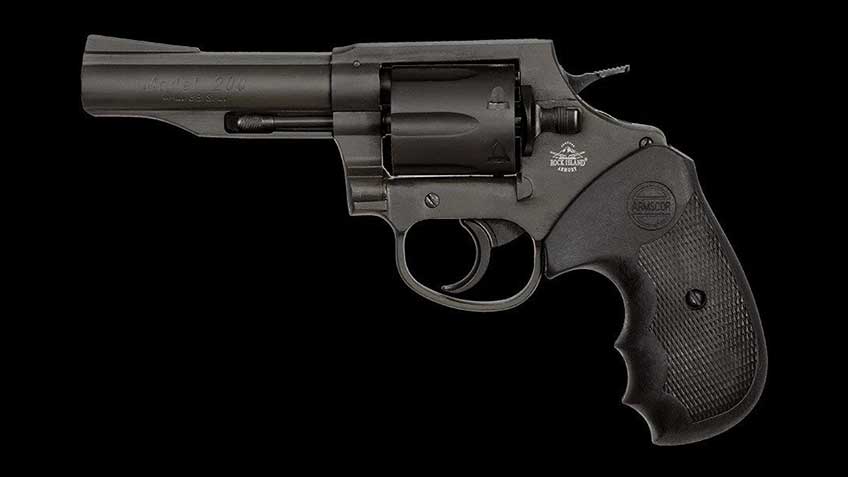 I had nearly given up on finding an inexpensive revolver worth testing when I stopped by the
Armscor USA and Rock Island Armory
booth at SHOT Show a few years back. It had slipped my mind that Rock Island's catalog of firearms made in the Philippines contains a couple of revolver models including the 4" barrel M200 and the 2" barrel M206.
I noticed the six-shot .38s this time around because the company had two on display front and center. The representative explained that in addition to the standard Parkerized double-action M206 model, the company was adding spurless double-action-only versions that year in both a Parkerized and satin nickel finish.
Let me be clear with revolver fans who have an eye for aesthetics: the M206 is not going to win any beauty contests. It is a simple, all-steel revolver that sacrifices outward refinements for costs savings. The Parkerized and nickel finishes were properly applied if not necessarily attractive. Opening the cylinder revealed casting and grinder marks that one would not see on more expensive .38s.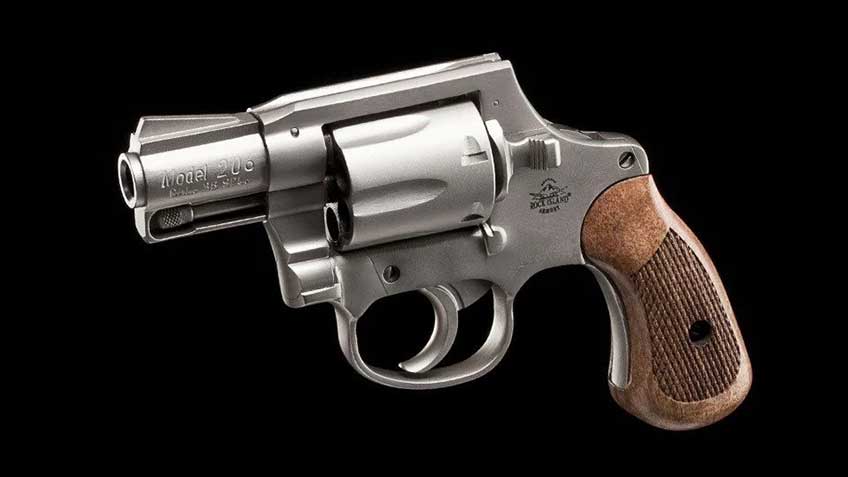 The configuration of the M206 shows a mix of influences. The frame, six-shot cylinder, pull-back cylinder release and old-fashioned checkered wood grip are all reminiscent of the Colt Detective Special. The single-piece 2.15" barrel, which is pinned to the frame, has a fixed front sight and squared off ejector shroud seemingly borrowed from Charter Arms.
The low-mounted, spade-shaped hammer spur of the double-action model is unlike any other modern hammer that I've worked with so far. The deeply curved, smooth-faced trigger is housed in a rounded trigger guard. A transfer-bar safety prevents the revolver from firing if bumped or dropped.
I'll freely admit here that my previous experiences with budget-friendly wheelguns have left me feeling a bit jaded. The looks of the M206 revolvers lying there on the table did not exactly cause my heart to race. But my impression of the revolvers changed once I started handling them.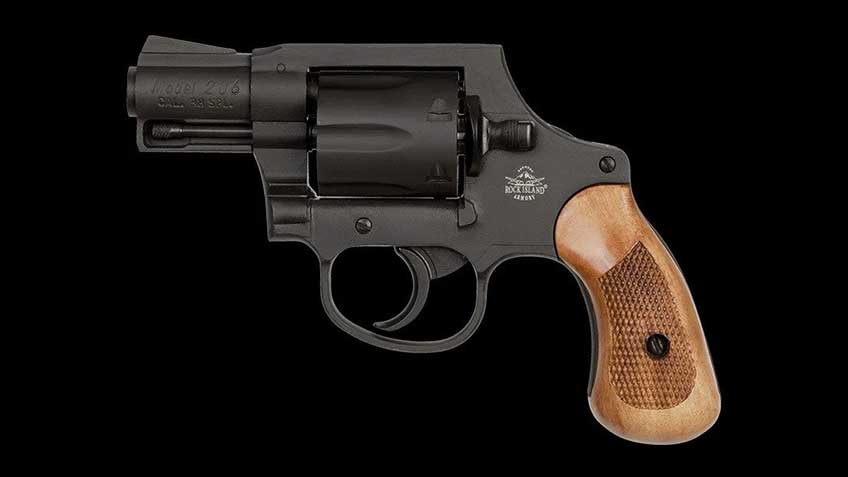 The problems found in some inexpensive imports were absent in the M206. There was no grit in the cylinder release. The cylinder dropped open smoothly with no binding in the yoke or ejector star. The cylinder spun freely when in the open position. The ejector moved back and forth easily but snapped back into place when released. Only a modest amount of pressure was required to push the cylinder in and out of the frame.
So far, so good. In fact, the M206 was much better than I expected. Now came the moment of truth. Would the trigger cycle cleanly or would it require a one-eyed, spinach eating sailor to cycle? It was good to discover that the triggers of both revolvers were smooth throughout their arch of travel.
The spurred hammer of the double-action model was free of any roughness, swinging back into the cocked position with a distinctive click using a comfortable level of effort. In short, the M206 looked like a plain Jane revolver while behaving like a much more pricey model.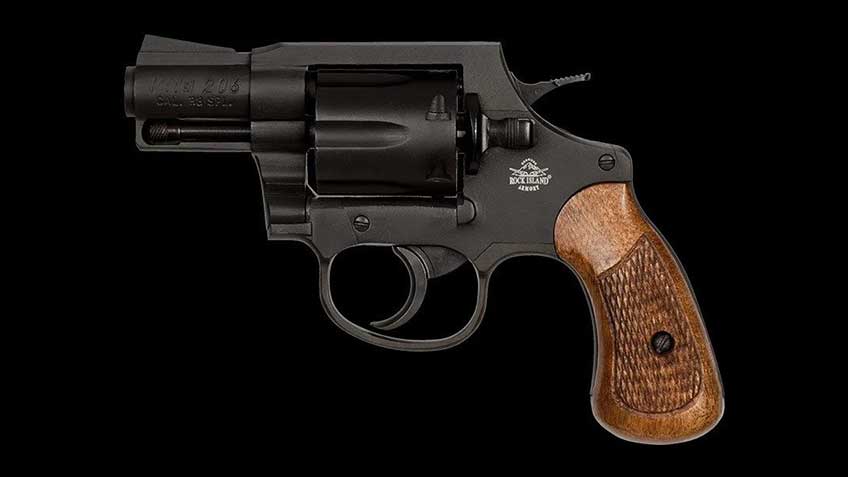 When a factory-fresh M206 revolver headed my way later, I put it through the same bench checks used at the trade show. It demonstrated the same smooth operation throughout the action and in the trigger. The trigger required 10 lbs. 10 ozs. of trigger pull to cycle in double-action mode and 6 lbs. 2 ozs. of pressure when fired single-action.
Included in the shipment was a good supply of Armscor USA .38 Spl. to break in the gun along with one of the full-size hard black polymer grips usually installed on the 4" barrel M200. I was glad to have the grip, because I found that the long hammer could pinch the web of the shooting hand thumb when the hammer was cocked for single-action fire with the compact wood grip. Installing the polymer grip resolved the problem.
One of the first questions to pop up with modern .38 Spl. revolvers is whether or not they can safely fire +P ammunition. If a .38 Spl. cartridge loaded to SAMMI standard +P levels, it's going to generate somewhere around 9 percent more pressure than a standard load.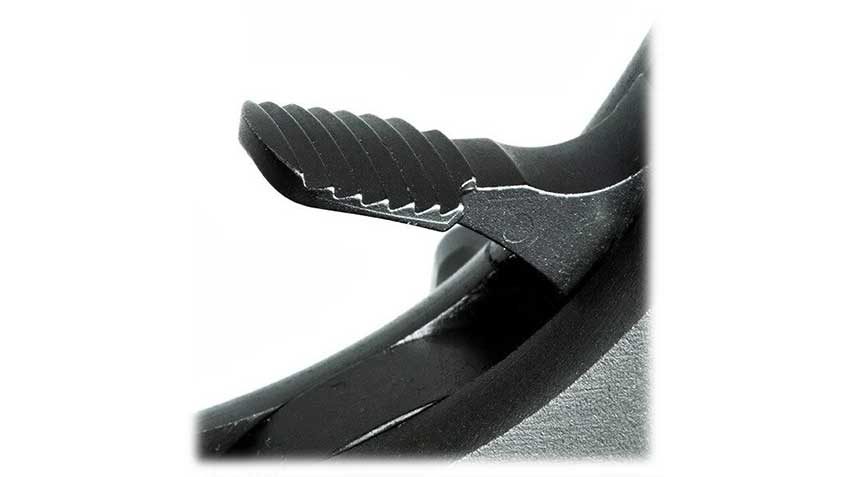 This may not sound like much of an increase but the boost in power causes revolvers to wear out more quickly and, in some cases with weaker or older guns, using +P loads could possibly cause a catastrophic failure.
When I asked the Rock Island representative at the trade show if the M206 is rated for +P ammunition, he said I could go ahead and shoot it. Readers have reported that when they contact Rock Island they get the same answer.
However, if you look at the M206 barrel markings, the owner's manual, and the company website, the gun is referred to as being a ".38 Spl." with no mention of +P ammunition. On page 5 of the owner's manual it reads, "The M200 REVOLVER is chambered for Cal. .38 Special cartridges manufactured in accordance with standard industry practice." It could be argued that this statement includes SAMMI specification +P loads, but it's not very specific.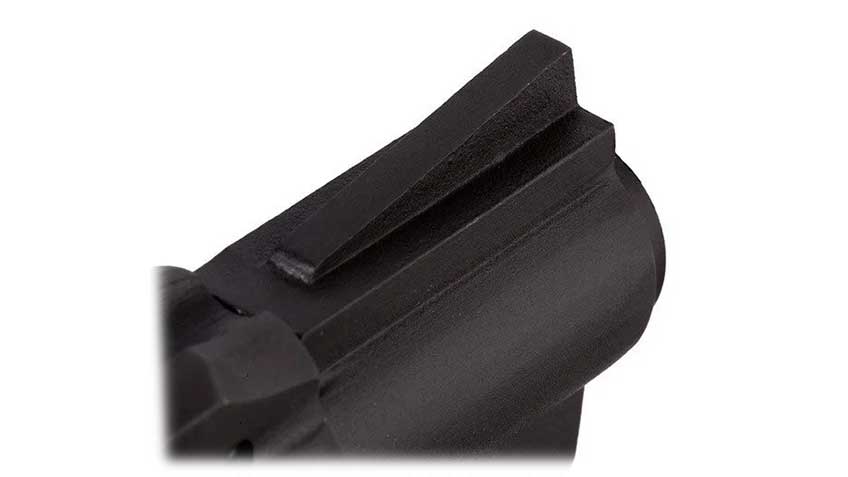 Other revolver manufacturer's who rate their revolvers as +P, including Ruger, Smith & Wesson and Charter Arms, come right out and say it by writing ".38 Spl. +P" in their product descriptions and barrel markings. So when it came time to test the M206, I opted to work with standard pressure loads.
At the shooting range, the M206 six-shot was an enjoyable reminder of why mid-sized .38 Spl. revolvers were popular with law-enforcement personnel before the mass migration to semi-automatics. The 25-oz. weight of this snub gun is a bit heavy for concealed carry, but it tames the recoil of standard velocity .38 Spl. ammunition nicely.
All of the test ammunition loaded, fired and ejected reliably. Spent cases often fell free from the cylinder without any help from the ejector. Shooting free hand at 15 yards, it was not much of a challenge to maintain regular center-of-mass shot placement. Formal accuracy testing was conducted from a bench rest using the revolver in single-action mode firing into targets set at 7 yards.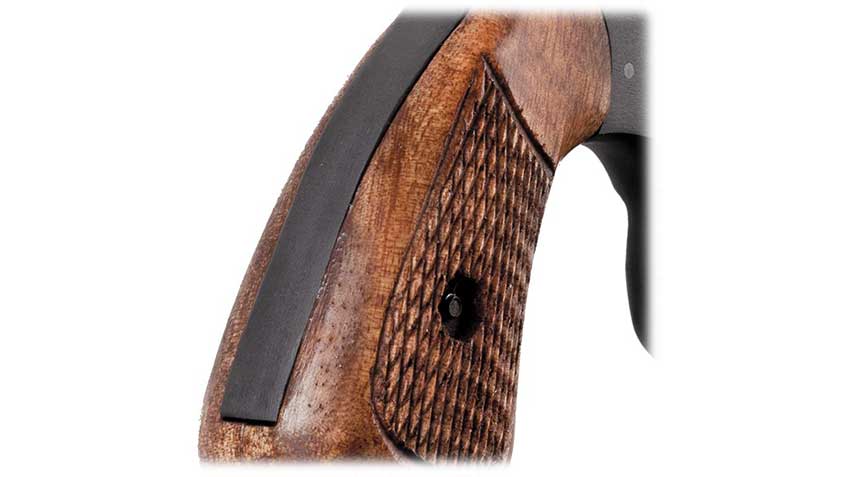 The results were on par with other 2" revolvers I've tested.
HPR
HyperClean 158-gr. jacketed hollow points produced the best single group of 1.85" with the best five-group average of 2.04".
Remington
110-gr. HTP semi-jacketed hollow points yielded an average of 2.17", followed by the Armscor 158-gr. full-metal jacket load at 2.19".
The M206 .38 Spl. is something of a shooting market contradiction. With the Parkerized models marked at a suggested retail price of $283, and real-world prices under $250, it seems like these six-shot steel revolvers would have mediocre triggers and actions. But much of the finishing work is done the old fashioned way: by hand.
The result in a smooth action and trigger that is better than the revolver's price would imply. If you are looking for a .38 Spl. that is affordable, enjoyable to shoot and shipped with a Limited Lifetime Warranty, this Rock Island revolver deserves a closer look.
Rock Island Armory M206 Specifications
Manufacturer:
Rock Island Armory
Model:
M206 Action: Double-Action Revolver
Caliber:
.38 Spl.
Finish:
Matte Black Parkerized
Grips:
Compact Checkered Hardwood
Sights:
Fixed Cylinder
Width:
1.40"
Barrel Length:
2.15"
Overall Length:
7.75"
Weight:
25 ozs. unloaded
Capacity:
6 rounds
Twist:
1:18" RH
Rifle Grooves:
Six
Accessories:
Hard Case, Owner's Manual
MSRP:
Parkerized $283, Nickel: $492