Support NRA American Rifleman
DONATE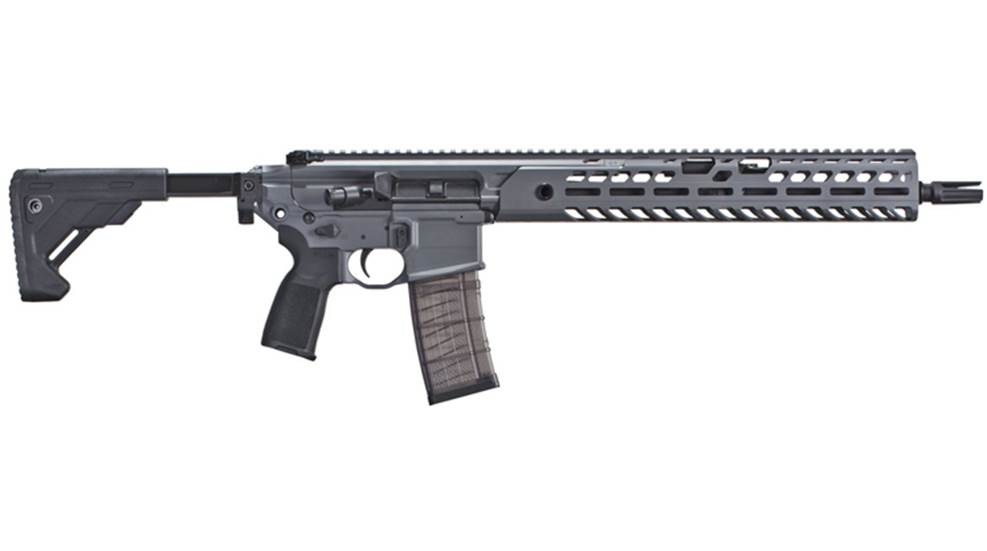 As I examine the rifle before me, I find myself at a bit of an impasse; a case of writer's block, if you will. How do I describe this new rifle? Is it an AR-15 (commonly referred to as a Modern Sporting Rifle—MSR for short) or something entirely different? And even if this rifle does bear some strong visual similarity, can it be called an AR-15? When does a rifle based on the Modern Sporting Rifle stop being an MSR and turn into something new and different?  
SIG Sauer has gone all in with modularity and has had great success with the P320 modular handgun. The P320 can be assembled into a full-size, compact or sub-compact (and in several different calibers) without the need for tools or armorer level work. This allows an individual, law enforcement agency or military unit to configure one pistol to meet multiple roles. Now, taking the modularity concept to the rifle world, SIG Sauer is producing a Modern Sporting Rifle that's built around the legacy AR-15 lower receiver. This rifle can be assembled into various configurations, sizes or barrel lengths based on operational or individual needs all while using just the one serial numbered lower receiver.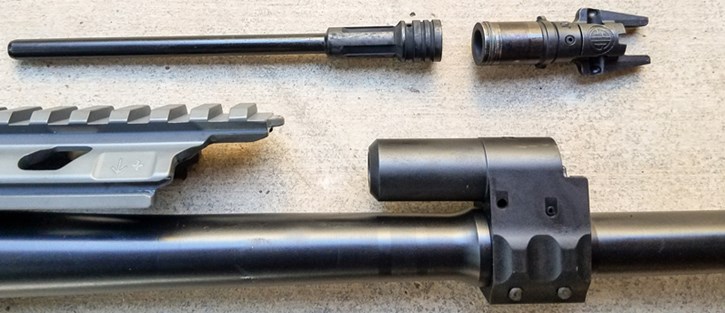 The rifle is the MCX Virtus Patrol, made by SIG Sauer in New Hampshire. It is a semi-automatic rifle that, from a distance at least, looks just about like every other MSR on the market. So, what does the MCX offer that can't be had from a traditional MSR? For starters, the MCX is piston-driven. Piston-operated rifles will generally run longer with less maintenance than their direct impingement cousins. This can especially be true when using a sound suppressor. Another benefit is that the MCX's gas system is adjustable and can be somewhat tailored to the ammunition or suppressor being used. This can be quite beneficial when shooting .300 AAC Blackout, because this cartridge can be somewhat anemic in subsonic loadings. These light loads can negatively impact reliability with their reduced operating pressures, often requiring a larger gas port over what works well for supersonic ammo. Another benefit to the MCX is the relocation of the rifle's operating springs. Gone is the tubular receiver extension and large action spring found on a traditional AR. Instead, the MCX runs with two small springs that are located alongside and above the bolt carrier. With the relocation of the action springs, the rifle can be outfitted with a folding stock for easier transport or storage.




From the modularity standpoint, the MCX's buttstock can be easily swapped out between a folding or sliding stock and the barrel and fore-end can be just as easily changed. The rifle can be switched from a 16" barreled .223 Rem. with a folding stock to a short-barreled rifle (follow applicable laws) in .300 Blackout with a telescoping stock using nothing more than a Torx wrench. SIG offers several barrel, stock and fore-end options that allow the rifle to be assembled into any number of configurations. Aftermarket companies such as Midwest Industries, Lancer Systems and Geissele Automatics are producing accessories that might not otherwise be available through SIG Sauer. Check with Midwest or Lancer before ordering to verify fitment as there have been some developmental design changes to the MCX along the way.  



While the MCX is innovative, it actually combines a number of existing ideas that have been used in one form or another over the years. The MCX's dual recoil spring system and short bolt carrier is similar to the bolt and recoil spring assembly used almost 50 years ago in the ArmaLite AR-18. The folding stock mechanism is close in design to what Olympic Arms, Rock River and ZM Weapons have used on some of their models, and the MCX barrel mounting system is quite like the system used by LMT. Maybe companies, including SIG Sauer, produce AR-15 rifles that are piston-driven. SIG's innovation lies in the combination of these previous ideas to make what's basically a new design while staying within the parameters of using an existing lower receiver format. This gives the user a rifle with many modern features yet with operating controls and a manual of arms that is completely familiar.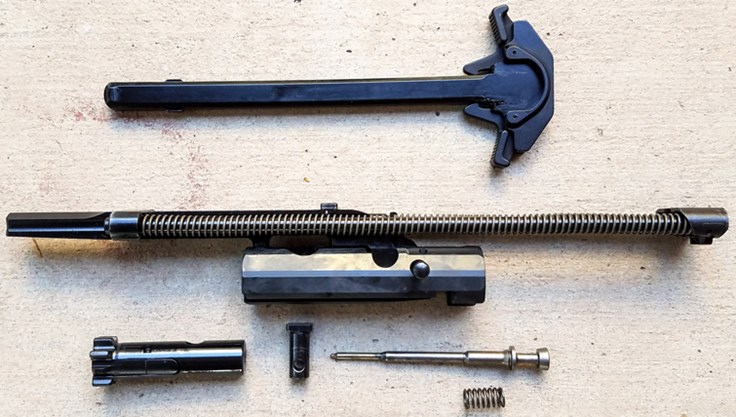 The MCX is going to be immediately comfortable to anyone accustomed to an AR-15. The design parameters are such that the rifle handles and feels familiar and should take little additional practice or training. The one area of difference/difficulty will be field stripping for maintenance. Given that the bolt carrier is based on, but not interchangeable with, bolt parts from an AR-15, some additional effort will be required before the shooter is completely familiar with the MCX's operational parts. The same can be said for the piston gas system, although neither is a heavy lift and a new owner or user will be operating at 100 percent with just a short amount of training or practice.  
On the range, the MCX offered no surprises. By this, I mean the rifle met my expectations. It was reliable and accurate, and I had no issues whatsoever over the course of several day's use. In that time, I used a variety of .223 Rem. ammunition to include expensive "match grade" ammo to inexpensive steel cased blasting ammo to commercial remanufactured fodder with no problems. This held true when switching barrels and running the rifle as a .300 Blackout with and without a suppressor.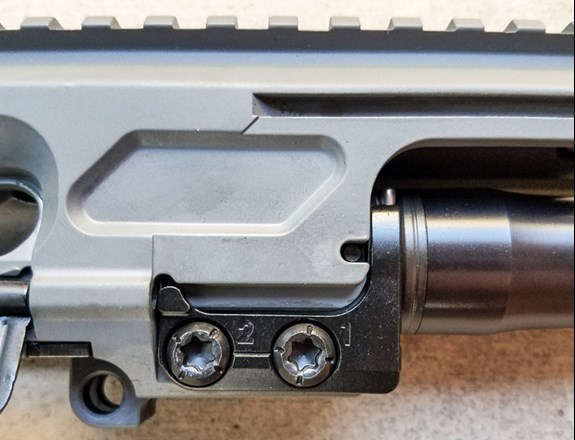 One thing I was concerned about was the rifle's ability to maintain zero when pulling the barrel and switching from one caliber to the next. To test this, I fired a five-round group from 100 yards. I then pulled and re-mounted the barrel and fired another group. I repeated this a total of five times and didn't see more than an inch or so change in point of impact on target.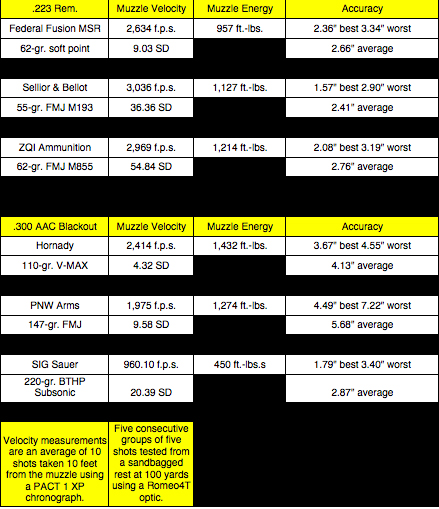 During testing, I used a set of Magpul MBUS Pro folding sights as well as a nifty little red dot optic from SIG Sauer called the Romeo4T. The Romeo4T is both solar and battery powered with an advertised battery life of 100,000 hours. The 4T is unmagnified and features a 2 MOA aiming point at its center and has four different reticle patterns from which to choose. It is both water and drop resistant and has been approved for use, in a slightly different version, by both the Federal Bureau of Investigation and U.S. Customs and Border Protection. Please note that the MCX Virtus Patrol does not ship with a sighting system.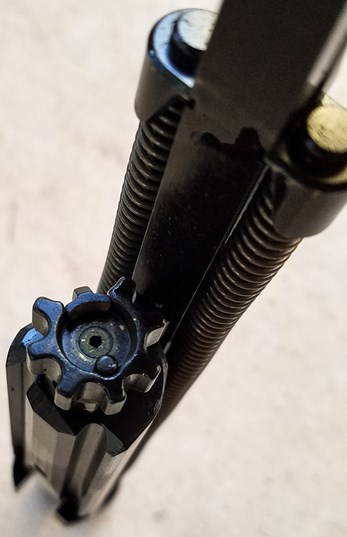 The MCX Virtus Patrol is actually a product-improved version of the original MCX that SIG launched at the 2015 SHOT Show. As originally sold, the MCX used a self-regulating gas piston that was designed to allow just enough gas in for reliable function. Any excessive gas was vented out the front of the piston housing via a spring-loaded valve. This auto-adjusting system was quickly replaced with a manually-adjusted system with two settings. One setting is for suppressed (restricted gas flow) use while another setting is for unsuppressed (wide open gas flow) use. Another change that took place was the change from a standard AR-15 firing pin to a firing pin that is locked in place by a lever. This lever blocks forward firing pin movement and is released by the hammer as it travels forward to strike the firing pin. The new bolt was actually part of a safety upgrade enacted by SIG in response to reports of unintentional discharges. The new MCX Virtus Patrol combines the changes mentioned above but also now uses a fore-end built to accept MLOK accessories as opposed to the KeyMod system used on the previous version. MLOK has slowly but surely become the industry standard for modular fore-ends. The Virtus barrel profile has also been slightly beefed up to address some accuracy issues with the older model.  
SIG is also planning to sell an MCX conversion kit that includes the complete upper and a stock assembly. This means that those who already own a registered full-auto or SBR'd lower can convert this existing firearm to the MCX format and gain the benefits of the piston system and folding stock without buying a brand new rifle. Similarly, police departments with inventories of used M16 rifles can convert these old guns to a modern format easily, given the fact that the MCX is designed to work on any standard AR lower.  
All in all, the MCX Virtus is a new and interesting take on what's possible with the AR platform. SIG has done an admirable job of tweaking an existing design and pushing it probably about as far as it can go while still maintaining the familiarity of the firearm on which it is based. So, when does a rifle based on the Modern Sporting Rifle stop being an MSR and turn into something new and different? I think SIG Sauer has answered that.  
The versatility and adaptability of the MCX are impressive attributes, but they do not come cheap. Still, for those who need a rifle with the unique features, or just want something different, the MCX should offer a good value for its premium price.  
Specifications:
Manufacturer: SIG Sauer
Model: MCX Virtus Patrol
Caliber: .223 Rem. (also available in .300 BLK)
Action Type: Semi-Automatic
Barrel: 16" Cold Hammer Forged 1X7 Twist
Overall Length: 35.5" with Stock Open, 26.5" with Stock Closed
Receivers: Aluminum Alloy, Stealth Gray Finish (FDE also available)
Operation: Short Stroke Gas Piston, 2 Position
Weight: 7.9 lbs. empty
MSRP: $2,233