by
posted on April 25, 2018
Support NRA American Rifleman
DONATE
When you make part of your living testing guns and gear, everything in the safe is fair game for the cause. Scopes get swapped, loads get jumbled, uppers come off and on, barrels even get pulled; one can hardly keep track of which gun is zeroed for what load. As I looked through the scramble of AR components, it hit me that I was in need of just one more rifle: a rifle whose scope would stay mounted and remain zeroed with a single load. A rifle that could ride in the truck, get me through training courses, keep coyotes away from the cows and put some meat in the freezer now and then. I'd use it for plinking and grab it if the alarm went off at 3 a.m. It had to be useful from the muzzle out to hundreds of yards and it had to be something that I could carry for an extended period of time. I didn't frame it this way but, looking back, this rifle needed to fill a similar role to that of Jeff Cooper's "Scout Rifle."

... looking back, this rifle needed to fill a similar role to that of Jeff Cooper's "Scout Rifle."
In a market with so many AR-style rifle configurations from which to choose, it was surprisingly difficult to find what I wanted. To keep this rifle as portable and compact as possible while maintaining the performance I was looking for, it was important to keep the barrel short but not so short as to require paperwork. The National Firearms Act restricts rifle barrel length to 16" but, barrel length can include a muzzle device if it is permanently attached. A 14.7" barrel with a permanently attached 1.5" brake or flash hider becomes a regular rifle under the United States Code. Because I intended to use the rifle with my SilencerCo Omega suppressor, my permanently attached muzzle device needed to be compatible with that product. From what I could determine, the list of factory-produced 14.5" barreled ARs with pinned and welded SilencerCo flash hiders has zero names on it. This is why custom rifles exist. 
There were a few other "must haves" on this rifle that made the custom route the simplest path to take, a mid-length gas system being one of them. Many AR-style rifles with barrels of 16" or shorter use carbine-length gas systems, which is the same length used on the M4. All things being equal, the shorter the gas system, the less shooter-friendly the carbine. Carbine length gas systems can dump a great deal of high pressure propellant gas into the working parts of the receiver, shortening parts life and creating what I call mechanical recoil by slamming the bolt carrier rearward at higher than necessary velocity. All of this can be mitigated by a properly sized or adjustable gas block but, if possible, why not just use the longer and friendlier mid-length gas tube? 



                
With a goal of keeping this carbine as light as possible, the author kept the accessories to a minimum: a scope, a rigid mount from LaRue, a small light and a sling were the only additions made.

My search for a custom builder led me to Modern Outfitters, a company with a reputation for quality that is co-located in Dallas, Texas and Meridian, Mississippi. Modern Outfitters offers everything from tiny PDWs to long-range precision semi-automatics along with bolt guns and even custom-tuned Glocks. These guys are also serious hunters, shooters and trainers, which is crucially important since builders who actually put rounds downrange know what works and what doesn't. One of the interesting things about this company is that, unlike most makers in this space, they actually make the majority of their own parts in-house.    
Modern Outfitters' MC6 Carbine is a premium lightweight AR-style platform designed specifically for the all-around use that I was looking for. Though many ARs look alike, not all of them are created equal. The build starts with a matched upper and lower machined from billets of 7075 aluminum that fit together like a pair of vise jaws. The safety/selector switch is ambidextrous and the oversized magazine release can be actuated without shifting the firing grip. My carbine came equipped with Modern Outfitters' own match trigger, which breaks consistently at a hair over three pounds. The MC6 also has some nice little details that set it apart from the pack such as the billet aluminum dust cover which is held in place by a carbon fiber pin.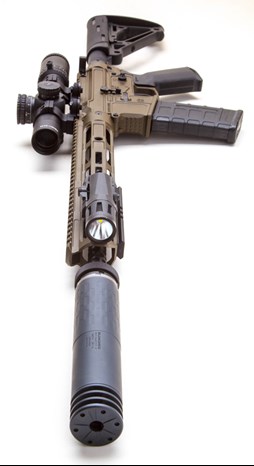 The bolt carrier group on the MC6 is of Modern Outfitters' own design, and is engineered to reduce friction and extend the service life. The bolt carrier is heat-treated before final machining, which eliminates warpage and many of the small parts that are prone to breakage, such as the cam pin, are CNC-machined from billets. The carrier rides the upper on a few select surfaces both fore and aft, cutting carrier tilt. The entire magnetic particle inspected bolt carrier group is black nitrided, which both hardens the surfaces and makes clean-up quick and easy. The charging handle, which also has an integrated gas bleed-off port, is ambidextrous and slightly oversized; it is big enough to grab in a hurry but small enough to be out of the way.   
The 14.7" free-floated barrel is chambered in .223 Wylde, a hybrid that allows for use of both 5.56x45 NATO and commercial .223 Remington ammunition. To get the overall barrel length up to the legal minimum, a SilencerCo ASR three-lug flash hider was pinned and welded in-place. The button-rifled barrel is made from 4150 alloy steel and, instead of being fluted, has a series of hexagonal cuts milled into the surface to reduce weight and to increase the surface area for heat dissipation—it also looks really cool. The aluminum barrel nut is self-contained and does not contact the fore-end at all. Like the carrier group, the barrel is black nitrided inside and out, which increases the life of the bore, makes corrosion a non-issue, and cuts cleaning time significantly. The air-gauged barrel's rifling twist is 1:8", which will stabilize any reasonable bullet weight, including the 77-gr. match loads that we fed it.
The Hogue overmolded collapsible buttstock is, of course, adjustable for length at six positions and connects to the receiver via a 7075 aluminum Mil-Spec maritime buffer tube. A maritime buffer tube has a series of holes at the rear which allow excess gas, water, oil or debris to escape when the buffer is compressed by the bolt carrier. I don't plan on swimming with this rifle but any added safety feature is nice to have. The pistol grip is a black Magpul MOE. The free-floating aluminum fore-end is Modern Outfitters' own design that is narrow, slick and light. The fore-end has four inputs for QD sling swivels, a full-length Picatinny rail at 12 o'clock, and M-LOK compatible accessory panels everywhere else.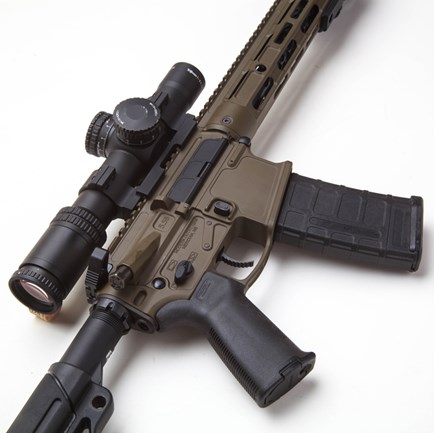 The Trijicon AccuPower 1-8x28mm mounted on this carbine offers plenty of magnification for precision shooting but can be dialed-down to a true 1x for use at close range.
The MC6 is available in a variety of Cerakote colors as well as some intricate camouflage patterns, but I chose simple olive green. The carbine arrived in a high-quality nylon case with hook-and-loop accessory pouches and MOLLE webbing. Straight out of the box, this carbine handled and balanced extremely well and weighed-in at less than 6 lbs. Some shooters can't resist the urge to attach accessories to every available piece of real estate on a carbine but I wanted to keep this setup as light and simple as possible. I added an optic, an Inforce white/IR light, a VTAC padded sling and nothing else.
In order for my MC6 to fulfill the intended role of absolute versatility, my choice of optic was an important one. I needed enough magnification at the high end to make hits out to intermediate distances as well as the ability to dial down to a true 1x for fast work at close range. Fortunately, there are a few such scopes on the market these days—after careful consideration, I chose the Trijicon AccuPower 1-8x28mm. This is a big optic with a 34mm main tube and its 25 ozs. added significant weight to my setup, but the added performance justified the weight. Unlike Trijicon's fiber optic and tritium illuminated optics, the AccuPower uses a CR2032 battery to illuminate the reticle. While this isn't as foolproof as a battery-free optic, the scope is perfectly-useful in most situations even without the illumination and the battery lasts 31 hours at maximum brightness. At 1x, the reticle acts much like a red-dot optic and is lightning fast. As the power is increased, the first focal plane reticle increases in size and the MIL-calibrated elevation and windage holds become visible. At 6x, the reticle provides for up to 30 MILS of elevation holds up to 35 MILS of windage while at 8x, 23 MILS of elevation is available. Since the reticle sits at the first focal plane, the MIL markings are accurate regardless of magnification setting. A set of big, beefy and intuitive locking windage elevation knobs make 0.1 MIL adjustments simple. This is a very user-friendly scope that I highly recommend.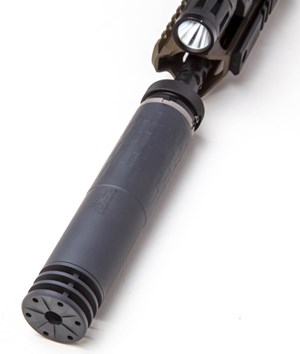 SilencerCo's Osprey is a lightweight and effective suppressor that pairs well with the MC6. Point-of-impact shift with the suppressor attached was 2" at 100 yards.
Because I had no plans to mount iron sights and wanted the setup to be as rock-solid as possible, I mounted the optic in a LaRue Tactical scope mount that used the bolt-on VFZ mounting system instead of quick-detach levers. Although this carbine would swallow any 5.56 or .223 load in a pinch, it was important that I maintained a zero with a single load to keep with the theme. I've had excellent success with PRIME Ammunition in the past, and chose their 77-gr. OTM load for use in this rifle. The 77-gr. bullet works well across a wide spectrum of velocities and is an excellent choice for long-range shooting. This load generated an average muzzle velocity of 2435 fps out of the 14.7" barrel and repeatedly shot sub-MOA groups at 100 yards, with and without the suppressor. Adding a suppressor in the mix can cause a significant shift in point-of-impact: in this case it was minimal, groups fired with the Omega mounted were consistently two inches low which is far easier to manage than a windage shift.
The MC6 handled fast up close and was plenty accurate for the longer range targets that I had in-mind; it was exactly what I set out to create. The trigger made the carbine very shootable in the field and the AccuPoint was a huge asset in terms of versatility. The first time that I attached the SilencerCo Omega, I experienced what can best be described as a "double-feed": the gas blowback from the suppressor was cycling the action too rapidly and causing the malfunction. There are two solutions to this: Adjust the gas block or add a heavier buffer; I chose the latter. By trading out the included buffer for an H3 buffer sourced from Brownells, the rifle cycled with 100 percent reliability with or without the suppressor mounted.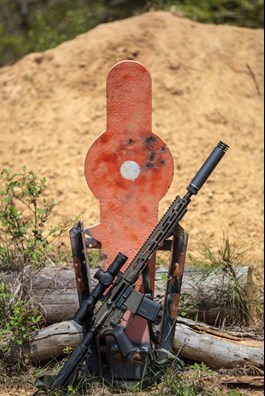 With a 100-yard zero established, it was time to stretch things out a bit. Shooting from the prone position without a bipod or rear bag, I laid the fore-end over a small pack. The round steel target at 200 didn't require any practical holdover so I sighted on a standard pepper popper at 345 yards. Using the reticle to hold for 2 MILS of elevation, I squeezed off a dozen rounds quickly but steadily. The hits were barely audible at that distance but the lack of dusty berm impacts told me that I was on-target. With the suppressor cutting the already minimal recoil down to nearly nothing, the steel popper stayed in the scope. A bit of wind from 9 o'clock pushed my hits to the right but everything stayed inside a group that was minute of grapefruit.

Right: Shot hastily over a pack at 345 yards, the MC6 showed impressive accuracy with the 77-grain OTM load from PRIME Ammo.         
With a scope, mount, suppressor, light and sling, this carbine weighs in at 9 lbs., 14 oz. and without the Omega it is a pound lighter. It handles quickly when needed but is capable of precision shots out to the limits of the 5.56mm cartridge if the need arises. The MC6 fills the exact role that I needed it to and, thanks to the upgraded components and finishes, does so quite smoothly. Additionally, thanks to the parts such as the billet cam pin and nitride barrel, this carbine will last for tens of thousands of rounds before any parts swapping will be necessary.
I'm not planning on ever becoming the "man with one rifle" but there is some wisdom in having at least one long gun that is ready to go at all times. For me, the Modern Outfitters MC6 is that firearm. Capable of short range maneuverability as well as long-range accuracy, this versatile carbine fits comfortably in the niche that I was looking to fill.  


Manufacturer: Modern Outfitters
Type: Magazine-fed semi-automatic
Receiver: 7075 billet aluminum
Caliber: 223 Wylde (tested)
Barrel: 14.7" Button-rifled, hexagon fluted, black nitride finish
Rifling Twist: 1:8" RH
Trigger: 3.25-lb. single-stage
Stock: 6-positon Hogue carbine style
Finish: Cerakote
Sights: None, Picatinny rail
Length: 32-35" (37.75-40.75" with SilencerCo suppressor)
Weight: 5.8 lbs.
MSRP: $2499