Support NRA American Rifleman
DONATE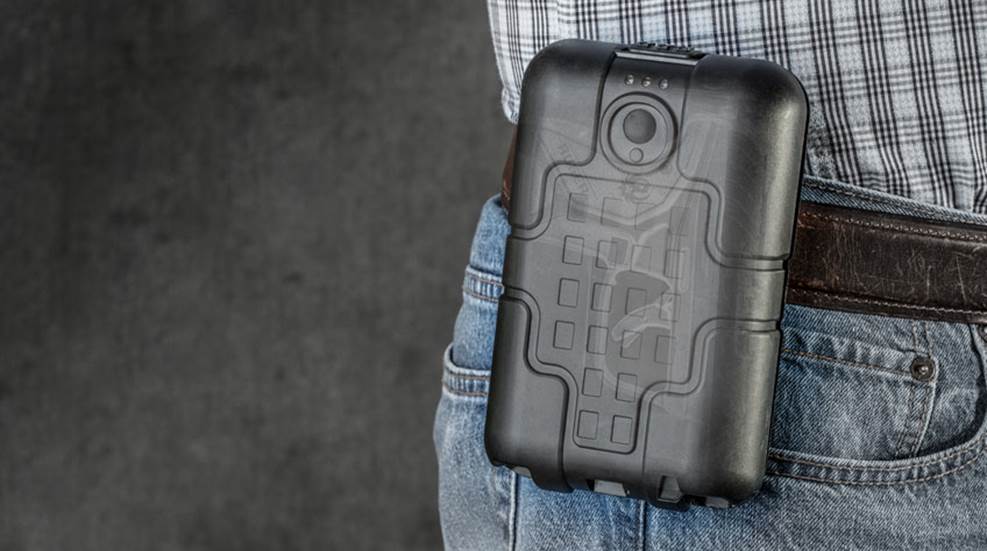 Today's savvy shooting enthusiasts are looking for products that offer much more than those of a generation ago—more powerful optics, more precise rifles capable of tighter groups at longer distances and, in general, more bang for the buck. Yet despite many advances in production methods, materials and accessories, the devices we use to move defensive pistols from Point A to Point B have remained essentially unchanged. Today's belt holsters may be made of thermo-molded polymer instead of leather—but they're still belt holsters.
European American Armory, better known as EAA, has been working diligently the past few years to devise a new means for transporting small concealed-carry pistols that incorporates an innovative design with 21st century technology. Called the Smart ABDO (SA), this device rolls three systems into one package: a concealed-carry holster, an electronic lock box and a wireless security system. The Smart ABDO is an evolution of the original ABDO holster (May 2016, p. 46) released in 2015. Like its predecessor, the SA is a clamshell hard case that can be worn as a belt holster using the heavy-duty belt clip mounted to its backplate. A sliding release lever is located on top, with a concealed hinge installed at the base.
The tough, glass-reinforced nylon shell has been designed to mimic the textures and outline of a large smartphone in a protective cover/case. With an exterior 6.5" long, 4.25" wide and 1.25" deep and an empty weight of 14.2 ozs., the SA is not unsubstantial, however, with the myriad gadgets and gismos carried in purses and on belts these days, it is small enough to hide in plain sight without drawing attention to itself.
The Smart ABDO's snug interior dimensions are listed as 5"x4"x0.75", with a portion of that space occupied by the 3"-long, 1"-wide rechargeable battery housing. According to the digital calipers I keep on my desk, the interior is closer to 0.85" deep, but that's still not a ton of room to work with. There's just enough space inside for a small pocket pistol chambered in .32 ACP (such as the North American Arms Guardian and Kel-Tec P-32) or one of the smaller .380 ACP-chambered micro pistols (such as the Ruger LCP, LCP II, Diamondback DB380 and Kahr Arms CW380), and a model "fit list" is included with the unit.


With the electronic locking mechanism set to Quick Access mode and the device clipped to a belt, pushing the release forward causes the case to swing open (downward) to expose its interior. An adjustable polymer support post, called a barrel pin, fits into the muzzle of the holstered semi-automatic pistol's barrel to secure the gun in a ready-to-draw position.
The barrel pin is 2.75" long and has a diameter of 0.30" at its base, meaning that it cannot be used with pistols chambered for cartridges smaller than .32 caliber. It was purposefully made too long for most compatible guns in order to allow customers to trim it to the best length for their selected pistol. The pin can be left long to fill a chamber (Condition 3) or shortened to accommodate a loaded chamber (Condition 1) without coming into contact with the cartridge. Instructions for proper sizing of the pin are provided in the owner's manual.
EAA has put a good deal of emphasis on the SA's usefulness as a hide-in-plain-sight concealed carry holster. But thinking of this system as just a holster is a bit like leading off a new automotive ad campaign by saying this exciting new sports utility vehicle will keep you dry in the rain. That's true, but it does little to point out the product's more advanced features.
Among the greatest challenges concealed carry practitioners face on a daily basis is the process of transitioning a holstered handgun from their person into storage while away from home. Many folks have permits that allow them to legally wear a gun while walking and driving, but they have to remove it and leave it in their vehicle when they arrive at work. Permit holders also often have to divest themselves of their guns when entering restricted areas such as schools, drinking establishments, federal buildings and airports.
Unholstering a gun for the purpose of moving it into a strong box, a locking drawer or a vehicle console—where other people might glimpse the transition—can cause unwanted attention. Criminals may strive to steal the gun from its hiding place or law enforcement officials might be called to respond to a "man with a gun" complaint. 
When a Smart ABDO is used to transport a firearm, the gun is already secured inside an electronic lock box. Without touching or exposing the pistol to prying eyes, the device can be lifted off the belt, locked and placed directly into storage. The SA also makes it easy to move from one purse to another. Anyone looking your way will see someone handling a small storage case or personal electronic device, not a handgun.
Four rectangular lock buttons have been discreetly integrated into the styling of the case's front surface. Viewed from the front, they are sequenced 1 through 4, left to right, and can be programmed with a PIN code to prevent unauthorized access to the case's contents. If configured to do so, the device will emit an audible alarm if moved or tampered with. For those who are traveling, placing a completely unloaded pistol in the Smart ABDO and locking it qualifies as transporting the gun in a locked case. It can then be placed inside the trunk of a vehicle or checked luggage for a flight. 
While the powered lock, motion sensor and audible alarm take the Smart ABDO to a new level in compact storage devices, EAA decided to up the ante even more by adding a wireless monitoring and control system to the device. The SA offers WiFi and GSM connectivity, along with GPS monitoring and SMS capabilities. The EAA ABDO smartphone app is free to download for both Android and iPhone operating systems, and after setting up an account for the Smart ABDO online, the app can be used to manage the unit's wireless communications and control features.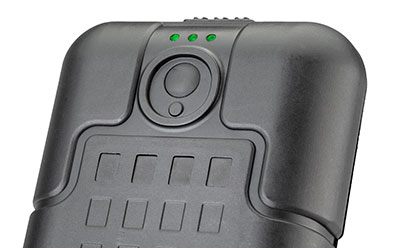 The status of the unit's network connection can be checked by pressing the round status button located above the four lock buttons. When the status button is pressed, three LEDs provide the user with information regarding the status of the network (left), lock (middle) and battery (right). These lights change color depending on the SA's condition. Inside the front cover is an Airplane Mode switch which deactivates the wireless signal for air travel.
Activating the GPS function allows for live location tracking that can be viewed in Google Maps. In other words, you can literally LoJack your pistol. An event history is maintained by the app to record specific events, such as when the device is opened, locked or moved. The Smart ABDO can also be configured to send text message alerts directly to your phone in case of unauthorized access.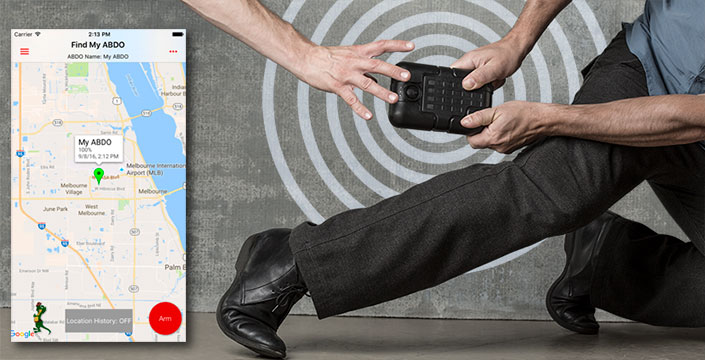 By incorporating today's technologies with the age-old practice of keeping a defensive firearm close at hand, EAA's Smart ABDO represents an exciting step in a new direction for daily concealed carry systems. Like all carry systems, this one does have its limitations; this model doesn't have much to offer those who wish to carry something larger than a pocket pistol.
But what the three-in-one Smart ABDO can do, it does well. It provides total concealment of the pistol, allowing for easy, discreet transitions from the belt or purse into storage when away from home. It can replace other portable lockable cases when traveling across town or across the country. And the wireless security system allows the device to be monitored and tracked 24 hours a day via your smart phone, a feature that few other holsters or storage devices have to offer.