by
posted on November 2, 2017
Support NRA American Rifleman
DONATE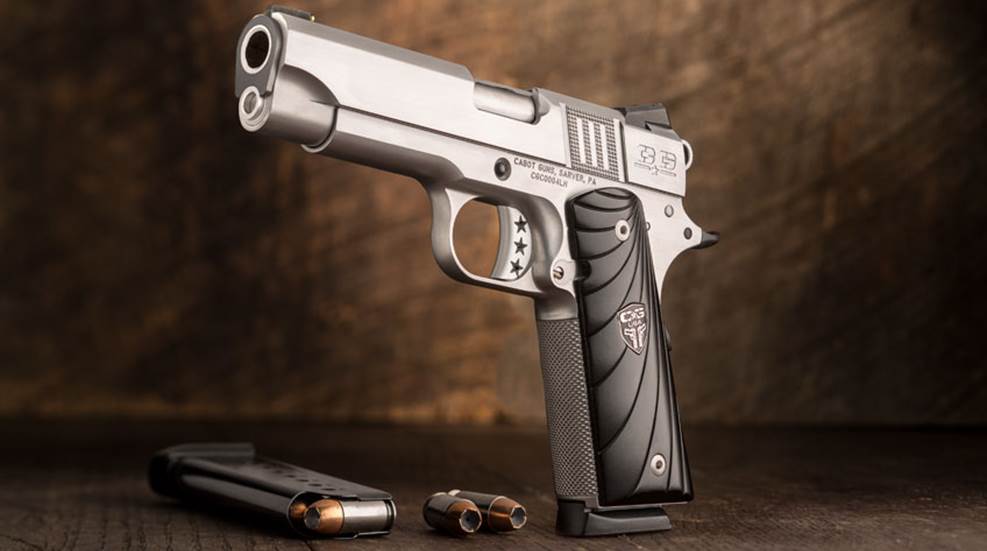 Most modern semi-automatic handgun designs make at least some minor concessions to cater to the left-handed members of the shooting community, whether in the form of a reversible magazine release or bilateral controls. However, the pistol that is 100 percent southpaw-friendly is still a relatively rare thing on the market, and purpose-built left-handed guns—to the point of being designed to the exclusion of the right-handed majority—virtually remain the stuff of legend.
That makes the S103 Limited South Paw, from Pennsylvania-based custom M1911 maker Cabot Guns, something of a unicorn in a world of horses. A true left-hand, Commander-size M1911, the S103 Limited South Paw was built from the ground up to be a mirror image of Colt's venerable carry gun, with its operating controls located on the right side of the frame and its ejection port expelling spent cases to the left.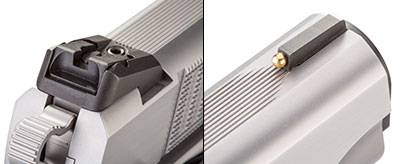 Accomplishing this feat required Cabot to re-engineer 10 components in reverse—the frame, slide, slide stop, thumb safety, grip safety, sear spring, magazine release, magazine, ejector and extractor—all of which are manufactured in-house by the company. Beyond its left-hand format, the Limited South Paw offers everything that might be expected of a product from a high-end custom shop whose "entry-level" offerings begin at $4,000 and go up sharply from there—minute tolerances, superb mechanical accuracy, lavish adornments, and pristine fit and finish. While Cabot offers models in a variety of chamberings, the company's South Paw variants are available only in .45 ACP.
Cabot CNC machines its frames and slides, as well as many of the gun's small parts, from billet stainless steel, a method that is structurally superior to—but more expensive to produce than—forgings, castings or metal injection molding. As a Commander-pattern M1911, the S103 employs a shortened slide assembly, with a 4.25" barrel, atop a full-size frame. Where it differs from a standard Commander is in that the gun features what Cabot calls its Full-Cycle Technology, which means it retains the longer slide rails and cycle length of the Government-size M1911. The result is a compact gun with the feel, timing and reliability of a full-size.
The pistol uses Series 70 lockwork, which means it lacks a passive firing pin safety mechanism. The Limited South Paw also makes use of a traditional removable barrel bushing and recoil spring plug assembly, paired with a steel, full-length guide rod and a flat-wire recoil spring. The linked barrel is crowned and flush-fit to its bushing, and a polished feed ramp helps facilitate feeding. Spent cases are pulled from the chamber via an internal extractor and then expelled from the pistol's lowered and flared ejection port by a frame-mounted ejector. A beveled magazine well aids the shooter during reloading of the gun, and Cabot offers single-stack .45 ACP magazines in three configurations (right-hand-only, left-hand-only and ambidextrous).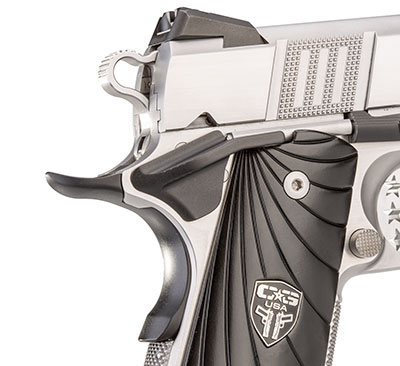 The gun comes with a skeletonized hammer and a rounded, aluminum trigger with three stars cut into its sides. An extended beavertail grip safety, right-side-only thumb safety and slide lock are all rendered in black steel, serving as accents against the satin stainless finish of the slide and frame. Both the flat mainspring housing and frontstrap feature 24 l.p.i. diagonal checkering specially engineered to provide superior traction control during recoil. Cabot's trademarked "Trinity Stripe" slide serrations, which consist of three diagonal grooves surrounded by individually milled checkering points, have likewise been engineered for maximum purchase.
Befitting the custom nature of the pistol, our S103 Limited South Paw test gun bore a few features not present on the base model. The standard configuration's G10 stocks, fixed rear sight and white-dot front sight were instead replaced with ebony stocks, an adjustable low-mount rear and a gold bead front, respectively—and many other options exist. Cabot prides itself on building its guns to what the company calls "extreme" tolerances, and our test gun provides a case study in the advantages and disadvantages of such manufacturing precision. Early during the testing protocol it became apparent that the S103 Limited South Paw had a strong preference for being kept meticulously well-maintained, displaying incredible accuracy when clean but then opening up considerably as the round count increased. Because of this we decided to accuracy test the gun in two phases.
We first mounted the gun in a Ransom Rest and tested three ammunition loads through it, cleaning the S103 thoroughly between each five-shot group. Under these circumstances, the gun demonstrated phenomenal accuracy, producing groups between 1/2" and 3/4" at 25 yds. with all three loads tested. This is truly remarkable accuracy for a handgun at this range; some groups were so small as to defy accurate measurement, given the .452" diameter of the projectile.
In order to better gauge the Cabot's practical accuracy, it was then removed from the Ransom Rest and manually shot from a sandbag rest using American Rifleman's standard protocol of five consecutive, five-shot groups at 25 yds. Cleaning only occurred when switching between loads. The resulting groups are tabulated nearby. While still quite good, with an average extreme spread of 2.33", the build-up of fouling from group to group did impact the pistol's lock-up enough to negatively impact accuracy—as the groups could be observed growing progressively wider.

Handling of the Limited South Paw was quite awkward for our right-handed testers due to the reversed controls, and even our left-handed evaluators—after years of acclimating to right-hand M1911s—took a while to adapt to finally having all the controls in the correct places. Shooting of the S103 was quite pleasant, and the single-action trigger broke crisply—after 1/16" of take-up—at 4 lbs., 6 ozs. of pull. The gun fired, fed, extracted and ejected without issue, however, as the gun grew dirtier, the likelihood of the slide locking back on an empty magazine decreased.
A custom M1911-style pistol with controls tailored to accommodate only the approximately 10 percent of shooters who are left-handed, it's hard to imagine a firearm with a smaller target market than the S103 Limited South Paw from Cabot Guns. But for those lefties with plenty of disposable income who are tired of compromising with a right-handed gun, and who are looking for a beautifully crafted pistol, the S103 Limited South Paw stands alone.