by
posted on January 17, 2019
Support NRA American Rifleman
DONATE
Springfield Armory's new Saint Victor series of rifles and pistols are purpose-built defensive firearms, and built to professional standards for unrivaled performance.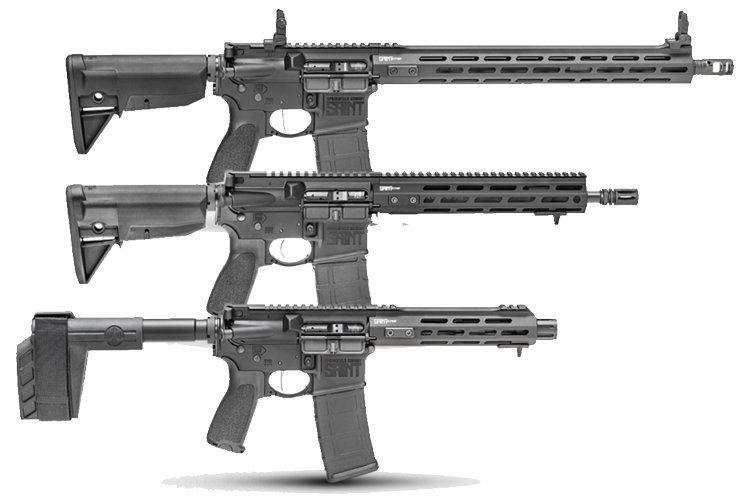 Weighing in at 6.9 lbs, the lower receiver on the Saint Victor Rifle is Accu-Tite tension-bonded to a flat-top forged upper receiver and features a 16" CMV barrel that is Melonite finished inside and out for corrosion resistance. The rock-solid, patent-pending M-Lok free-float 15" handguard protects the mid-length gas system and provides plenty of space for accessory attachment. The Saint Victor features a full-length "interrupted" rail to accommodate modern shooting styles, providing comfort for those who shoot with a thumb-over grip.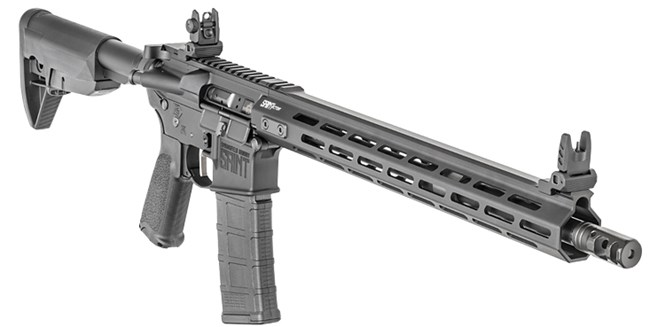 Saint Victor Rifles feature a pinned low-profile gas block, spring-loaded flip-up sights, Springfield Armory's newly designed muzzle brake that eliminates barrel rise and softens recoil, and a new, crisp, grit-free enhanced nickel-boron coated single-stage flat trigger that provides more surface area for positive trigger contact. The staked receiver end plate features a QD mount for sling attachment.



At the heart of Saint Victor Rifles is an M16 bolt carrier group that is also Melonite finished, HPT/MPI tested, shot peened, and houses a 9310 steel bolt. With a fit, finish and feel superior to that of much higher priced AR options on the market, the Saint Victor Rifle is also available in a California-approved model for 2019, with a Strike Industries Featureless Grip and Magpul MOE fixed stock. An 11.5" SBR configuration is also available for LE and civilian use.
The Saint Victor Pistols are the most compact in the lineup, with many of the same features of the rifles, but in a stock-free, non-NFA pistol form with a 7.5" barrel in 5.56, and a 9" barrel in .300 BLK. The pistol is equipped with an SA Forward Blast Diverter muzzle device, and the 9" pistol features an A2 flash hider, easily removed for suppressor use.



Built for CQB, the compact design of the Saint Victor Pistol is an ideal choice for home defense and delivers rifle power in a small, fast-handling package. The rugged SB Tactical SBX-K forearm brace reduces size, stabilizes recoil, and enhances accuracy.
Just like the Saint Victor Rifles, the M16 bolt carrier group is precision-machined from 9310 steel, shot peened, HPI/MPT inspected and finished in super-hard Melonite, as are the barrels, both inside and out. A staked receiver end plate features a QD mount for sling attachment.

Watch the Saint Victor video here.
Check out the specifications. The Saint Victor is available in these configurations:
Saint VICTOR RIFLE: TV916556B – Saint Victor 5.56 MSRP $1,073
STV916556BCA – Saint Victor 5.56 CA Compliant MSRP $1,073
Saint VICTOR PISTOL: 
STV975556B – Saint Victor Pistol 5.56 MSRP $1,015
STV909300B – Saint Victor Pistol .300 BLK MSRP $1,015
Saint VICTOR SBR: 
STV9115556B – Saint Victor SBR 5.56 MSRP $1,073