by
posted on January 10, 2016
Support NRA American Rifleman
DONATE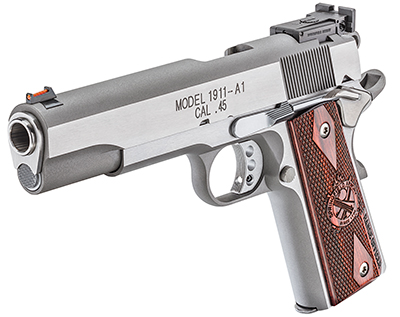 The Springfield Armory 1911 Range Officer models, originally offered in a Parkerized finish, are now available in a brushed stainless steel (enter to win one of 50 new guns as part of Springfield's 2016 New Product Launch!).
Built on full-size Government model frames, the new Range Officer Stainless models feature a forged stainless steel frame and slide, which add recoil-dampening weight to both 9 mm and .45 ACP models. Both measure 8.6" long and 5.5" tall while the 9 mm weighs in slightly heavier due to extra barrel material.

Both models feature durable Cocobolo grips designed to stand up to heavy competition and recreational use. A double-diamond checkering pattern provides positive grip surface without abrasion while the traditional Springfield Armory Cross Cannons proudly display the Range Officer's heritage. 
The stainless steel match barrel and bushing also make this model ideal for shooting in adverse weather climates, as the frame is resistant to rust in damp or wet environment. "Not only does it look great, but it'll also hold up to extreme shooting environments," says Springfield Armory Marketing Director Chad Dyer.
Like their Parkerized predecessors, the new stainless models maintain the popular features of the original Range Officers. A fiber-optic front sight provides great recreational or competitive visibility, while the fully adjustable target rear sight allows the shooter to customize exact point of impact to their preference and preferred ammunition. A 5 lb. to 6 lb. match-grade trigger provides the crisp release necessary to wring maximum accuracy from those precise sights.
Following the original Range Officer design, the profile is clean and uncluttered with the safety and magazine release on the left side only. Less clutter also means less weight, so competitive shooters can hold the Range Officer steady on target with less strain. 
With the new 2016 arrivals, the Range Officer Full Size family now numbers six, with two each chambered in 9 mm and .45 ACP. The 9 mm models come with two nine-round magazines for a total capacity of 10+1. The .45 ACP includes two seven-round magazines.

For more information, please visit springfield-armory.com. Learn more about Springfield's 1950 New Product Launch here. 

For more on the Springfield Range Officer Models, please enjoy the following:

Springfield's Range Officer M1911s 

Video: Springfield Range Officer Compact