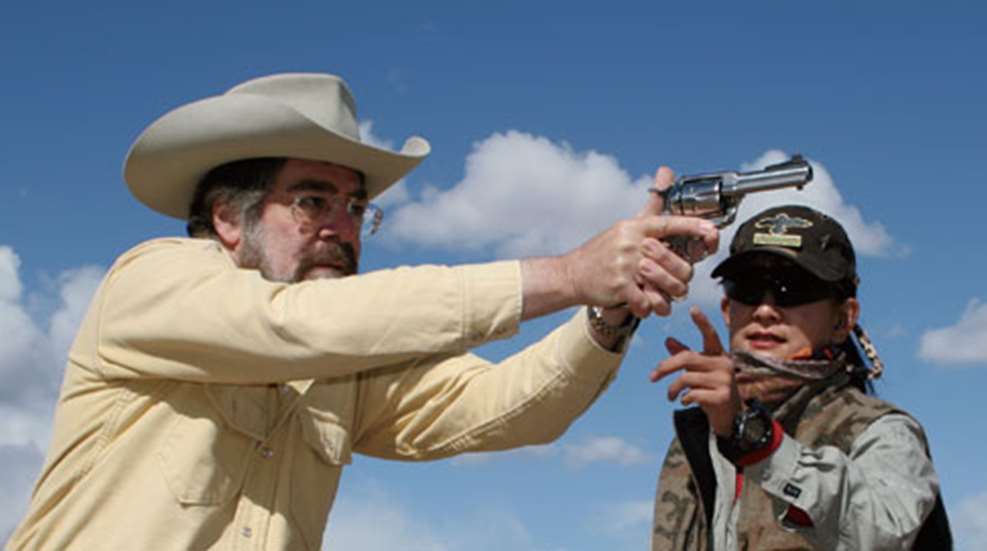 Arizona was still a rough-and-tumble territory when, on Feb. 8, 1903, two Arizona Rangers entered the Cowboys Home Saloon in the border town of Douglas and inadvertently walked into a deadly situation. The rangers—William W. Webb and J. Porter McDonald—were part of an elite group of 26 men organized to clean up that untamed section of the Southwest. One of the saloon owners, Lorenzo "Lon" Bass, had made it clear he would not tolerate lawmen in his place of business, and boasted he would kill Webb in particular if he ever saw him there.
Webb and McDonald brazenly entered the saloon, walked over to the bar and ordered drinks. Upon seeing the Rangers, Bass rushed between them and smashed Webb across the face with his gun butt. Reeling from the blow, Webb instinctively drew his Colt Single Action Army and fatally shot Bass. Unfortunately, at that close range, the bullet passed through Bass and also struck his partner McDonald. Although McDonald recovered from his wound, the bloody gash on Webb's face and the accidental shooting could have been avoided if only the lawman had followed the techniques being taught, more than a century later and a few hundred miles north, in the high desert of Chino Valley at Gunsite Academy.
Founded in 1976 by the late Jeff Cooper, Gunsite is well-known for training law enforcement and military organizations as well as civilians in the defensive use of rifles, shotguns, double-action revolvers and semi-automatic pistols. But Rangers Webb and McDonald would have felt right at home in Gunsite's newest class, Single Action Defensive Pistol (SADP), a three-day modification of the academy's popular five-day Defensive Pistol Course No. 250. To my knowledge, it is the first time professional self-defense firearm techniques have been fine-tuned specifically for single-action revolvers. But don't think Gunsite's SAPD Course is anything like Cowboy Action Shooting. It's not, and even top CAS competitors would learn different skills when taking this course.
"CAS competitions encourage you to shoot as fast as you can, and any hit counts, even an 'edger," says Larry Mudgett, a 35-year Los Angeles Police Dept. veteran, SWAT team instructor, champion CAS competitor and Gunsite instructor who served as rangemaster for the first class. "But in an actual gunfight, a center hit is more effective in stopping your assailant. That's why Gunsite trains shooters to only shoot as fast as it takes to obtain solid fight-stopping hits. In addition, cowboy action shooters often use the lightest loads possible. At Gunsite, we use full-power self-defense ammunition. And while holstering an empty gun after shooting a CAS stage is normal, holstering an empty gun after a gunfight can get you killed by a second threat you may not have seen. That's why we instruct our shooters to always keep their guns loaded."
Indeed, every Gunsite exercise requires a tactical reload, which means immediately replacing the rounds you fired. Moreover, at Gunsite you are encouraged to wear your holstered sidearm at all times, both on and off the range. And although I am a Single Action Shooting Society "lifer" and have been shooting single-action originals and replicas for more than four decades, including shooting exhibitions, fast-draw competitions and hunting, it was the challenge of learning Gunsite's self-defense techniques that brought me to the inaugural SADP course.
As the event was sponsored by Ruger, SureFire and XS Sight Systems, needless to say the six-guns used encompassed a wide assortment of Rugers, including .45 Colt stainless New Vaqueros with 45⁄8-inch barrels, plus the limited-production stainless .45 Montado, which features a lowered and widened hammer spur and 3¾-inch barrel. I also brought my limited-edition Ruger Blackhawk Flat Top .44 Spl., which is built on the pre-1962 XR-3 frame. Ruger even supplied an engraved 50th Anniversary .357 Mag. Blackhawk commemorative, proof that these collectables are also shooters. Two highly customized Ruger single-actions—an exquisite Hamilton Bowen-enhanced .44 Spl. Flat Top and my Super Blackhawk .44 Mag. (through which I shot .44 Spl. ammunition) that had been casehardened and completely reworked by Oglesby & Oglesby—also proved they could shoot as good as they looked.
In truth, any quality single-action could have served us well, including the venerable Colt Single Action Army and the excellent Italian replicas from firms such as Cimarron, EMF, Taylor's and Uberti. The Rugers, however, with their coil mainsprings and rugged construction proved to be real workhorses. Each man fired approximately 300 rounds during the three-day course, and there were no malfunctions with any of the guns. The Ruger transfer-bar system, which permits loading six rounds, is another advantage. With more traditionally styled single-actions, only five rounds can be safely carried, with the hammer resting over the sixth (empty) chamber to prevent an accidental discharge. In a self-defense situation, that extra round in the Ruger could make a difference. In addition, Ruger's reverse-indexing pawl, which permits the cylinder to be slightly rotated back and forth within the loading gate cutout, aided immeasurably when reloading under pressure.
It could be argued that a single-action cannot compete with a semi-automatic or double-action handgun for self-defense, but after going through this course, I beg to differ. From my fast draw days, I can tell you that a well-tuned single-action in the hands of a skilled shooter can clear leather and get off a first shot faster than an M1911, as anyone who has ever witnessed Gunsite alumnus Thell Reed can attest (using only blanks for these high-speed exhibitions). And ergonomically, the plow-handled SA is superior to most other handguns, and in .44 and .45 calibers, the balance is perfect, especially for instinctive shooting. At Gunsite, however, our shots were well-aimed with a two-handed hold, using the thumb of the support hand to cock the hammer, making these guns even more formidable for fast-action shooting.
"The single-action revolver is very effective for self-defense, and they're usually chambered in major calibers, so they're good at knocking things down," said Ed Head, a 30-year law enforcement veteran, retired U.S. Border Patrol field operations supervisor and Gunsite operations manager. "The detriment of a single-action is that it takes more time to reload, but typically you're only firing one or two shots, so a single-action will absolutely do the job."
We put our classroom- and range-trained techniques into realistic practice with Gunsite's many Live Fire Outdoor Tactical Simulators, which use natural terrain features to combine stealth and observation with defensive shooting skills. These courses were not only instructional, they were downright fun and enabled some of us to live out our fantasies. I couldn't help feeling a little like Gary Cooper in "High Noon" as I stalked along "The North Draw," a steep, meandering, brush-choked dry wash where a number of steel knock-down targets were strategically hidden, along with a smaller number of "no shoot" targets. The object was to engage as many of the "shoot" targets as possible while differentiating targets that were off limits, just as Marshall Will Cane had done when he stalked the streets of Hadleyville, looking for Frank Miller and his gang.
And I swear I could hear that haunting theme from "The Good, The Bad, And The Ugly" as I went through "The Scrambler," a seven-station course in which logs, barricades and trees provided cover, concealment and shooting rests while making 60- to 90-yard shots normally reserved for rifle and carbine classes. Admittedly, this was stretching it for my fixed-sight Vaquero, but it taught me to take advantage of field conditions and confirmed that my stainless gun was more difficult to shoot in the sunlight than my blued, fixed-sight Blackhawk. Most of these were not timed courses because, as Head said, "You don't want to be in a hurry to go to a gunfight."
"I don't think that anybody who has a single-action should feel deprived in any way," noted Il Ling New, one of Gunsite's premiere defensive handgun, rifle and shotgun instructors—and a licensed guide who has hunted throughout the world. "You really should fight with what you have. Why not use your single-action as your defensive handgun? Those five or six rounds in the chambers can win the fight for you."
Wyatt Earp, Bill Hickok and Bat Masterson would surely agree. After all, a little more than 100 years ago, the single-action revolver was the self-defense handgun of choice, and at Gunsite, we proved it still can do the job. The cost for the Single Action Defensive Pistol class is $950. You can reserve a spot by contacting Ed Head, Karen Self, or Elin Ray at Gunsite. You might just find the spirit of Arizona Ranger Bill Webb shooting alongside you.