by
posted on July 31, 2021
Support NRA American Rifleman
DONATE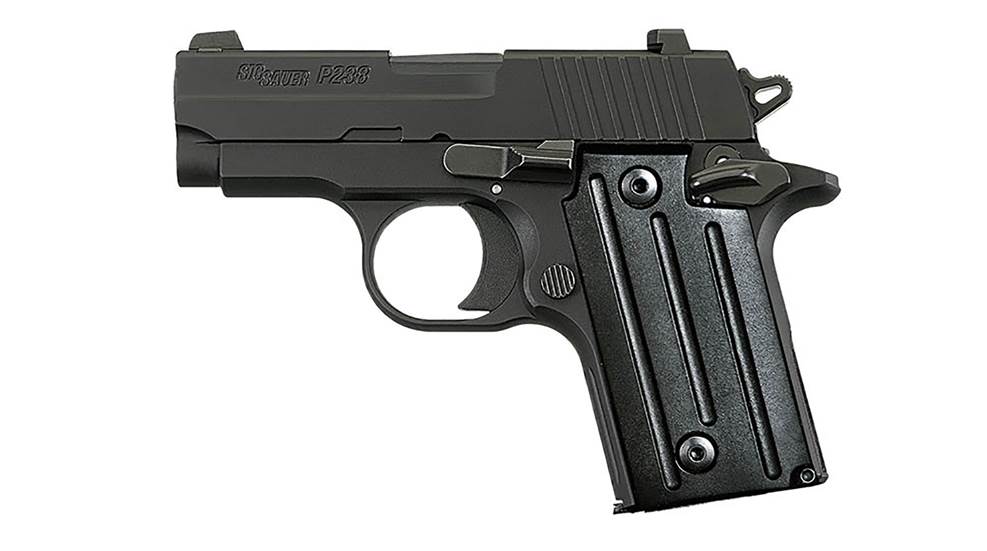 There's something about the looks, feel and function of a 1911, but its heft is a bit too much for some who want comfortable all-day carry. The grip length also adds to the challenge of avoiding printing through clothing, although there has been no shortage of attempts to shrink 1911 ergonomics and controls into a small, pocketable pistol. The Colt Mustang that first appeared in 1983 is probably the best-known example, but it vanished from production by 1996. It came back by 2011 but the line is once again idle.
The SIG Sauer P238, however, became a popular choice among enthusiasts the day it was introduced at the 2009 Shooting, Hunting and Outdoor Trade Show. It's still being made. Bear in mind there are notable differences from the beloved 1911. It, like the Mustang was, is chambered in .380 ACP, not the bulkier .45 ACP. Modern advances in bullet design have vastly improved the smaller cartridge's performance, though, making it better than ever for self-defense.
There's also no backstrap safety. Engineers could have added that familiar feature, but good luck disengaging it reliably at this reduced size, especially when under stress.
Other than that, the currently available P238 Nitron Micro-Compact looks and feels like a quality 1911 that shrunk in the wash. The single-action, semi-auto has a beavertail-style frame constructed from anodized aluminum alloy. The pistol's slide is made from stainless steel and the barrel is carbon steel. Its thumb safety is a rarity on a pistol this size, as is the slide stop. Grip panels are polymer.
Sights are three-dot high contrast, but SIGLite Night Sights are an optional upgrade. Both are removable and adjustable for windage.
It weighs less than a pound (15.2 ozs. to be exact), length is 5.5" and width comes in at 1.1". The gun ships with a six-round magazine. Despite the diminutive size, American Rifleman found its Scorpion version to perform flawlessly in testing.
SIG Sauer doesn't list MSRP on its website and prices vary widely, depending on model and options. The Nitron version with basic sights is running slightly more than $600 at most dealers, although the company has produced a variety of striking colors on the gun and/or grips throughout its run. Don't be surprised if you find finishes that include rainbow, purple, flat dark earth, green, rose gold, that Scorpion and more. Some, including the Legion (really marketed as the P938), even ship with a seven-round magazine.