by
posted on April 18, 2011
Support NRA American Rifleman
DONATE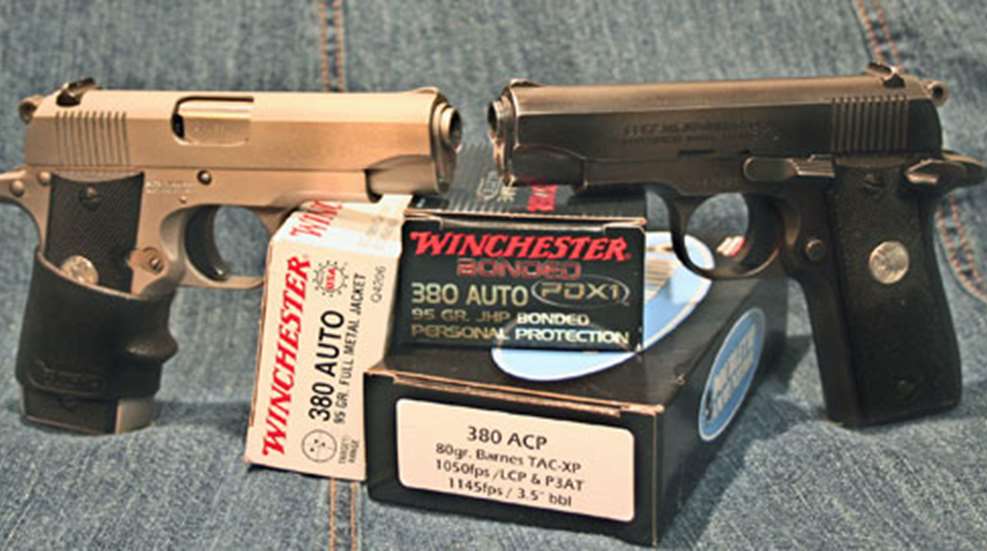 When referring to Colt 1911 pistols, the first models that come to mind are the standard-sized semi-autos chambered in .45 ACP. But many years ago, Colt manufactured a series of its iconic 1911s that looked like standard pistols that had shrunk in the wash. Nearly identical in appearance to the full-size pistols, with reduced dimensions and no grip safety, this was its series of 1911-inspired .380s. The models in this line included the .380 Government Model, the Mustang Pocketlite and the Pony. This is the story of two Government Models that found homes in my family.
It was 1996, more than a decade before the American .380 pocket-pistol boom. Bill Clinton was busily securing his second term as President, folks were dancing the Macarena and my fiancée and I were just weeks away from sealing the deal. While we were dating, I had introduced my bride-to-be to shooting defensive handguns. We completed the classes and requirements to obtain our concealed firearms permits together, so we started shopping for her defensive handgun.
The Colt Government Model .380, first introduced in 1984, was just one of several handguns my future wife tried out during a test session at our favorite indoor range. After shooting a variety of pistols, she declared this model of .380 to be just what she was looking for. It turns out that my wife was not alone in her fondness for Colt's .380s. During the '90s, multiple variations of the Government, Mustang Pocketlite and Pony models were available and selling well. Though the .380 was not nearly as popular for self-defense as it is now, these Colts were dependable pistols offering a light, compact design that fit many shooters' concealed-carry needs.
Soon after our visit to the range, a new stainless-steel version of the Government Model .380 was purchased, and it's been one of our favorite guns ever since. But we weren't the only ones in my family to latch on to one of these .380s. During this same time period, one of my brothers was also investigating defensive handguns. After looking over various 1911s in .45 ACP, my brother was still in the market for a concealed-carry gun he could use every day. He had a compact double-stack .45, but found it was too thick and heavy for his kind of work. He tried shooting my wife's Colt .380, and he was sold.
The combination of the thin profile, reduced weight and controls that mimicked his full-size pistol, made it an ideal carry solution for him. As a result, about a year after the new stainless steel version of the Colt Government Model .380 joined my family's set of firearms, a gently used blued model joined his. Then, in 1999, Colt discontinued its entire lineup of .380 pistols.
I learned about this decision from a staff member at the range where my wife discovered her pistol. I was shocked to hear this. Since the pistols were popular, and so many people I knew who had them loved them, I couldn't understand why they would suddenly disappear. As I later learned, Colt, like many gun companies, didn't have it easy during the 1990s.
The year the .380s were discontinued, Colt was suffering from the financial strain caused by frivolous federal and municipal lawsuits leveled against the gun industry during that time period. Remember, this was just five years after Colt bounced back from filing Chapter 11 bankruptcy, among other political and business challenges. Several smaller companies were swallowed whole by the legal challenges of the '90s, never to recover. Colt chose to sacrifice certain segments of its firearms manufacturing in order to keep its fiscal boat afloat. The .380s were one of the groups of guns to go on the chopping block.
In the 15 years since we discovered the Colt .380s, my brother and I have given our pistols different lifestyles. I learned early on that these discontinued pistols were increasing in value. Though we haven't stopped shooting it all together, my wife and I decided to semi-retire our stainless model to help preserve its condition. This has proven to be a good decision. I recently found a blued model selling online for $800, and I have heard of clean stainless models selling for as much as $1,000. My brother's blued model, on the other hand, although not abused, has spent the years getting regular workouts at the range and riding in a holster into harsh and dirty work environments.
Though a whole slew of new .380s have come on the market, my brother continues to uses his Colt Government Model. He feels his pistol is still the cutting edge in concealable .380 designs. It has just the right combination of weight, balance, sight size, barrel length and grip length to be easy and comfortable to shoot. Our Colts have proven to be exceptionally accurate and reliable with a variety of ball- and hollow-point ammunition. So, what exactly is there to upgrade?
After talking with my brother about our pistols, I was interested to see how both guns compared on the range. As I tested both guns for function and accuracy, I found just one difference between them. My brother's trigger is broken in a bit more, resulting in a 4-pound, 6-ounce trigger pull compared to the 4-pound 13-ounce trigger on my wife's. Otherwise, the well-used blued Colt was identical in its performance and reliability compared to my more gently used stainless model.
Just in case you are feeling nostalgic or left out, there is some good news. Colt has announced the re-launch of its .380s this year. These pistols have been regularly requested by fans ever since they were discontinued. The first model out of the gate will be the Mustang Pocketlite, which is projected to be available in June of this year. It has a slightly shorter grip frame and barrel than the old Government Models, as well as an updated aluminum frame to help reduce the weight. Otherwise, the sights, controls and overall dimensions will be the same as the classic .380s. The double-action Pony will not be far behind.
Colt's timing for these new .380 pistols couldn't be better, since my brother's eldest daughter has promised to abscond with his .380 the day she turns 21. Currently there are no plans on Colt's drawing board to re-release the Government Model. This may be good news to collectors, since it's likely that the value of these pistols will remain intact. I'm curious to know how the new Mustang Pocketlite will compare to my family's old stand-by. It will be fun to find out ....