posted on January 18, 2017
Support NRA American Rifleman
DONATE
Already well-entrenched in the personal defense firearm market, Glock turned heads when it introduced its slim, single-stack 9 mm G43. The Glock 43 was an instant success among the company's clamoring enthusiasts and personal-defense practitioners alike, but as with any gun designed for concealed carry, the G43 was an exercise in compromise. Designers trimmed size and weight to enhance portability, but the cost was ammunition capacity—the G43 magazine holds just six 9 mm Luger cartridges.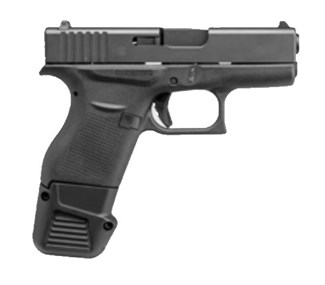 FAB Defense, an Israeli company focused on polymer firearm accessories, and one pillar of The Mako Group, took aim at the Glock 43's limitation with its G43 Magazine Extension. Introduced at the 2017 SHOT Show, the extension has the capacity to hold four additional rounds—bringing the total payload to 10—and adds more than an inch of textured gripping surface to improve purchase on the little pistol. A magazine baseplate replacement, the product has its own spring and follower that interfaces with the G43's factory magazine spring, and allows the latter to travel down into the extension under the pressure of loaded cartridges. Though installation is straight forward, company representatives suggest that it's not necessarily easy; the magazine springs in OEM Glock 43 magazines are under considerable tension and can be difficult to handle, so customers who experience difficulty or who want to avoid the hassle will be able to have the installation done by FAB Defense armorers.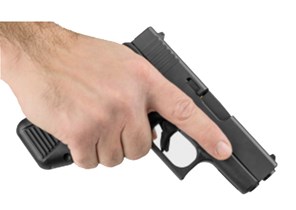 I was impressed by the look and feel of the magazine extension, and believe it to be a very practical enhancement to an already great personal-defense gun. And for those who worry that adding size to the G43's grip area will negate the advantages of the sub-compact pistol, I would suggest that users continue loading a shorter six-round magazine for concealment, and carry the extended magazine as a reload. Another exercise in compromise.