by
posted on October 21, 2014
Support NRA American Rifleman
DONATE
I'm tired of ISIS, Ebola, murders, riots, worrisome legislation and catastrophes monopolizing headlines. Maybe it's my jet lag talking, but it's time for some good news. One of those shining stories landed at my feet while I was in Lewiston, Idaho, last week—Seekins Precision.
My main assignment was to learn more about the production of ammunition at Freedom Munitions, but things wrapped up early Friday. That's when Katie Seekins asked if I'd like to tour their plant.
Seekins Precision moved into its 25,000-square-foot factory in January of this year. There are 27 full-time employees and one part-timer at the facility within a stone's throw of the airport.
CNC machines were humming when I walked in, and three staff members working overtime were meticulously inspecting newly minted handguards. When I asked if I could look at one recycle-bin-condemning flaw, I couldn't find the blemish. It turned out to be a nick bordering on microscopic in a spot no one would ever see, in a location with a high probability of scratching during end-user installation. That's not good enough for Seekins Precision—must be in the name.
Those handguards lucky enough to pass moved onto shipping, where they were meticulously and individually bubble wrapped before going elsewhere for anodizing. Seriously? I've received finished products from companies that don't receive that kind of protection.
Quality control is key, and it shows in every step in a process really developed by Glen Seekins after his scope mounts died during that 2004 hunt. Shortly after the mishap, he pressed his computer-aided-design experience to work, and came up with an aluminum-light design that rivals or surpasses the strength of steel. To this day it's one of the company's most popular products.
He produced a few sets, people took notice and it wasn't long until a leased CNC machine was humming every night in the couple's garage.  He didn't quit his daytime job at first, but demand forced manufacturing to move to a 1,500-square-foot facility managed by the city to aid up-and-coming startups.  More products were introduced, another move to 7,000 square feet was made and now the company is bigger than ever.
As for living up to the "Precision" in the Seekins Precision name, try this. The rings and mounts have serial numbers. Batches are sorted after coming back from anodizing to match those numbers up, which ensures each customer gets a tight, correctly aligned fit. The company's product list is long, but when it adds something, it's never run of the mill—an AR-10 in .308 Bisley, for example, will be officially unveiled at the SHOT Show.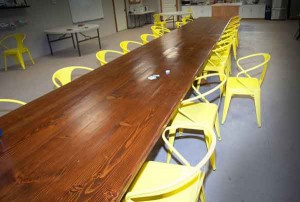 The new facility also has an expansive lunch room/employee lounge, complete with wide-screen TV, foosball table, ping-pong, kitchen, BBQ station just outside the door and most popular of all, pool table. It's a sizeable investment in space and capital. Nearly every Wednesday someone brings in a home-cooked meal for the team. They had small tables that could seat four during lunch breaks, but have deliberately moved in a family-reunion size picnic table to nurture conversation between departments and the staff.
Katie explained that's part of her husband's vision. "Happy employees make happy products," she said.
The American dream is alive and well, thriving in at least one location in the small town of Lewiston, Idaho. What a breath of fresh air, compliments of an innovative thinker, and firearm enthusiasts eager to own and use the best.