by
posted on December 18, 2021
Support NRA American Rifleman
DONATE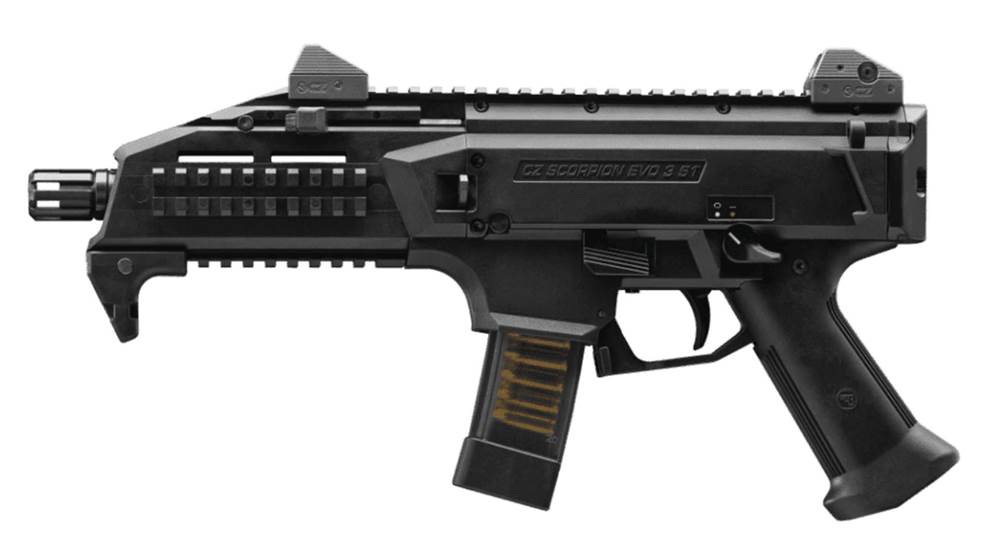 The first Skorpion vs. 6 pistol rolled out of the Česká zbrojovka factory, located in the Czech Republic, 60 years ago. The blowback-operated, select-fire pistol had a folding wire stock, 4.5" barrel and came with either 10- or 20-round, double-column magazines. The look was lightweight and no-nonsense. Initial chambering was .32 ACP, the sidearm cartridge preferred by the nation's security forces at the time. The earliest models released in 1961 went to the Czech Army and the nation's law enforcement.
Other variants appeared throughout the years, but production of the submachine gun ended in 1979. Videogames and the internet were in their infancy then, but as they grew, so too did the Skorpion's fame. Regular gaming and online appearances of the pistol fueled chatroom discussions about virtual vs. real-world performance, and demand increased for civilian variants.
Once out from Communist rule, Česká zbrojovka—better known as simply CZ to enthusiasts—responded with semi-automatic models. Today Kansas City, Mo., based CZ-USA offers the CZ Scorpion EVO S3 in several colors and even the option of low-capacity magazines for more restrictive regions of the country.
Each are chambered in 9 mm NATO and come with cold-hammer forged, 7.75" barrels wearing a flash suppressor. Open sights ride on an 11" Picatinny rail atop the polymer receiver ship. Double-stack magazine capacity is either 20 or 10 rounds and colors available include black, battleship grey, FDE or green.
Controls on the blowback-operated, semi-automatic pistol are ambidextrous and rails on the sides and bottom of the fore-end make mounting accessories a breeze. The frame is fiber-reinforced polymer and the grip can be adjusted for a more comfortable trigger reach. The manual safety is thumb activated. Weight comes in at 5 lbs. and overall length is 16".  
It no longer wears a stock when shipped from the factory, although pistol braces and other upgrades for the EVO S3 platform are available today. There's even a full carbine conversion kit offered from CZ-USA. MSRP for a CZ Scorpion EVO S3 is either $995 or $1,025, depending on model.
American Rifleman featured the CZ Scorpion EVO 3 SI pistol as its gun of the week in 2015. Here's a close look at the version.