by
posted on March 26, 2020
Support NRA American Rifleman
DONATE
In 2017, SCCY Industries almost introduced the CPX-3. The company had redesigned and compressed its double-action only 9 mm semi-auto platform to better fit the .380 ACP cartridge and give customers a smaller grip frame to work with. However, after sending out early production guns for review to writers (like me), the first full production run of the CPX-3 ended up getting delayed. This pistol finally started shipping in 2019, and has been well-received by those looking for a softer shooting double-stack that doesn't cost a fortune.

Recognizing the increasing popularity of defensive pistols outfitted with micro red-dot optics, SCCY is now offering all of its CPX series with a Crimson Trace micro red-dots-sights installed at the factory. Modifying the slide for an optic, installation and the red dot itself increases the suggested retail price of the CPX-3RD by just $34 while making the pistol only 0.3-oz. heavier than the iron-sights only version.

The optic ships with a limited three-year warranty and SCCY Industries provides a lifetime warranty for the firearm, not just the first owner of that particular pistol. The pricing and warranties for the CPX optic models sound almost too good to be true, especially when you can easily pay the same price of this pistol and optic package for just a micro optic. So, I requested a CPX-3RD model, which is the .380 ACP version without a thumb safety, for a work out at the range to see how this new combo holds up under live-fire conditions.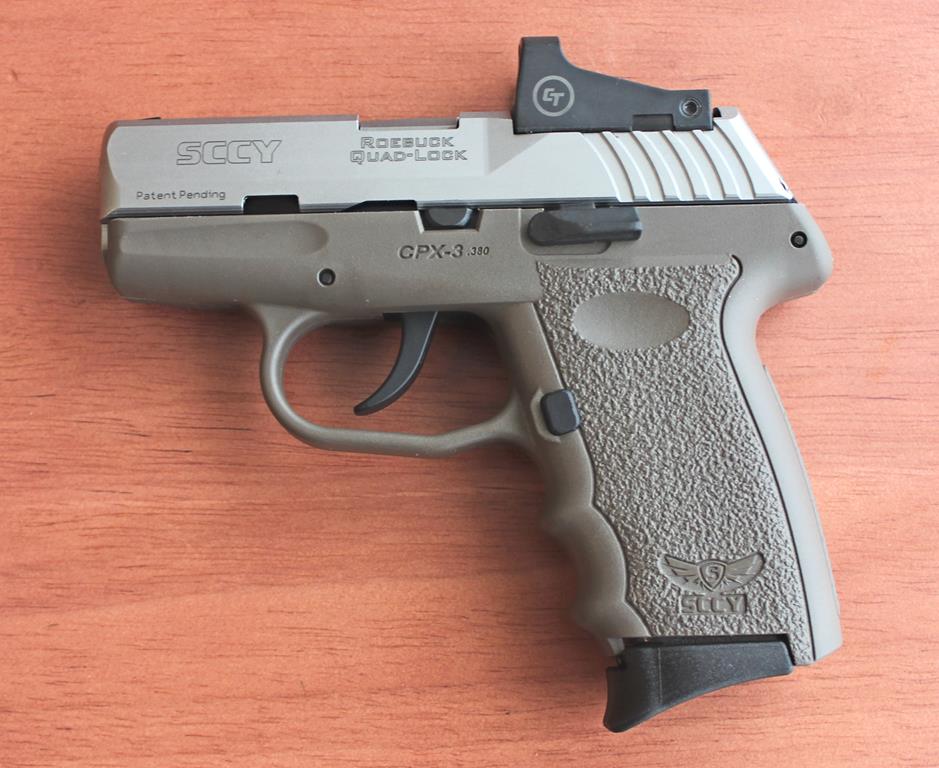 The CPX-3RD is a hammer-fired, locked-breech, semi-automatic pistol with a double-action-only trigger. It features the tilting barrel Roebuck Quad-Lock action, which was designed by the company's founder and CEO, Joe Roebuck. This system reduces felt recoil and provides for more consistent group sizes.

The front of the barrel's chamber is pressed firmly into the front edge of the slide's ejection port while the muzzle is pressed down into an ovoid (instead of round) opening that works to stabilize the barrel. The combination of this firmly locked-up action and the relatively mild .380 ACP cartridge allows for a fairly low-mass slide and a lighter spring weight that results in a slide assembly that is easier to cycle manually.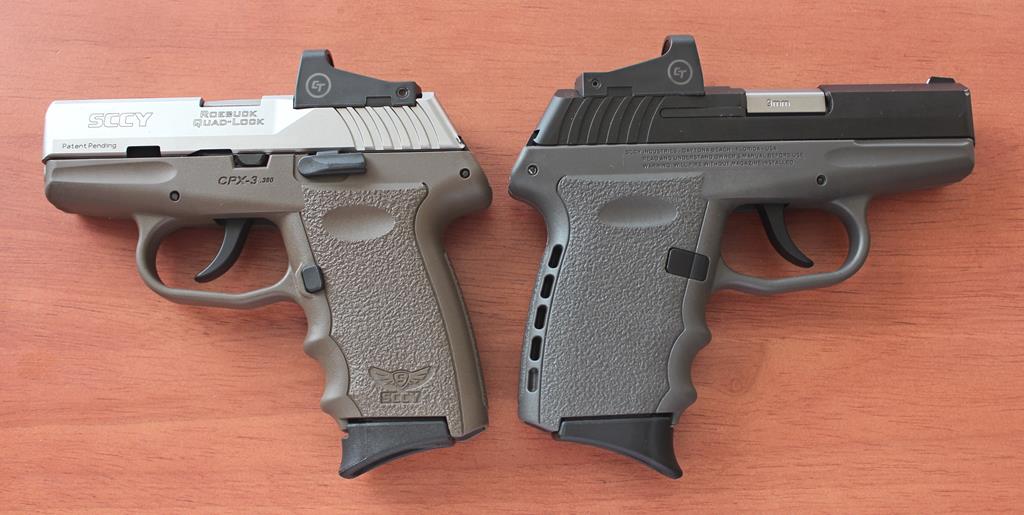 The stainless-steel slide, available in a natural satin-silver or black-nitride finish, is de-horned and features curved separations at the rear for charging. The ejection port has a rounded cutout for the ejection of live cartridges. The recoil assembly consists of a single flat-wire recoil spring captured on a steel guide-rod. The 2.96" stainless-steel barrel sports traditional land-and-groove rifling with seven grooves and a 1:16" RH twist rate. Removing the slide reveals a one-piece 7075-T6 aerospace aluminum receiver block which is milled from bar stock, provides 3.35" worth of continuous rail on each side to support the slide and is heat-treated for added durability. The gun's serial number is engraved into this block, just below the hammer port.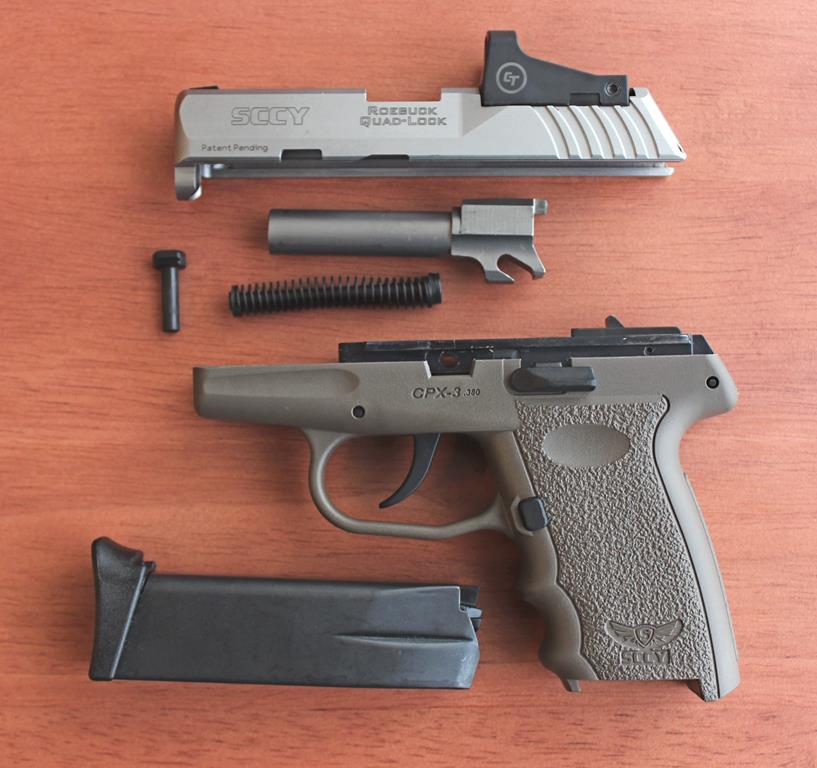 The Zytel-polymer frame has been reduced in size by 0.25", front to back, to better fit the smaller .380 ACP cartridge. All SCCY pistol frames are available in a variety of molded-in colors, including the flat-dark-earth version shown here. The external controls are found on the left side of the frame, including a steel takedown pin, a polymerized sheet-metal slide catch and a small polymer square-button magazine release.

The polymer trigger is housed in a rounded trigger-guard behind a dust-cover that does not sport an accessory rail. The feel of the double-action trigger is smooth with a longer arch-of-travel comparable to that of a double-action revolver with a long reset. This particular CPX-3RD exhibited a consistent trigger pull of 8-lbs. 9-oz.

This pistol ships with two 10-round double-stack magazines fitted with extended finger rest base plates, two flat magazine bases and a custom trigger guard lock with two keys. This gun weighs in at 16.5-oz. with a battery in the optic and an empty magazine in the grip.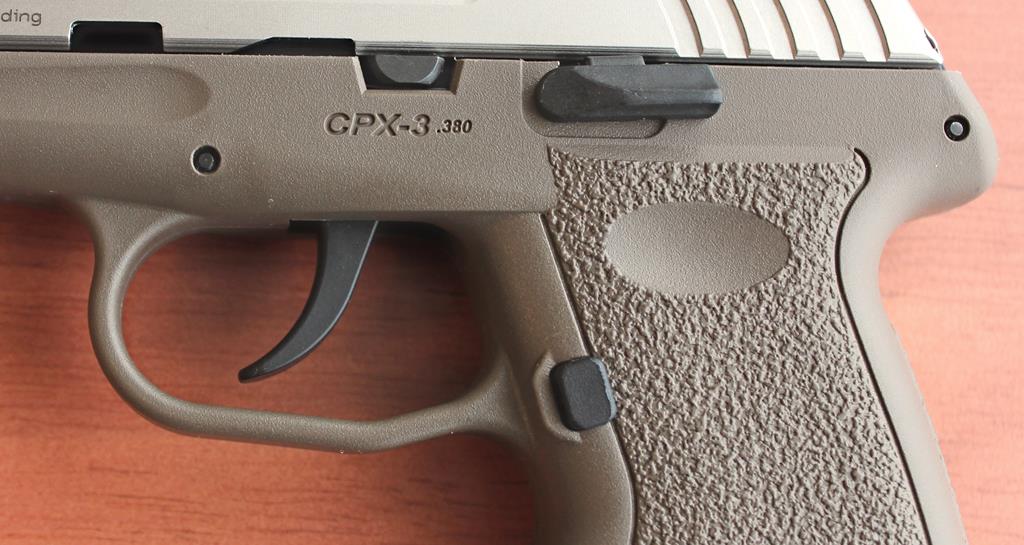 There's not quite as much information available for the Crimson Trace CTS-1500 model red-dot optic as you usually find with this company's products. As of this writing, it's not listed on their website. That is where they keep those handy, nitty gritty details like the optic's adjustment graduation, operating temperature range along with a list of matching industry standard mounting interfaces.

What is known about the CTS-1500 is that has a glass lens and a polymer housing which is 0.85" tall, 1.00" wide and 1.50" long making it smaller than other members of the CTS micro-red-dot series. The red-dot aim-point is 3.5 MOA in size and has On, Off and brightness settings, which engage automatically, depending on ambient light levels.

The power supply is a single CR2032 button cell battery which has a projected run time of 20,000 + hours (roughly 2.28 years) if the optic is stored with the protective cover in place. There are windage and height adjustments but no battery door, so the optic will have to be removed from the slide to replace the battery.

There's a square notch at the rear of the optic's housing which acts as a rear sight for the metallic, white-dot front sight. When forming a proper sight picture, this somewhat shallow rear sight notch cuts the white dot in half. It's not perfect but it's adequate for close range. Should the optic lose power at an inopportune time, it could prove invaluable.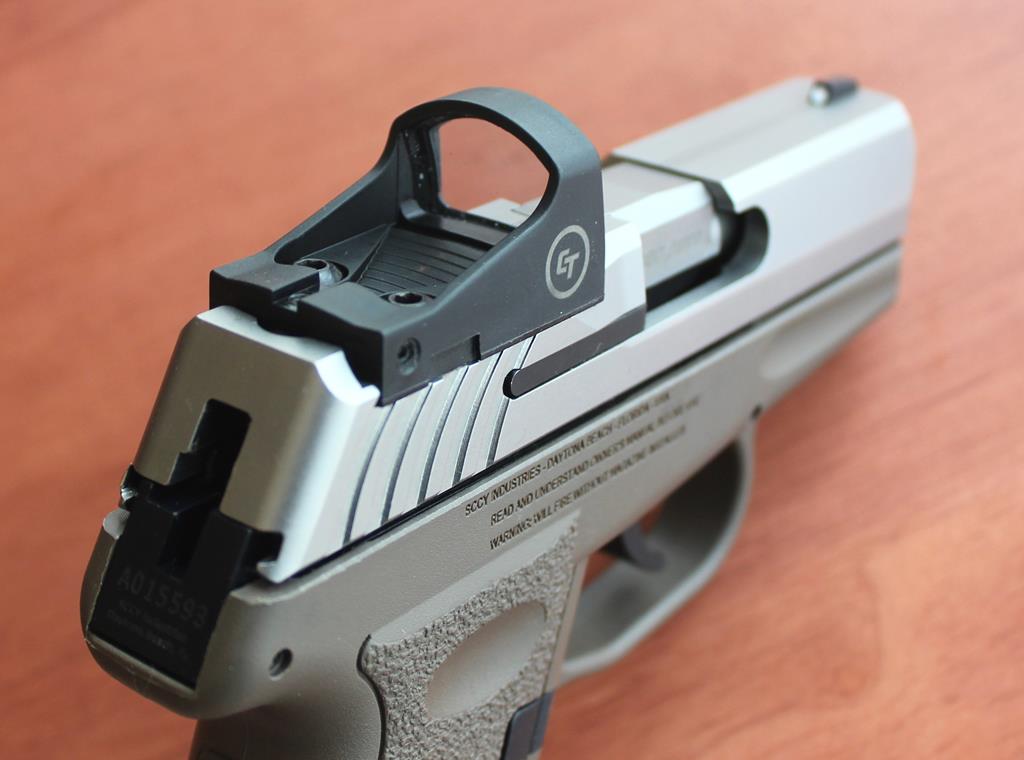 At the range, the CPX-3RD was just as well behaved as the no-optics version I worked with a few years ago. Thanks to the hand-filling grip and the Quad-Lock system, the felt recoil was modest, despite the pistol's low weight. It was utterly reliable and malfunction-free with all of the ammunition tested. There's been some attention in the shooting-sports media of late surrounding new easy-to-rack defensive pistols with manageable recoil and low pressure controls. The CPX-3 models have been sporting those features since day one.

This is a sub-compact pistol, so formal, bench-rested accuracy testing was conducted at 7-yds. Out of curiosity, I conducted some informal testing at 15-yds. resulting in groups around 4" in size. Back at the 7-yd. mark, Black Hills 100-gr. full-metal jacket load achieved a best single five-shot group of 1.77" with a five group average of 1.89". Browning's 95-gr. BXP jacketed hollow point tapped out a best group of 1.44" with an average of 1.65". Hornady's American Gunner 90-gr. XTP jacketed hollow points were the tightest shooters with a best group of 1.28" and an average of 1.53".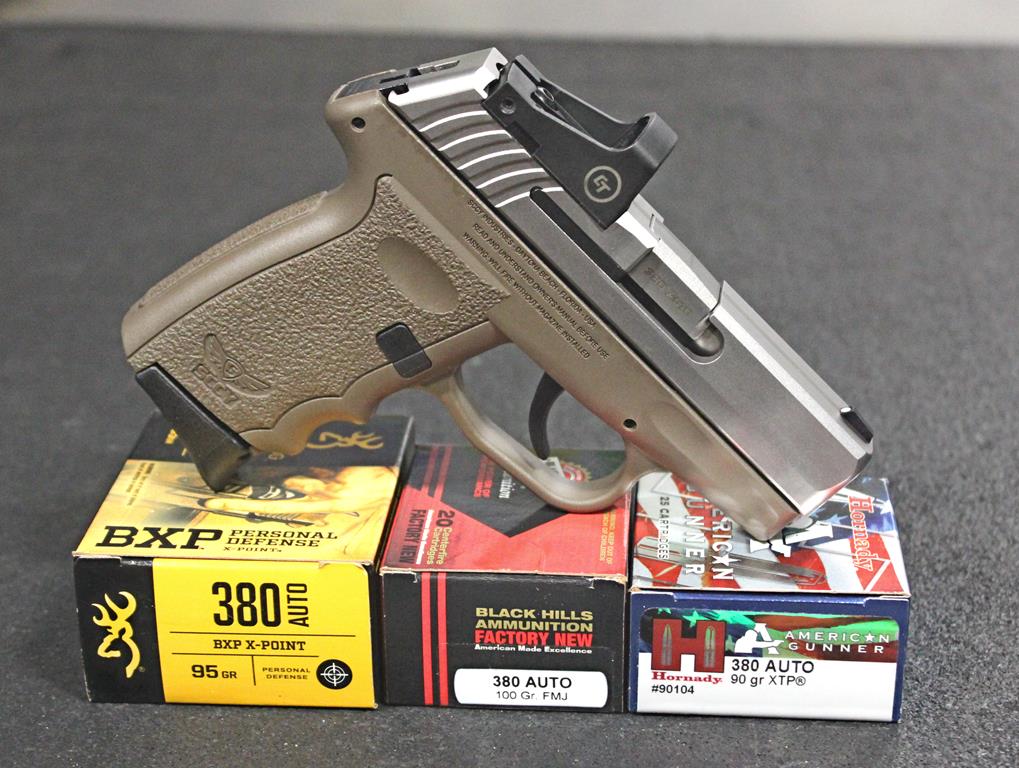 Adding a red-dot optic to the SCCY Industries CPX-3 .380 ACP makes this likable semi-auto pistol even more accessible to individuals looking for a soft shooting concealed carry or home protection gun at a fair price. The Crimson Trace CTS-1500 red-dot doesn't turn this pistol into something more than it already is, which is a sub-compact with an optimum defensive range somewhere between 7- to 15-yds.

What the optic does provide is a quick, easy to acquire sight picture that activates automatically when needed without completely sacrificing the traditional iron sights. While you may pay through the nose for other optics-ready handguns, SCCY has found a way to keep the cost of adding a red-dot to their semi-autos quite low in terms of out-of-pocket costs and added weight to the gun itself. Don't forget, this optics-ready option is available for the CPX-1 and CPX-2 if you prefer 9 mm. For more information visit sccy.com.

Specifications:
Manufacturer: SCCY Industries
Model: CPX-3RD
Action: Locked-Breech Semi-Automatic, Double-Action Only
Caliber: .380 ACP
Slide: Stainless Steel, Natural Satin or Black Nitride Finish
Frame: Zytel Polymer
Red Dot Optic: Crimson Trace CTS-1500, Polymer Housing
Dot Size: 3.5 MOA
Sights: Steel White-Dot Front, Notch Rear
Trigger Pull: 8-lbs. 9-oz. (as tested)
Barrel Length: 2.96"
Overall Length: 5.70"
Height: 4.32"
Slide Width: 0.99"
Grip Width: 1.10"
Weight: 16.5 oz. with empty magazine
Capacity: 10+1 Rounds
Twist: 1:16" RH
Rifle Grooves: 7
Accessories: Optic kit, Two magazines with extended base plates, two flat base plates, trigger lock, owner's manual
MSRP: With Optic $339, Iron Sights Only $305