by
Kelly Young, Managing Editor, American Rifleman
posted on July 25, 2019
Support NRA American Rifleman
DONATE
Current as of SHOT Show 2019, Savage Arms' expansive firearm lineup presently stands at 168 models and 40 chamberings, resulting in a total of 632 cataloged variants. This is an impressive enough figure to be sure—easily positioning the company among the most comprehensive rifle manufacturers in the industry—but it's a mere drop in the bucket compared to the multitude of configurations that the Massachusetts-based gunmaker is actually capable of cooking up. Thanks to the firm's often-overlooked Special Order Shop, and the extreme modularity of many of its designs, customers can have Savage tailor-make them a rifle or shotgun in any of tens (if not hundreds) of thousands of uncataloged arrangements, at surprisingly reasonable prices.
I don't know about you, but despite the vastness of options offered by the modern firearm market, it's still fairly uncommon that I encounter a gun that is 100 percent, in all ways, without a scintilla of compromise, configured exactly how I would want it to be. The barrel is too short, the finish is wrong, it's not offered in the chambering I want, the muzzle isn't threaded, the action is too right-handed, etc. Custom guns are a way around this dilemma, but these personalized firearms are generally the privilege of only a well-heeled few, as the level of time and attention required during their construction renders them prohibitively expensive for the majority of shooters. Or, if we're being completely honest, most of us are simply more willing to spend $1,000 on five guns than we are $5,000 on one.
Why A Special Order Makes Sense
Purchasing a production model and paying a professional to customize it to your specifications may save a bit of cash, but hourly gunsmithing rates being what they often are, it's probably not as much as you might think. And personally altering a factory gun yourself may be a viable option for those few possessing the necessary tools and skill set, but the sheer volume of "Bubba-ed up" DIY jobs I've encountered in pawn shops over the years leads me to believe that many of us severely overestimate our own skills in this regard. For those seeking a more cost-effective, low-risk path to the gun of their dreams, I suggest the Savage Special Order Shop.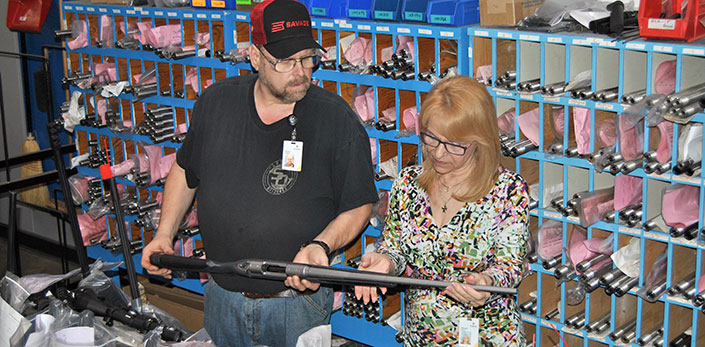 Located on the second floor of the manufacturer's Westfield, Mass., factory, just across the hall from the company's test range, the Special Order Shop is capable of taking the majority of models in Savage's catalog and reconfiguring them in ways both large and small to match the customer's wants and needs. The interchangeable design of the center-fire Model 110 makes it particularly ripe for modification—while at the same time not placing a labor-intensive burden on the company—however, limited options are also available on guns in the manufacturer's Axis and rimfire series. Unfortunately, Savage does not currently offer customization of its MSR line of AR-platform rifles, and none of the Stevens-branded shotguns (Models 301, 320 or 555) are available for special order either.
Savage is quick to distance itself from the term "custom," as its service uses standard production parts to assemble the guns, and they receive no extra fine-tuning above and beyond what the main line firearms are subject to. However, the Special Order Shop does build its firearms one at a time on a customer-specified, made-to-order basis, and can, under certain circumstances, fabricate parts for a client's build that are not offered anywhere in the catalog. As such, the potential for the creation of a unique firearm that has never been made before and will likely never be made again is very real.
When I initially took this assignment I had hoped to be able to produce for the readers a basic primer with a few simple guidelines regarding what all the shop can and cannot accommodate for its patrons, but the number of available options is so enormous that boiling it all down to a few simplistic bullet points proved to be impossible. Many parts that Savage uses are cross-compatible among numerous models, but some are not, and the company has the tooling necessary to make uncataloged components in many cases, but not all. Dimensional congruity between a potential build's barrel contour and its stock channel is another limiting factor. However, I came to find that the key to learning what is possible through the Special Order Shop is actually far simpler than I would have envisioned—you just have to ask the gatekeeper.
Meet The Gatekeeper
Effie Sullivan has worked for Savage for 44 years, serving the past 15 years of that tenure in a full-time capacity as the company's lone special-order coordinator. She has worked in numerous departments throughout the building, from cutting barrels and driving forklifts to packaging completed rifles and manning the customer service lines—experience which has helped her develop an encyclopedic knowledge of the entire product lineup, component by component. A quick conversation with her will determine whether or not a customer's concept is feasible.
All manner of alterations are possible, and special-order builds range from the simple and relatively mundane to off-the-wall creations that only truly make sense in the eyes of their creators. Can Savage make you a Bear Hunter chambered for a cartridge not listed under it in the catalog? Most likely, but check with Sullivan. Interested in the Varmint but want to know if the company can produce one instead with a 20" threaded stainless steel barrel? Probably, check with Sullivan. Want to create your own Frankengun, using the stock from this model, the muzzle brake from that model, the bolt handle from a third and a nonstandard rifling twist rate? There's a good chance that Savage can make it happen, but only one person knows for sure.
The Special Order Shop is presently a two-person operation, with Sullivan working with the customer to iron out the details of the build and master gunsmith James Wellspeak then taking over to assemble it, and the duo work together to hand-make approximately 350 firearms a year. Very seldom is Savage unable to facilitate a prospective client's desires; according to Sullivan, she is able to successfully build a gun that meets the patron's criteria 98 percent of the time. Unfortunately, custom serial numbers are not an option, but a line or two of simple customized engraving on the barrel is a possibility. And Sullivan is willing, upon request with those projects utilizing a wood-stocked gun, to personally go down and hand-pick the most nicely figured piece of wood in the lot for your build.
Sullivan told me the story of one gentleman who excitedly contacted her to assemble a rifle chambered in .257 Roberts for no other reason than because Roberts was his surname. It's a cute story, but there was one problem—at the time, Savage wasn't offering a single .257 Roberts-chambered model. However, because the company had the button necessary on hand to cut a single barrel to the man's specifications, she was still able to fulfill his request.
According to her, the company pays close attention to trends in the special-order queries that it receives, and configurations that are repeatedly asked for have a habit of making their way into the catalog. Two prime examples have occurred only recently. One, Savage has re-introduced .250 Savage- and .300 Savage-chambered rifles—two cartridges that remain near and dear to the hearts of many a nostalgic Savage fan—back to the production schedule after sustained interest on the special-order side. And two, frequent requests for turkey-hunting-shotgun builds have led the company to introduce versions with smooth bores, extra-full chokes and camouflaged AccuFit stocks to its Model 212/220 bolt-action slug gun lines.

S01 And S02
For the purpose of illustrating just a few of the types of things possible through Savage's service, I worked with the Special Order Shop to commission the production of two 7 mm rifles, eventually traveling to Westfield to see them through. Special Order No. 1 (SO1) is a fairly straightforward build—a Model 110 Lightweight Storm chambered in 7 mm-08 Rem.—but with the action reversed so as to accommodate my left-handedness. The Lightweight Storm is built on a specialized lightened receiver, and since no southpaw models that utilize that component are currently present in the company's product lineup, Sullivan had to coordinate the manufacture of a receiver just for this project.
My previous experience with Savage's AccuFit system (June 2018, p. 44) was favorable enough that I also elected to replace the Lightweight Storm's factory buttstock with the new design. Some people choose to pay ungodly amounts in order to get a rifle that fits them dimensionally; AccuFit takes care of that right off the bat with length-of-pull and comb-height adjustments that allow it to accommodate 95 percent of the human shapes out there. I also arranged with Savage to have my name and "The Next Step in Evolution"—an inside joke alluding to my proud status as a sinister lefty—laser engraved onto the barrel.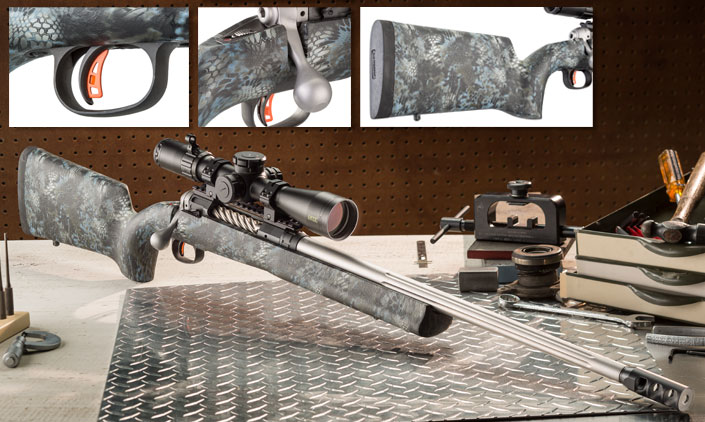 Given the relative simplicity of the first gun, I decided that Special Order No. 2 (SO2) ought to be a bit more exotic. Chambered in .280 Ackley Improved (a cartridge that Savage added to its list of offerings just this year), SO2 draws components from all corners of Savage's catalog: a blued Lightweight Hunter receiver; a 23", stainless steel, varmint-profile, fluted and threaded (5/8x24 TPI) barrel topped with a blued, three-port muzzle brake; a fluted bolt; an enlarged target bolt knob; a Target AccuTrigger; and an HS Precision fiberglass stock finished in Kryptek's Neptune camouflage pattern. I'm fairly confident you'll find nothing quite like it on the market today.
Although complete technical evaluations of these two rifles are beyond the purview of this article, both special-order guns were thoroughly accuracy- and function-tested without issue. I fired six ammunition types through SO1 for the purpose of identifying at least one load that it shot particularly well (i.e., my future whitetail load), and while all six managed a five-shot, five-group average of less than 2" at 100 yds.—sufficient accuracy for the hunting applications for which the compact rifle was conceived—two selections grouped particularly well. The little 7 mm-08 Rem. got the best performance out of Remington's 140-gr. Managed Recoil Core-Lokt load and Browning's 144-gr. BXRs, with 25-shot averages of 1.23" and 1.39", respectively. These results are quite good for five-shot groups from a lightweight rifle with a wispy barrel.
Despite being standardized through SAAMI back in 2008, the .280 Ack. Imp. primarily remains a handloader's concern, with very few commercial offerings available on the market. However, I was able to get my hands on one Hornady and three Nosler loads with which to evaluate the accuracy of SO2. A real tack-driver, no doubt aided by the Target AccuTrigger's feather-light 11-oz. break, the rifle shot all loads at or beneath an inch at 100 yds., the 162-gr. Hornady Precision Hunter (0.58") and 160-gr. Nosler Trophy Grade Partitions (0.68") posting the tightest averages.


How To Order Your Own
Should my experience inspire you, here's how ordering works (and bear in mind that the Special Order Shop can only finalize the transaction with an FFL holder): A customer calls Sullivan to hammer out the details of his build. Once that is completed, she takes all his information and advises him to contact his dealer, who then calls Sullivan to get the finished firearm's dealer/distributor price. The dealer, after most likely tacking on a small processing fee, then calls the client back with what his retail price would be. If the customer agrees to the quoted number, the dealer contacts Sullivan back to place the order.
Average wait times for projects that do not require any noncataloged parts are typically between six to eight weeks. Builds that do require the fabrication of specialized receivers or barrels generally require an additional two weeks. At this time, all orders are taken via telephone, however, the company is mulling the idea of introducing a stripped-down method for online ordering.
While the figure quoted to the patron ultimately depends on the size of the margin the dealer decides to add to its price, Sullivan said that Special Order Shop guns typically end up costing only between $200 and $800 more than the base price of the parts used in their manufacture—which is an incredibly sensible upcharge given the level of customization possible. Fairly straightforward orders, like SO1, fall on the lower end of that spectrum, with more complicated builds, like SO2, naturally commanding a larger surcharge.
As evidence of this: The MSRP for a standard 110 Lightweight Storm is $759 and the MSRP for the left-handed 110 Storm (the model that the southpaw AccuFit stock was pulled from) is $849, so SO1 would have a base price of roughly $800—yet Savage's dealer price for the completed special order is only $1,014, a mark-up of around $214. Calculating SO2's base price is more complicated, as the rifle is an amalgamation of disparate components more than a particular model that has been tweaked, and virtually the entire firearm has been customized in one way or another. However, per Sullivan, the total value of the .280 Ack. Imp.'s parts come to $1,339, and the assembled rifle's price for the dealer would be $2,091, an upcharge of $752. Again, that is a surprisingly modest mark-up for Savage's time and effort in creating a truly one-of-a-kind rifle. And, as previously mentioned, don't forget that most dealers will also tack on a small processing fee to cover their labor.
Sullivan shared that customers are frequently taken aback when they first hear how reasonable their quote is. "A lot of people that I talk to get very excited because the cost I quote them is far less than they were expecting for a gun built exactly how they want it," she said. "It's a pleasant job because I usually get to make people's days."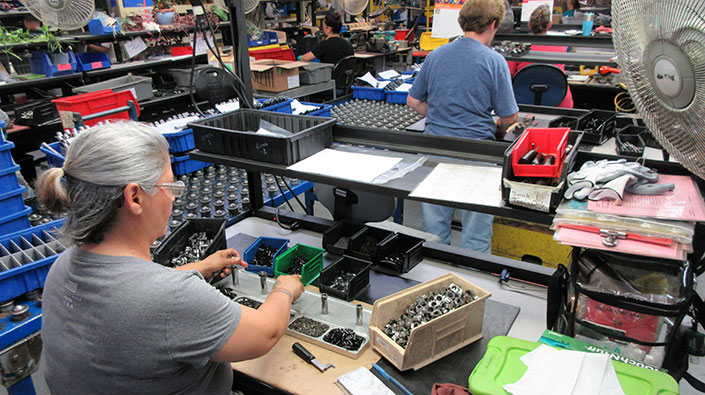 Each One Has A Story
During my visit to Westfield, as I assisted in the final assembly of SO1, I took the opportunity to inspect a small cluster of rifles that Wellspeak had recently completed. As perhaps should be anticipated while browsing through the work of a special order shop, each rifle in this assortment of five or so specimens was starkly different than all the others resting alongside it, and the realization dawned on me that, not only were each of these firearms unique to this small rack—each was quite possibly unique to the world.
Each one had a story behind it, a reason why its owner wanted it to be built in just that way. As a result, even before its trigger had been pulled for the first time, each one had personality not present in any off-the-shelf model. No matter how unorthodox, no matter how seemingly peculiar each one may appear to be to you or me, each one makes perfect sense to its designer—and that's really all that matters.
Paying a little extra to turn a gun I would like into a gun I will love, that is uniquely mine, is a no-brainer to me. To build your own dream Savage through the Special Order Shop, call Effie Sullivan at (413) 568-7001, or, to view the company's product lineup, visit savagearms.com.