by
posted on October 26, 2011
Support NRA American Rifleman
DONATE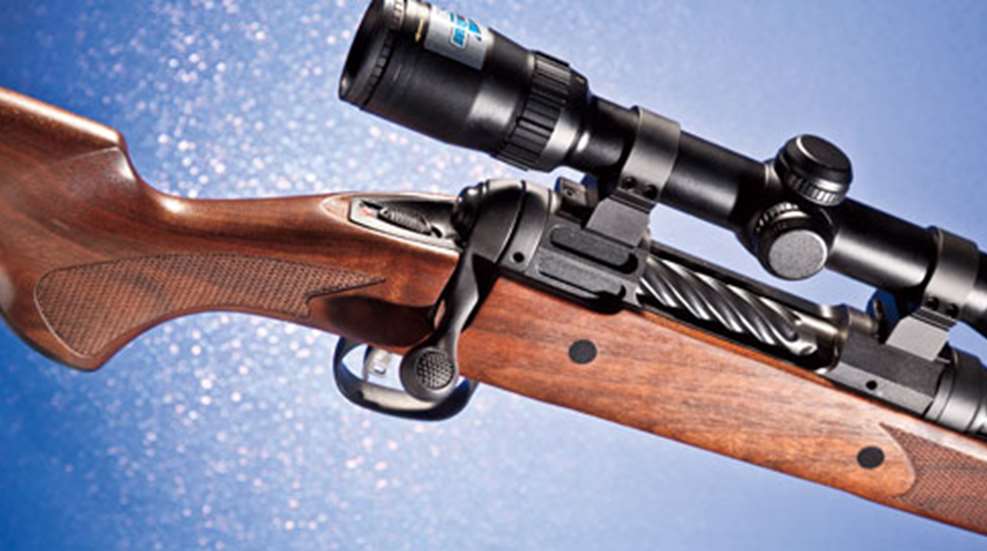 The truly "lightweight," center-fire, bolt-action hunting rifle is a limited-demand arm; with the exception of backcountry hunters, shooters of small physical stature (i.e. women and youth) or disabilities, and the elderly, a rifle's heft is largely irrelevant. But, to the aforementioned individuals, undue fatigue can affect enjoyment and, ultimately, success, when afield. As such, heaviness is a criterion when he or she selects a rifle; however, precision and, for all but the prosperous, reasonable pricing, are desirable qualities, too.
For firearm companies, though, creating an affordable, accurate, lightweight, center-fire bolt-action rifle is akin to an acrobat walking a tightrope—a balancing act with consequences for losing focus or missteps. It's a daunting feat that few accomplish. With its Lightweight Hunter-series rifles, Savage Arms has brought its considerable experience to bear on exactly that challenge.
"Lightweight rifles have long been luxury rifles," explained Bill Dermody, marketing manager for Savage Arms. "Our goal was to bring the luxury rifle to the regular guy."
Lessening The Burden
Reducing a rifle's weight is a straightforward process: Remove excesses and make use of components made from durable, yet lightweight materials. If those include titanium, Kevlar, graphite and carbon-fiber, rather than less costly alloys or polymer, the result is a significant price hike. Lengthened machining times necessary to eliminate surplus material increase cost, too, as the per-unit price escalates when total output slows. Using investment castings, rather than extensive machining, can save money as well.
Because cost isn't as important to the clientele of low-volume custom and semi-custom gunmakers, said companies make use of a disproportionate percentage of high-tech materials in an effort to minimize weight. Potentially out-pricing the consumer base dissuades the mass producer from doing the same, so the solution is simple: additional machining time, castings and plastic. But, removing material and the use of polymer can "add" to a rifle's aesthetics, and that's exactly what Savage did. The company did not go the "castings" route.
"Weight reduction for any product is an art and a science; one must reduce weight but also maintain an aesthetic appeal and product integrity," explained Dan Borecki, design engineer for Savage Arms. "A product must have the ability to grab your eye, force you to investigate and review, and make you decide whether or not you'd own it. The theme created by the receiver, bolt and stock [of the Model 11/111 Lightweight Hunter-series rifles] grabs your eye and makes you say 'wow!' That being said, safety is always a concern, and testing was done to validate the design intent and maintain the criteria established for our products."
"It wasn't enough to be light; it needed to look light, too," said Dermody. Nowhere is "lightness" more apparent than in the receiver and the bolt. Concerning the former, a cylindrical, carbon steel billet is CNC-machined with flat sides—for an outside-to-outside dimension of 1¼ inches—and upper quadrants, while the very top and bottom are left round. "The bedding portion is consistent with our standard receiver with a full-round bottom for bedding, and that also holds true at the top for scope mount mounting," explained Borecki. Weaver-style scope bases come pre-attached. Adorning the left, outside receiver wall are four, milled lightening slots that diminish in length nearing the receiver's front. The rearmost slot size is duplicated on the receiver's right rear side wall and upper quadrant. The slots displace excess material and do so in an appealing manner that invites investigation—a design goal. To prevent debris from entering the receiver, they are not bored-through. The savings in weight in the Model 11 is 1.6 ounces.
Consistent with the "paring-down" theme, even the bolt didn't escape Borecki's attention, though the approach and result was unusual for Savage. "The bolt body needed some fat removed," commented Bordecki, "so the decision was made to enhance the look from a plain vanilla body to one that is a departure from our products by adding the spiral fluting."
Each flute measures 0.200 inches in width and is finished with black oxide, contrasting with the remaining material, which is left in the white, and resulting in significant visual appeal. The flutes remove 0.8 ounces of steel from the Model 11 Lightweight Hunter—a seemingly insignificant amount, but important nontheless. With the exception of the fluting, the bolt follows suit with those of other Model 10/110-based rifles, having dual-opposed locking lugs for a 90-degree bolt lift, a sliding-plate extractor and a plunger ejector. The rear bolt baffle and handle, the latter of which has checkering on the knob to enhance purchase, has the same finish as the receiver and the barrel.
Measuring 1.75-inches tall, 1.25-inches wide and 0.195-inches thick, the recoil lug, which is secured between the newer, smooth barrel locking nut and receiver, has a small tab that corresponds to a like-sized notch at the receiver's front. As for the 20-inch button-rifled, carbon steel barrel, it's of the "ultra-light" contour—a first for Savage. "The contour was based on a sporter barrel," explained Bordecki, "but for ease carry without snagging, a more slender version was chosen. It also predicated the 20-inch length." At the locking nut the barrel measures 1.035 inches in diameter, but slims to 0.540 inches at the muzzle, where it ends in a radiused crown.
Shooters familiar with the controls of other current Savage Model 110-based rifles will also be versed in the use of those of the Lightweight Hunter's. The three-position safety is located on the rifle's tang, and the bolt-release button is immediately forward of the trigger guard. Standard on all but a few of its rifles, the AccuTrigger is also used on the Lightweight Hunter. The trigger is user-adjustable from 2 pounds, 8 ounces to 6 pounds, though the test rifle's 3-pound, 2.1-ounce pull was about perfect.
Just as Bordecki trimmed unnecessary heft from the steel components, so too did he remove excess from the oil-finished American walnut stock. A cursory glance belies the reduction. "The stock is a smaller version of our standard wood stock, which underwent a cosmetic makeover and weight-reduction program," said Bordecki. "The checkering pattern is unique and used only on the Lightweight Hunter rifle, the fore-end and length of pull are again modified to reduce weight. The fore-end has progressive slots that maintain the theme formed by the receiver, along with a weight-reduction slot inside [beneath the barrel channel] that helps reduce weight." The aforementioned, combined with the substantial amount of material removed from the butt—obvious once the recoil pad is removed—contribute to a short-action stock that is 3/4-pound lighter than an unaltered one. Absent the plastic furniture and Pachmayr Decelerator recoil pad, the latter an excellent choice on such a lightweight rifle, the stock weighs a mere 1 pound, 6.8 ounces. Interestingly, the recoil pad with integral black spacer and two screws weighs 3.6 ounces. Because it is absent the aluminum chassis of AccuStock-equipped rifles, the Lightweight Hunter has dual steel pillars for bedding. The fore-end and butt have sling swivel studs, and the pistol grip has a plastic cap with Savage's emblem.
With the resilience and consistency of synthetic stocks, the latter an important consideration in hostile weather conditions, I found myself asking: Is there a synthetic stock version in the works? "We are exploring it, but it's tricky," explained Dermody. "At this price, we will not sell the huge numbers that we do in other models. A mold for a synthetic stock can cost as much as a modest home in some areas of the country. So we are probably going to have to make some kind of engineering breakthrough to make it feasible."
"The Axis rifle opened the door for opportunities to incorporate more engineered materials and variations in styling, as well as served as an engineering test bed to gain confidence for component utilization in other Savage products," said Bordecki. "[The Axis] utilized components that reduce weight and provide durability." Such experience with light, yet lasting, parts proved invaluable in not only reducing heft, but also cost, in the Lightweight Hunter-series rifles. How? The new rifle uses the same four-round, polymer-and-sheet-metal detachable box magazine as the Axis, thus no new mold. The Lightweight Hunter's bottom unit and separate trigger guard are also made from polymer for weight savings. "The synthetic trigger guard used on the Lightweight Hunter is also used on other Savage products," noted Bordecki. "Testing and many years of use in the field have proven them durable."
Through his paring, Bordecki met the Lightweight Hunter design goals of a 5½-pound short-action (Model 11) and a 6-pound long-action (Model 111), yet sacrificed nothing in terms of aesthetics. In fact, it's downright pleasing to the eye. But Savage also kept the end cost low with a suggested retail price of $875. How does the series compare price- and weight-wise to similiar bolt-action rifles?
Browning has two "lightweight" versions: the A-Bolt Micro Hunter and the Mountain Ti. Depending on chambering (.22 Hornet to .325 WSM), the wood-stocked, short-action Micro Hunter weighs either 6 pounds, 4 ounces or 6 pounds, 6 ounces, and costs from $739 to $870 (.22 Hornet). The Mountain Ti, also a short-action but featuring a synthetic stock, retails for $2,070 to $2,100 (WSM chamberings) and weighs 5 pounds, 6 ounces to 5 pounds, 12 ounces (WSMs). Sturm, Ruger & Co. has the 16½-inch-barreled, wood-stock Hawkeye Compact-series, which ranges in weight from 5 pounds, 12 ounces (7.62x39 mm, .308 Win.) to 6 pounds, 4 ounces (.223 Rem.), and in .243 Win., 6.8 SPC and 7 mm-08 Rem., the weight is 6 pounds. They are priced at $843. Kimber has three "lightweight" contenders: the 84M Montana, 84M Classic and 84 L. Weighing only 5 pounds, 6 ounces, the Kevlar-carbon-fiber-stocked, short-action 84M Montana is the company's lightest offering, though it retails for $1,312. The long-action variant increases the weight by 4 ounces. The slightly heavier wood-stocked 84M Classic is 5 pounds, 13 ounces, and at $1,172, costs a bit less. Add 5 ounces for the long-action variant.
From custom gunmaker New Ultra Light Arms' (NULA), the intermediate-length action (.308 Win. class) M20, designated "Ultimate Mountain Rifle," weighs a mere 5 pounds but costs $3,000. The long-action M24 "Ultimate Plains Rifle," available in the .30-'06 Sprg. range of cartridges, weighs 5 pounds, 12 ounces but cost increases to $3,100. H.S. Precision's PHL is 5 pounds, 12 ounces, but it retails for $3,175. The aforementioned rifles provide only a glimpse into current "lightweight" offerings; however, it affords a means for comparison. To me, given their features and price, the Lightweight Hunter-series rifles stack-up nicely to the competition.
Savage offers the Model 11 Lightweight Hunter in .223 Rem., .243 Win., .260 Rem., 6.5 Creedmoor, 7 mm-08 Rem., and .308 Win., while the long-action Model 111 is available in 6.5 mm x .284 Norma, .270 Win. and .30-'06 Sprg.
Why 6.5 Creedmoor? "Obviously, in a 5½–pound rifle, recoil becomes an issue," said Dermody. "At the same time, if it is going to be used in western mountains, it's very likely that it will be shot at long range as well. What to do? The 6.5 Creedmoor actually recoils like a .243 Win. and has the long-range trajectory of a .300 Win. Mag. We didn't have to think to hard about that one. We like cake. We like to eat it, too."
Testing
Mid-summer I had the chance to evaluate a .243 Win.-chambered Model 11 Lightweight Hunter while hunting with SOE Hunts outside of Sonora, Texas. During the sight-in and familiarization process, the rifle—combined with Winchester's 100-grain Power-Max Bonded ammunition—proved remarkably accurate, as sub-m.o.a. groups, and some substantially smaller, were common. The rifle's fine accuracy was untested in the field, though, as a mature axis buck failed to appear before I had to hand over the rifle to another outdoor writer. As a result, field-testing took the form of "carry a lot and shoot … well … none." Still, the experience enabled me to evaluate the Lightweight Hunter's "lightness." Even when topped with a Bushnell 3-10X 40 mm Elite-series scope, and with a Shooter's Ridge bipod and a sling attached, the rifle was a welcome reprieve from similarly equipped, standard-weight models. It was a joy to carry.
At the range, the 6.5 Creedmoor-chambered Lightweight Hunter, with a Bushnell Elite 3-9X 40 mm scope, proved as accurate, if not more so, than the .243 Win. used on the Texas hunt. But, know that the same abbreviated, "ultra-light" contour barrel that makes it a pleasure to tote also negatively affects accuracy to an extent. Almost without exception three shots were close, often linear, and invariably the remaining two produced "stringing." Group size could have been reduced if the barrel were given time to cool between shots; however, I chose not to in keeping with its design purpose—hunting—wherein extra time between follow-up shots is seldom afforded.
Of the three loads tested, all of which were Hornady since it's the sole manufacturer of 6.5 Creedmoor ammunition, the standout was the 140-grain A-Max match load, averaging 1.04 inches for five consecutive, five-shot groups at 100 yards. Not far behind, though, was the 120-grain GMX, which averaged 1.19 inches.
With conventional loads one can expect velocity loss due to the short barrel, especially in the long-action chamberings. By using ammunition with progressive propellants, such as Hornady Superformance, the loss will be minimized. For example, through an RCBS AmmoMaster chronograph, the two 6.5 Creedmoor Superformance loads—120-grain GMX and 129-grain SST—were within 27 fps and 16 f.ps, respectively, of their published numbers The sole standard load, the 140-grain A-Max, bested the published number by 2 fps, but this was due to cartridge efficiency. In larger capacity cases, and especially traditional loads, the numbers won't be as close.
By providing the hunter desiring a lightweight rifle that's affordable and capable of excellent downrange performance, Savage Arms has accomplished what few have. Considering the company's history, though, it's no surprise. It has successfully performed many balancing acts before.
Manufacturer: Savage Arms; (866) 233-4776; www.savagearms.com.
Action Type: bolt-action, center-fire rifle
Receiver: carbon steel
Caliber: Model 11: 6.5 Creedmoor (tested), .223 Rem., .243 Win., .260 Rem., 7 mm-08 Rem., .308 Win.; Model 111: 6.5 mm x .284 Norma, .270 Win., .30-'06 Sprg.
Barrel: carbon steel; 20"
Magazine: detachable, four-round box
Sights: none; drilled and tapped for optic
Trigger Pull: single-stage ; 3 lbs., 2.1 ozs.
Stock: oil-finished walnut; Model 11/111: length of pull, 131⁄2"; drop at comb, 13⁄8"; drop at heel, 15⁄8"
Weight: 5 lbs., 8 ozs. (Model 11); 6 lbs. (Model 111)
Accessories: Weaver-style bases, cable lock, owner's manual
Suggested Retail Price: $875