by
posted on November 2, 2012
Support NRA American Rifleman
DONATE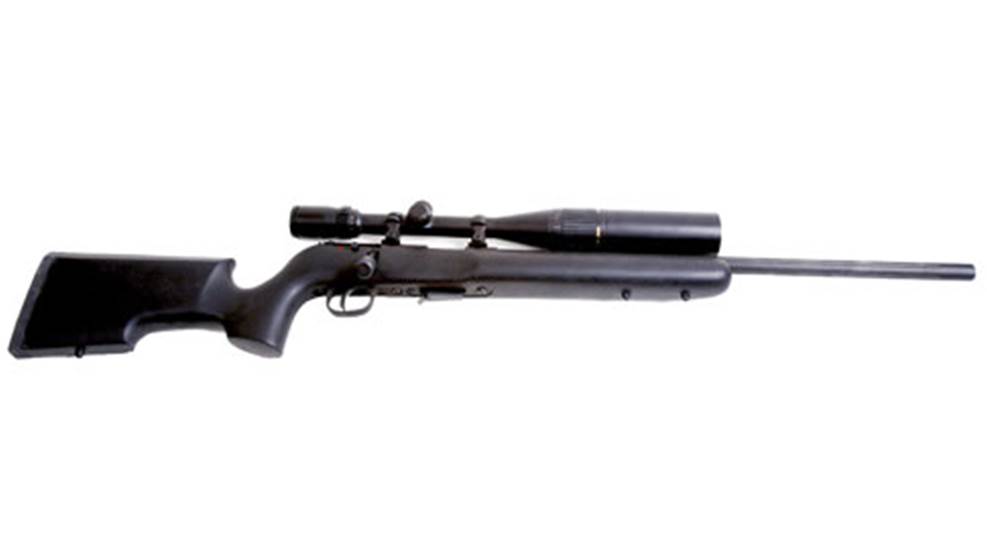 11/2/2012
Savage Arms has long enjoyed a well-deserved reputation for building accurate rifles. Ten years ago the company stood the industry on its ear with its revolutionary AccuTrigger, putting to rest the notion developed and promoted by corporate lawyers that the only safe trigger was one that could support the weight of the firearm. Just a few years prior to that Savage introduced the Model 93 series of rimfire magnum rifles. When the .17 HMR cartridge came out, Savage adapted its magnum rimfire to handle the new chambering in the form of the Model 93R17.
Last year Savage added a new wrinkle to the Model 93R17. Along with a 21-inch lightly fluted bull barrel, the company added an oversized tactical bolt knob and a tactical synthetic stock. Now it is unlikely that many tactical operators will choose the .17 HMR for serious purposes, so the question begs, why develop a tactical-style rimfire rifle? Aside from the "cool factor"—anything "tactical" seems to sell well—it's one heck of a varminter.
It makes sense after all; the purpose of a tactical rifle is identical to a varminter—to place very accurate shots at longer ranges. This is precision field shooting at its best, and it isn't done from a hasty offhand or slinged-up position. Nope, this rifle is typically shot from as rock steady a position as can be achieved—often from a makeshift bench or with a bipod. The bulky stock with a parallel toe, pronounced pistol grip and beavertail fore-end is specifically designed for this kind of shooting. Also, a sleek, rounded bolt knob isn't necessary since this rifle will not be carried far by a sling, nor will it have to undergo the filth and horse sweat from being stuffed in a saddle scabbard. Why not make it oversized? It's easier to grasp and provides a bit more leverage when things get hot and dirty.
The receiver is tubular and utilizes the root of the bolt handle for lockup. Dual extractors provide plenty of purchase on the cases, while a receiver mounted blade kicks them out with vigor proportionate to the operator's bolt velocity. The barrel is pressed into the receiver and has generous cuts to accommodate the extractors. These cuts also vent gases from a ruptured case to each side and out matching ports along side of the receiver and away from the shooter. The rifle comes sans open sights, as is the norm today, but a pair of Weaver-style bases are included.
Fire control is, of course, provided by the aforementioned AccuTrigger system. The genius behind the AccuTrigger is its simplicity. A stainless-steel lever called the AccuRelease is under mild spring tension, holding it forward of the trigger blade. In that position, the top of the lever rests behind the sear, preventing it from any movement. As the AccuRelease lever is moved rearward during the trigger pull, the tip of the lever moves out of the way from the sear providing clearance for it to move as the trigger blade—which is user adjustable for weight—is pulled. That's why an AccuTrigger can be set as low as 1.8 pounds and not get bumped off. The AccuRelease prevents any sear movement until it is moved out of the way during a normal trigger pull.
A five-shot detachable box magazine feeds the Model 93. It is held in place by a leaf spring that also serves as the magazine release lever. Though not terribly stylish, it is simple and reliable. I've been shooting this rifle for about a year, and there have been absolutely no failures to feed or problems releasing or seating the magazine. If I had to quibble, I'd ask for an additional magazine to come with the rifle.
The stock is hardwood and finished in a subdued matte black. It features a straight comb with just enough drop to clear the bolt—a drop of about 1/2-inch from comb and heel. The pistol grip is pronounced and very hand-filling. Shooters with smaller hands or shorter fingers may be tempted to take to the grip area with some sandpaper to reduce its girth. Up front the beavertail fore-end is flat and is equipped with two sling studs. As mentioned, the toe area of the buttstock is flat and parallel with the comb so that it may be better utilized on a padded rest. The stock is capped off with a nice recoil pad—though on a rimfire it seems unnecessary—so shooting this puppy is absolutely painless.
As I said, I've been shooting this rifle for about a year, so the range time was a revisit. With a Bushnell Elite 3200 5-15X scope, the rifle had no problem keeping all of its shots in less than an inch at 100 yards, as long as the wind was calm. It takes very little wind to blow those little 17-grain bullets around. Best groups came from Hornady Varmint Express .17 HMR ammo with an average of .482 inches for five, five-shot groups. Velocity was close to the claimed 2,500 fps—2,525 fps to be exact. I needed two range sessions to examine all of ammo because of incessant wind.
Earlier this year I had this rifle on a chiseler shoot. Shooting from an RCBS RASS shooting rest, I was able to tag pasture rodents out to 146 yards, measured by a laser rangefinder. With an MSRP of $489 and a street price in the low 400s, this tack-driver is an excellent addition to a varmint hunter's battery.
Manufacturer: Savage Arms; (413) 642-4262; www.savagearms.com
Type: Bolt-action repeating rifle
Caliber: .17 HMR
Barrel: 21"
Rifling: 1:9" RH
Trigger: AccuTrigger, 3 lbs., 2 oz.
Magazine: Detachable box; 5-round capacity
Sights: None, drilled and tapped, Weaver-style bases included
Safety: Sear blocking lever on receiver
Stock: Black matte wood, tactical style; length of pull: 5/8"; drop at heel: 1/2"; drop at comb: 1/2"
Overall Length: 40"
Weight: 7 lbs., 8 oz.
Metal Finish: Matte black
Suggested Retail Price: $489