Support NRA American Rifleman
DONATE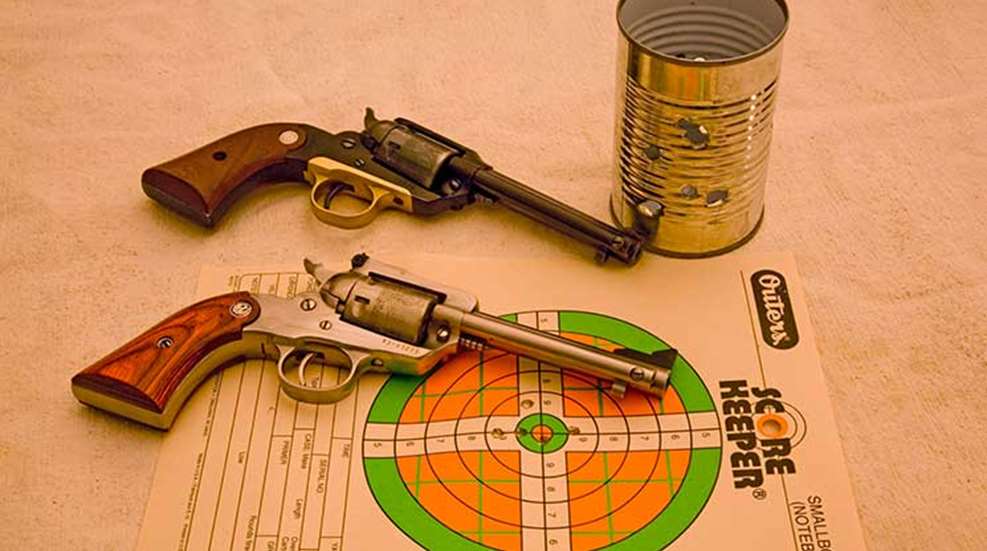 With the success of its Single Six, introduced in 1953, and the
Blackhawk
, debuting in 1956,
Ruger
was muscling its way to the top of the
single-action
revolver market. Both revolvers were based upon Colt's
Single Action Army
revolver, but the Single Six was thought by some to be a bit too beefy for a rimfire revolver. So in 1958 Ruger offered up its version of a slow curveball. Minimizing every part of the rimfire revolver and designing the shape to mimic the Remington revolvers of the mid-19th century with its one-piece frame, the new mini-rimfire was christened the Bearcat.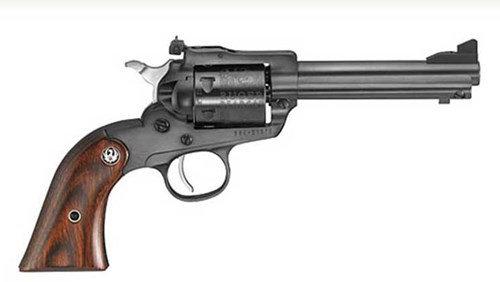 Like a lot of guns, the Bearcat has an almost cult-like following with some rimfire aficionados, but I confess that it had never held much interest to me—until now. My issue with the Bearcat was its lack of adjustable sights, making it as far as I was concerned a cute plinker. I want the ability to adjust my sights so that I can more easily hit what I am shooting at, and I don't much care for Kentucky windage. Well, somebody else must have been beating that drum to Ruger because this year it has introduced a Bearcat with adjustable sights.
Ruger, in a partnership with Lipsey's, has been offering up some limited runs of really cool revolvers during the past few years—everything from flat top .44 Specials and .45 Colt on a .357-size frame to the now
adjustable-sighted Bearcat
. I can't help but wonder, "What took 'em so long?" It has long been known that shooters see open sights with ever-so-discrete differences that affect point of impact, and similar loads from different manufacturers will print at differing points on the target.
All of the current New Bearcat revolvers are made like the Super Bearcat, introduced in 1971, except that they now include Ruger's transfer bar safety system to allow all six chambers to be safely carried loaded. The first-issue Bearcats were made with an aluminum alloy frame, but when Ruger brought out the Super Bearcat the frame material was changed to alloy steel. This, of course, increased the weight of the revolver, but even with the New Bearcats the increase is but 8 oz., and a 24-oz. handgun isn't much of a burden, especially given the advantage of adjustable sights.
The
Lipsey's Bearcat
is available in blue or stainless with a 4.2" barrel. In stainless, there is also a 3-incher available—sort of a shopkeeper's Bearcat with adjustable sights and a bird'shead grip, if you will. The front sight is, of course, ramped to facilitate an easier, snag-free draw. Grip panels on all are walnut-stained hardwood.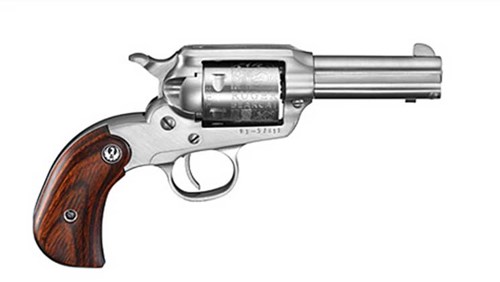 My range sessions with the Bearcat provided no real surprises, except that you do not want to forget to put on ear protection before shooting this abbreviated barrel gun. It is l-o-u-d. That should not be a surprise, but it was because of my forgetfulness—for one round. Even when I cart a gun along for a short walkabout after chislers and such, I prefer to wear some hearing protection, a practice I should have taken up years ago.
I happened to have a buddy with an original Bearcat, and I could not resist comparing the two. Overall, the dimensions feel identical except for weight. The force necessary to cock each revolver was remarkably close by feel, probably due to the wider spur on the New Blackhawk's hammer. Not surprisingly, the older Bearcat has a much nicer trigger pull than the newer revolver. Trigger pull on the New Bearcat measured 5 lbs, 6 oz. There is no doubt that an original aluminum-alloy frame Bearcat is a bit handier, but as I said, a 24-oz. gun isn't too much of a burden. The rollmarks on both revolvers appear identical, except there is an additional rollmark on the New Bearcat identifying its chambering, .22 LR.
The range session was not too unsurprising. This little Bearcat is certainly no target pistol, but it is a handy little kit gun that is plenty accurate for that duty. Groups at 25 yards were in the 2 1/2" range, but a smoother trigger and less Wyoming wind might have helped. At plinking range—10 yds. or so—the Bearcat turned in some impressive results as evidenced by the target shown in the lead image.
While I like this New Bearcat with its fat sights, its small overall size makes it difficult for someone with adult-size hands to shoot well. It's a great little revolver to start youngsters on, however, since they won't have to try to adapt smaller hands to an adult gun. As a kit gun for the fisherman or backwoods loafer, its small size and relative unobtrusiveness is a plus. It's MSRP of $635 may hold some consumers back, but like most good guns, if you wait until they're all gone you'll likely regret that decision.
Shooting Results (25 yards); .22 Long Rifle; Vel. @ 10'
;  Energy; Group Size In Inches Cartridge (f.p.s.) (ft.-lbs.) Smallest Largest Average
Winchester Super X
Vel @ 10': 989 Avg fps. Energy 87 ft. lbs.; Smallest group size: 1.80 Largest group size: 2.50 Average: 2.28
40-gr. Power Point
24 Sd
CCI Mini Mag
1108 Avg. fps; Energy: 109 ft. lbs.; Smallest group size: 1.875 Largest group size: 2.68 Average 2.18
40-gr. HP
18 Sd
Federal Champion
1128 Avg. fps; 102 ft. lbs.; Smallest group size: 2.10 Largest Group Size: 2.875 Average: 2.46
38-gr. HP
24 Sd
Average Extreme Spread:
2.30
Measured average velocity for 10 rounds from a 4.2" barrel. Range temperature: 52oF. Humidity: 72%. Accuracy for five consecutive, five-shot groups at 25 yds. from sandbags. Abbreviations: HP ( hollow point), Sd (standard deviation).