by
posted on April 22, 2011
Support NRA American Rifleman
DONATE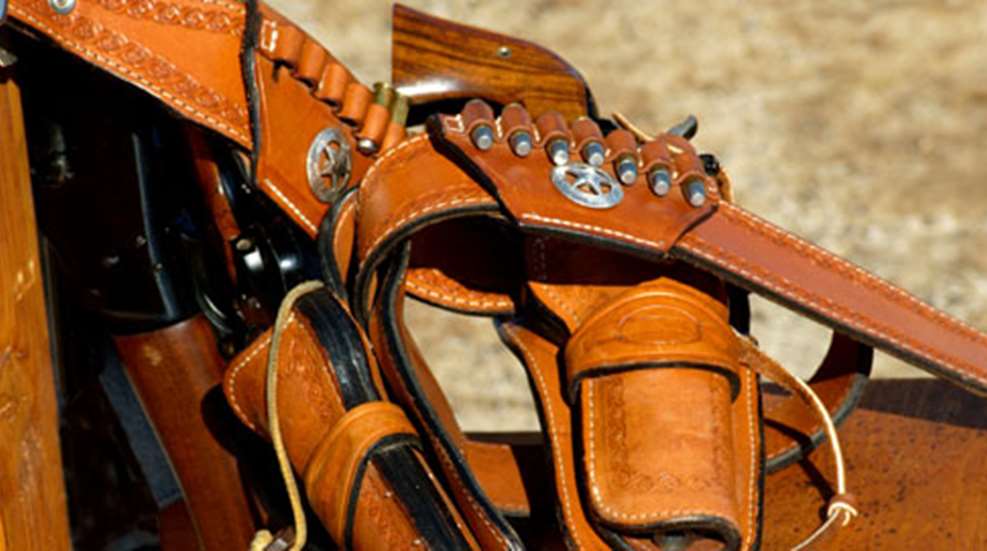 I must have been about 7 years old when a friend invited me to spend a weekend with his family in the hills on their property. For a 7-year-old boy this was going to be quite an adventure. We spent the time fishing, hunting and shooting. There were several memorable events for me during that exciting weekend more than five decades ago. And although my memory gets fuzzy about a lot of things, that weekend and the experiences with real guns remain as clear as a mountain creek.
Standing out among those recollections was that as soon as we got there, my buddy's dad strapped on a great big ol' six-gun. To me it looked just like the one Matt Dillon used every week on "Gunsmoke." It had a long barrel, a beautiful and wickedly curved hammer, and the grips were white with dark stripes (I know now they were stag, or at least faux stag). The cartridges in the loops on his belt were bigger than my thumb at the time. Withdrawing the revolver from the holster, he motioned his son and me to come to him. "Here's the first thing you should know about a handgun," he said as he inched a couple of cartridges from the loops on the gun belt. "Always carry it with the hammer down on an empty chamber." He then loaded five rounds, cocked it and then carefully lowered the hammer and re-holstered the revolver without looking at it and slipped the leather thong over the hammer. "That way," he concluded, "you won't shoot yourself in the foot."
Fast forward a half century. Many of today's younger shooters have never shot a revolver of any kind. Their shooting world has been dominated with double-action and striker-fired semi-autos that safely allow a live round to be carried under the firing pin or hammer. We have several of these enthusiastic shooters among our 3-gun club where I live. A few of them showed up last year at a cowboy action shoot, just to see what a bunch of old guys with old guns had to get excited about. Giving them the same explanation as to why one loads five rounds in a single-action revolver, we let them have at it.
One of the first young men proceeded to load five .45 Colt cartridges into a revolver, then turn the muzzle toward his face and look for the empty chamber in order to align it with the barrel. This—as you may have guessed—precipitated a fair amount of concern among the group. I grabbed the barrel and quickly turned it up, "Here, let me show you something," I said firmly. I took the revolver and emptied the cylinder of cartridges back into my hand. "Here is a guaranteed infallible way to safely load a single-action revolver."
I pulled the hammer back to half-cock and opened the loading gate. Simultaneously loading and talking in order to emphasize what I was doing, I said, "Load the first chamber, skip one chamber, and load the remaining four. This part is important: Pull the hammer back to full-cock, and lower it on the empty chamber." It took but a couple of times for these otherwise savvy gunners to get the hang of loading "five beans in the wheel."
Some modern single actions have been designed to be safely carried with the hammer down over a loaded chamber—notably the post-1973 Rugers—but in cowboy action shooting the hammer must be on an empty chamber regardless of whether the particular revolver is safe to carry with a full boat. This technique—load one, skip one, load the remaining chambers and come to full cock, then lower the hammer on an empty chamber—will work for any single-action revolver, regardless if it is a five-, six- or eight- or nine-shot cylinder.
If you have any doubt as to whether a particular single-action revolver is safe to carry with all chambers loaded, here is a simple examination. Ensuring that the gun is empty, hold the gun up with the muzzle pointed in a safe direction and carefully look at the gap between the breech-face of the revolver frame and the cylinder. If you see the firing pin protruding from the breech-face, either on its own or when you apply thumb pressure on the hammer without holding down the trigger, carry it with an empty chamber under the hammer.