posted on November 29, 2010
Support NRA American Rifleman
DONATE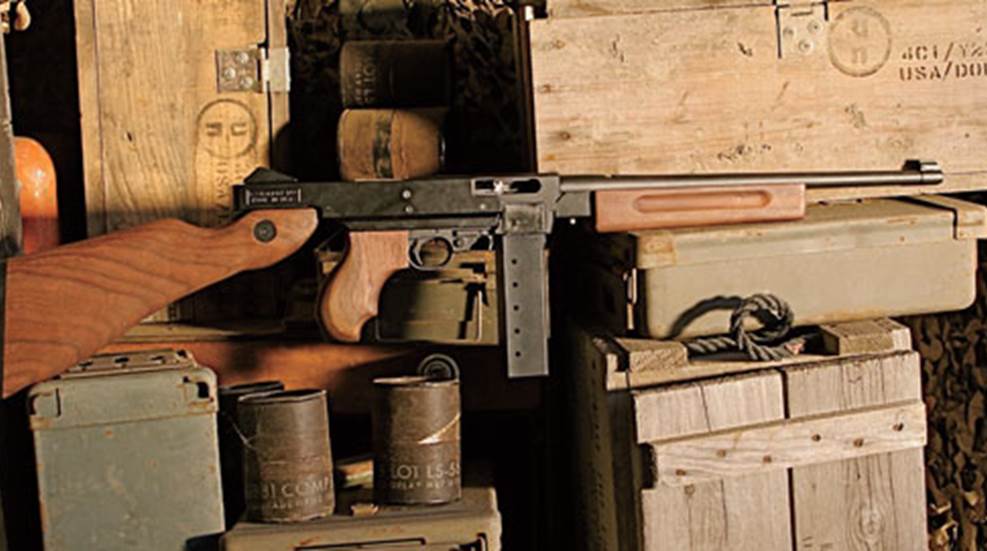 Brigadier General John Taliaferro Thompson's legendary Tommy Gun arrived too late for World War I, but it served our country admirably throughout World War II, Korea and Vietnam. And although sometimes overshadowed by its G-man Model 1921 counterpart, it is the United States Submachine Gun, Cal. .45, M1, with horizontal fore-end, "L"-shaped rear peep sight, side-mounted charging handle and stick magazine that causes many of us to hyperventilate whenever we see it in movies such as "The Longest Day," "Saving Private Ryan" and "Band of Brothers." Indeed, after a brief full-automatic familiarization course with it many years ago during Officer Candidate School, I remember being impressed with its 650-r.p.m. cyclic rate of fire and handling qualities.
But alas, the National Firearms Act of 1934 has made private ownership of full-automatic Thompson M1s next to impossible. Even the well-made semi-automatic version by Auto Ordnance/Kahr Arms is illegal in some states, not to mention the cost of filling a 20-round stick magazine with .45 ACP ammunition. And in California, Hawaii, Massachusetts, New York, New Jersey, and Maryland, even these "high-capacity" magazines are outlawed. So Craig Scott of La Crescenta, Calif., created a low-cost alternative in the form of The Squad Leader: a 6061 aircraft-grade aluminum and steel drop-in kit that transforms the ubiquitous Ruger 10/22 rifle into a semi-automatic .22 rimfire Thompson look-alike.
"I've owned all of the Ruger 10/22 variations," said Scott, who has more than 30 years of experience in the automotive and motorcycle industries. "Like a lot of shooters, I've always wanted to own a Tommy gun. So I got this crazy idea to turn my 10/22 into a semi-automatic Thompson. Three days later I emerged from my shop with the prototype. I took it to the range and people started saying 'I want one.' So I began thinking, how can I create something for under $300 so the average guy could own a Tommy gun, because I think every man should have one."
A year and a half later The Squad Leader kits were ready, priced at $299. No ATF Form 4473 is required, as the purchaser's existing 10/22 action and barrel are used (the slip-on receiver doesn't hide the rifle's serial number). Assembly is so simple, even I was able to transform my 10/22 into a Thompson M1 in less than an hour. (Scott can do it in 10 minutes.) And because no permanent changes are made to the host 10/22, it can be easily reconverted to its original configuration.
The only tools needed are a hammer (for removing and reinstalling the two existing Ruger trigger group pins), a screwdriver, and a punch. Everything else comes with the kit, including simple 10-step instructions and socket wrenches for tightening the replacement screws. There is no drilling, and all machining, inletting and precise fitting has already been done.
"All manufacturing tolerances are held to two-thousandths of an inch, the same criteria used to produce motorcycle and automotive components," noted Scott. "Everything screws together, lines up, and fits exactly like it's supposed to."
The Squad Leader's buttstock, pistol grip and fore-end are American walnut. The Ruger's front sight is retained, and the rear sight is a .040-inch peep held by two screws that allow for slight windage adjustments; elevation is set for 25 yards. The rear sight almost doubles the 10/22's sight radius, increasing accuracy potential; I was bouncing tin cans at 100 yards. The 10/22's Thompson persona is heightened by Scottwerx's optional pseudo-stick and drum magazines, which affix to Ruger's 10-round rotary mags.
However, in spite of The Squad Leader's appearance, mechanically it is still a 10/22. So even though one is tempted to unleash a volley of 36-grain hollow points, rapid-fire can be sluggish. But it can be enhanced with the addition of a Timney 10/22 trigger or a Volquartsen TG2000 competition trigger assembly, along with a Power Custom extended bolt handle. I think Gen. Thompson would approve.
Contact: Scottwerx, LLC, (818) 248-1139; www.1022fungun.com.