by
posted on September 6, 2013
Support NRA American Rifleman
DONATE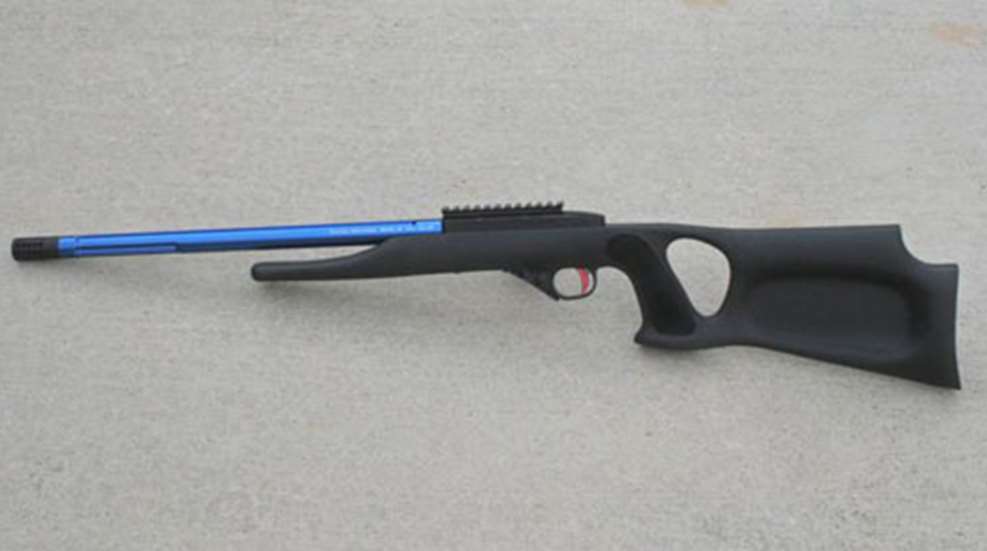 Launched in 1964, the Ruger 10/22 rimfire rifle became both an immediate and long-lasting commercial success. Nearly 50 years and over 5 million rifles later, it remains a top choice for small-game hunting, target shooting and casual plinking. This rifle's popularity has inspired several clones and a plethora of aftermarket parts.
Much like the AR-15 rifle, the 10/22 can be modified, tuned and accurized without the need for expensive gunsmithing or permanent modifications to the base gun. Just a few simple tools are needed to get the job done. The flexibility of the 10/22 platform has inspired upgrades ranging from tactical to brightly colored and individualistic in nature.
For those who want to enjoy a customized 10/22-style rifle, there are two ways of going about it. One option is to check in with companies that provide complete guns, like Tactical Solutions, Volquartsen Custom and Tactical Innovations, to name just a few. This is a popular choice for those looking for rifles to use in .22 rimfire competitions. The advantage of buying or building a rifle using a single company's components is that all of the parts are guaranteed to fit and work together because all of the specifications are matched from the ground up. You'll also have access to repair and service centers if needed. The down side of the complete gun route includes custom options limited to that particular company's catalog, the gun must be paid for in a lump sum and complete, custom rifles, while excellent, do not come cheap.
The other option for creating a custom 10/22 is to select a factory-configured base gun to be upgraded with a mix of aftermarket parts. This is the route often taken by 10/22 hobbyists and those who want to dress up a rifle already owned. Using an off-the-shelf rifle as a base platform is less expensive, and the shooter can invest in just the parts he or she wants while leaving the rest of the gun as-is, which also reduces cost. The components can be added or changed over time, allowing one's wallet to recover between upgrades while still having a functional rifle to take to the range. There is one thing that's important to note here before proceeding: Not all 10/22 components are compatible with each other.
Theoretically all of the bits and bobs on the market for this rifle should get along with each other. But the reality is that finite differences in the design and dimensions provided by different manufacturers can create problems with fit and function. As a result, components may require gunsmithing or have to be removed and replaced in order for the gun to run properly. In order to avoid compatibility issues, those who choose to mix and match parts have to exercise due diligence when researching the parts. When in doubt, look up the specs online or call the manufacturer.
But here's the key question about mixing and matching 10/22 components: Will tricking out a factory 10/22 at home to save money result in a measurable improvement in performance, or will the changes be primarily cosmetic in nature? Even though the cost is significantly less than buying a complete competition rifle, it's still a solid chunk of money to pay for what may amount to a fancy paint job. There was only one way to find out if a home-brewed 10/22 was worth the investment, and that was to give it a try.
The first step was to select a base rifle for this do-it-yourself experiment. For this, a Ruger model 10/22-RB in basic blue steel with a wood stock, an 18.5-inch barrel and a 10-round rotary magazine was chosen. Next it had to be decided if the hybrid rifle was going to gain weight (a plus for bench rest shooting) or lose weight (easier handing for all-purpose shooting). A lightweight stock and barrel option were selected to keep the rifle handy off of the bench. Finally, were the new parts going to emphasize flamboyance (fancy looking multi-color add-ons) or function (useful but less expensive)? Most aftermarket parts add style to a rifle, but as with other objects of desire, more bling usually costs more money. Since this project was started with cost savings in mind, function was given a priority over form, although the finished gun still looks pretty cool.
With the parameters set out, here's how the test gun came together:
- Base Rifle: Ruger 10/22-RB(MSRP: $279).
-Stock: MRI Glacier Ridge .22 LR Ambidextrous Thumbhole Stock (MSRP: $79.99)
- Barrel: Tactical Solutions 16-inch X-Ring Threaded Barrel and V-Block (MSRP: $269.98)
-Trigger Group: Timney Trigger 10/22 Complete Assembly, Black Housing (MSRP: $229.95)
-Receiver Group: All factory original 10/22 components
-Scope Base: Tactical Solutions 10/22 15 MOA Black Scope Base (MSRP: $35.00)
At this point, the cash invested would have been about $895 (before taxes and shipping) if the full suggested retail price for the parts had been paid. However, the base gun was purchased used years ago and a few bucks were shaved off here and there for parts by shopping around. The rest of the hybrid rifle components, including parts like the magazines, scope, rings and compensator, were borrowed off of other guns or pulled from the spare parts box to avoid any additional expense. In case the project is looking expensive at this point, remember that a complete custom 10/22-style rifle can cost upward of $3,000 out-the-door.
Before the hybrid was assembled, the stock 10/22-RB was tested at the range. Weighing in at 5 pounds unloaded, the rifle ran reliably with a variety of ammunition using a mix of factory and aftermarket magazines. The smooth factory trigger broke at 6 pounds, 7 ounces. Shooting at 50 yards using a scope and a bench rest produced five-shot groups ranging from 1.25 to 2 inches, depending on the ammunition used. In other words, the same reliable and accurate performance that makes the 10/22 such a likable rifle in the first place.
After the hybrid was fully assembled and fitted with a quality scope, it was tested at 50 yards as well. The Timney trigger group reduced the trigger to a short, crisp 2-pound, 15-ounce pull. The Glacier Ridge stock was comfortable to work with and free-floated the barrel. Adding a compensator to the threaded aluminum Tactical Solutions barrel kept muzzle flip to a bare minimum.
The reduction in five-shot group sizes was immediately apparent compared to the results of the stock 10/22. Groups formed with bulk target loads shrank between 0.25 to 0.5 inches on average, resulting in groups that hovered right around 1.5 inches. Emboldened by these results, the hybrid 10/22 was filled with competition-grade ammunition, such as the 40-grain CCI Green Tag and Remington Eley Target Rifle loads. Groups with this kind of ammunition consistently formed at 0.5 to 0.75 inches. It was mesmerizing to watch orange target dots the size of pennies evaporate using this rifle and ammunition combination.
So was the experiment of mixing up a hybrid 10/22 target rifle at home a success? It depends on your personal perspective. To those shooters looking to buy a reliable, affordable rifle for enjoyable plinking and small-game hunting, it may seem like I wasted money fixing a 10/22 that wasn't broken. To the hard-core .22 rimfire competition shooters, the groups I produced are not up to competition standards, not yet anyway. But for me, personally, watching my .22 rifle group sizes shrink to just half an inch, and stay that size, was an immensely satisfying experience indeed. And isn't that what recreational shooting is all about?