by
posted on November 7, 2017
Support NRA American Rifleman
DONATE
Q: TIME Magazine turned out a special edition for the 100th anniversary of World War I. In it was a picture of a soldier using a clip-loaded, lever-action rifle. What is it?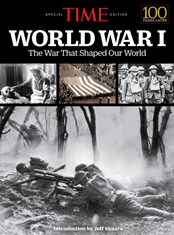 A: The gun in question is a Winchester Model 1895 lever-action "rifle" made for the Russian government during World War I. In 1915, the Russian government ordered a "musket" version of the Model 1895 rifle from Winchester chambered for the 7.62x54 mm R cartridge with a clip-loading guide on the top of the receiver and a bayonet lug. A total of 293,818 of these rifles were delivered to Imperial Russia.
The rifles were used during World War I, and saw some subsequent use during the Russian Civil War. In the early 1920s most of these rifles were placed in storage. In the 1930s some were given to the Communist-supported troops during the Spanish Civil War.
It is not widely known that a number of Winchester Model 1895 lever-action rifles saw active combat service during World War I. Examples in good condition are fairly uncommon today.

—Bruce N. Canfield