by
posted on March 19, 2021
Support NRA American Rifleman
DONATE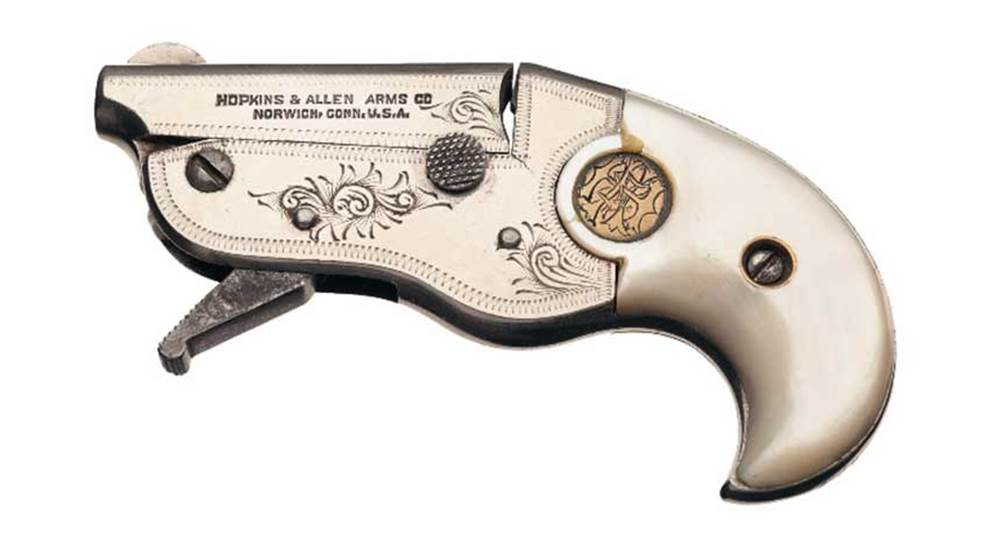 Image courtesy of Rock Island Auction.
---
Q: I have a "Hopkins & Allen Arms Co., Norwich Conn. USA serial No. 9 Cal.22 Short" pistol. When you push forward on a lever, the barrel pops up to load. The trigger folds down to fire. It has Mother of Pearl grips with brass or copper inserts, and that is about all I know about it. Can you give me any more information?

A You have a Hopkins & Allen Arms Co. Vest Pocket Derringer. This company was located in Norwich, Conn. The full company name for the pistol is "New Model Vest Pocket Derringer." It was produced from 1911 to 1915, and fewer than 1,400 of the guns were made.

Pearl grips with the H&A medallion were standard. Flayderman's Guide to Antique American Firearms cautions that very well-made fakes have been produced in Europe in recent decades, but they do not have the pearl grips with the H&A gilt medallion.

Survival rates for American derringers like this are relatively high, because they are attractive and were never intended for extensive use. However, there are no exact estimates as to how many of the original are still extant or in private collections.

Despite the typically high survival rates on these guns, the relatively low numbers of guns produced means that they command a premium in collector circles. One pristine example of the Hopkins & Allen Vest Pocket Derringer, complete with its original box, sold for $8,050 in a 2012 Morphy auction, exceeding its $3,000-5,000 estimate.

Hopkins & Allen was a prominent name in firearm manufacturing in the mid-to-late 19th century. Founded in 1868, the company manufactured a wide range of products, including single- and double-action revolvers, shotguns and rifles, in addition to a number of derringers. The company was the exclusive producer of the unique Merwin Hulbert revolvers.

At the turn of the 20th century, a series of calamities befell the company. In 1898, the original Hopkins & Allen company went bankrupt. Soon after, it was reorganized into the Hopkins & Allen Arms Company, but a fire in 1900 destroyed its factory and machinery. The factory was rebuilt in 1901, but a 1905 robbery cleared the company of all its inventory.

By 1914, the company was struggling financially, but a potential military contract from Belgium offered new hope. However, those hopes were dashed when Germany invaded Belgium, and the contract never came to fruition. The Hopkins & Allen Arms Company never recovered and was bankrupt by 1916.