by
posted on December 30, 2013
Support NRA American Rifleman
DONATE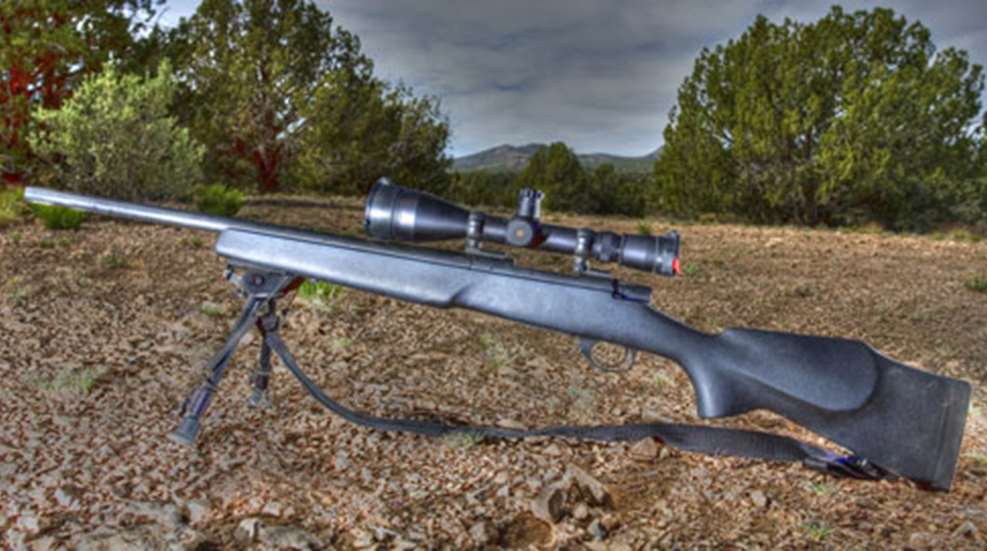 Four days prone behind a rifle on Gunsite's Sniper Ridge is a real education. The painful reality that long-range precision is a perishable skill quickly becomes obvious, as well as the fact that some rifles need lengthy range sessions and dusty conditions for their virtues to shine. Such was the case with the Weatherby Vanguard Series 2 TRR RC. It thrived in the high desert's dirt, grime and general abuse, so much so that the only thing seen choking on the firing line were my journeyman marksmanship skills.
Weatherby's reputation is legend in the hunting community, but the tactical world was uncharted territory for the company when it introduced the Threat Response line several years ago. Flat-shooting cartridges and accurate rifles are nothing new to the firm, though, so it harnessed many of the thoroughbred features found on the famed Mark V action, including a one-piece, fully machined receiver. After all, you need a sturdy foundation to regularly connect at 600 yards.
No stoppages, failures to feed or any problems with a dozen identical rifles running in the sandy environment of Arizona is a testament to the one-piece, fluted bolt on the Vanguard Series 2 TRR (Threat Response Rifle) RC (Range Certified). The design is Mauser-style, with dual opposed-lugs. A three-position safety mounted on the bolt allows removal of a cartridge with the safety engaged. The bolt handle isn't oversized like most precision rifles with this mission, but there is an indicator on the back of the bolt that signals if it's cocked.
If there's one complaint I have about the rifle, it's the lack of a detachable box magazine. Pulling back on a lever in front of the trigger guard releases the hinged floorplate. The rifle has a 5+1 capacity in both available chamberings and the only thing embellished on the rifle is a Range Certified logo engraved on the bottom metal.
The free-floated, 22" barrel has a No. 3 contour with a .740" diameter at the muzzle end. A recessed target crown protects the rifling and an aluminum bedding plate is integral with the stock. This isn't your traditional, slicked up, beauty-pageant-winning Weatherby, either. It's built for business, and the aramid/fiberglass composite stock reflects that mission. Actually, it really doesn't reflect much because it's black, flat black. Even the metal is matte black, almost darker than the stock thanks to bead-blasting.
The fore-end has dual swivel studs that allow the use of a sling and a bipod without adding adapters of any sort, and its flat shape makes it ideal for a rest on sandbags or level surfaces.  There's not much recoil in .308 Win., especially in a rifle that weighs nearly nine pounds before a scope is mounted. But after four days behind the trigger-from the prone position-it can add up. Thankfully the Pachmayr Decelerator recoil pad proved effective enough that I didn't hear a single complaint, even as we churned through case after case of Black Hills ammo.
Weatherby's adjustable, two-stage trigger is a thing of beauty. Even when taking let-off weight measurements later it still seemed fresh to the touch and crisp, rather than creepy. Triggers leave the factory set at between 2.5 and 3.8 lbs., and the test rifle came in at an extremely consistent 2.5 lbs. The trigger guard is generous enough to ease gloved operation.
The Range Certified label means the rifle has passed a series of tests at the company's indoor range. It's part of the company's sub-MOA guarantee and indicates a three-shot group was delivered during the testing that measured .99 inches or less at 100 yards. Each certified rifle is shipped with one of the groups it printed, and that target is signed by company President Ed Weatherby.
But the seminar at Gunsite was not taking place indoors. Shooters would be using Harris bipods, not benches, dust would be a factor, along with wind, mirage and dirty guns. Connecting on steel out at 500 yards in less than ideal conditions may be challenging, but it's a great test of a rifle's practical potential.
The optics used in Arizona were Leupold 4.5-14x50 mm riflescopes. We mounted our own scopes, which leads me to my last complaint. It's tapped for Weatherby mounts, which by no means is it a deal-breaker, but it's certainly worth mentioning.
Once sighting in was done, distances were stretched on Sniper Ridge. The Weatherby didn't showcase its full potential in my hands, but what I was witnessing nearby was nothing short of amazing. I had trouble picking up the steel targets at 800 yards, in the shade with a dark background, thanks to devilish instructors who take great pride in pushing every shooter's limits (I'm pretty sure they arranged for the scorpion infatuated with my bipod, too). Others could pick them out fast, though, connecting and sending that familiar "ding" sound back to the ridge long after the rifle's report had faded into the distance. More than 700 was doable, regularly, even with my unpolished technique.
Yes, there were plenty of missed first and second shots at that distance. A 5 mile per hour, full-value breeze drifted things a little and when the wind gods doubled that figure it got even more challenging. The targets weren't 5-feet across, either. In fact, most were standard steel silhouettes. We dialed for elevation and held for windage—a technique that was fast and effective in the changing conditions thanks to spotters and the mil-based reticle.
The rifles ran flawlessly, even though cleaning consisted of only a few patches run through the bores after lunch and dinner. There was no other maintenance performed, yet the Weatherby/Leupold combination remained deadly accurate in the dust, dirt, grime and poisonous insects.
Gunsite's testing proved the Weatherby Vanguard Series 2 TRR RC can survive, and even thrive in the abuse delivered to most patrol-style rifles. But how well does it actually print on paper with five-shot groups instead of three, and multiple groups delivered in rapid succession?
The rifle returned for more testing and was topped with a Redfield 2-7x34 mm scope. At 100 yards on a dead-calm day, the performance remained amazing. Numbers don't tell the whole story, though. The Federal load with Sierra MatchKings, for example, averaged just below MOA, but the groups indicate that figure could have been much better. Four of the five shots chronically punched a single ragged hole, with one random shot wandering out. That's not uncommon, but the tightness of the other four bullet holes was surprising to say the least. I'd chalk that up to operator error, not barrel heating as some might suggest.
The barrel did get hot, but the Remington load (the last one tested) pretty much dismissed any heating concerns. Few of the holes touched and groups were consistent, with no stringing at all. Yes, a cool-off period was granted between each group, but coming in with an average of 1.17", with a relatively hot barrel using production hunting loads is the kind of reliable performance I witnessed in Arizona.
If you're in the market for a patrol-style rifle that can take a beating, and consistently connect at distance, the Weatherby Vanguard Series 2 TRR RC is worth a close look. It may not have a box magazine for fast reloads, but with accuracy like this how many shots do you really need?
Specifications
Manufacturer: Weatherby Inc.; weatherby.com
Model: Weatherby Vanguard Series 2 TRR RC
Action: bolt-action, centerfire repeating rifle
Caliber: .308 Win. (also available in .223 Rem.)
Finish: black
Barrel: 22", No. 3 contour
Receiver: one-piece, machined
Stock: Monte Carlo, composite
Finish: flat black
Overall Length: 42"
Length of Pull: 13 5/8"
Drop at Comb: 7/8"
Drop at Heel: 1 1/4"
Sights: None, tapped for mounting optics
Weight: 8.75 lbs.
Capacity: 5+1 rounds
Twist: 1:12" right-hand twist
Accessories: owner's manual, autographed range certification target, lock
MSRP: $1,199