Support NRA American Rifleman
DONATE
The magnum-rated .30-cal. rifle suppressor has long been one of the hottest-selling segments in the silencer industry, thanks to its inherent ability to be used aboard a wide variety of rifles and chamberings, and nearly all suppressor makers offer at least one model of this type as a result. However, as a magnum-rated .46-cal. rifle can—a type far less frequently encountered on the market—Silencer Central's new Banish 46 takes that versatility and kicks it into the stratosphere. Thanks to its rugged construction, large diameter and plethora of mounting options, the Banish 46 is compatible with a truly staggering assortment of rifles and handguns—from 5.56 NATO defensive carbines and .338 Lapua Mag. turnbolts to 10 mm Auto pistols and .45-70 Govt'-chambered lever guns.


A modular design that employs a fairly conventional baffle stack, the new silencer can be run in two configurations, allowing users to prioritize either effectiveness or handiness. The full setup employs nine baffles, measures 10.25" long and weighs 22 ozs., while removing the forward tube extension results in a compact, six-baffle suppressor 8.13" in length and 17.4 ozs. in weight. While it is the longest, widest (the outer diameter is 1.73") and heaviest member of the Banish family, the 46 is not overly hefty, thanks to its nearly 100 percent titanium construction. The lone exception is the suppressor's dedicated blast baffle, which is composed of Inconel—a nickel-chromium alloy that is highly resistant to corrosion.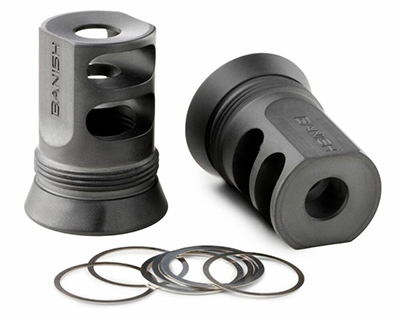 The baseline Banish 46 comes with a direct-thread mount in either 1/2x28 TPI, 3/4x24 TPI, 5/8x24 TPI or 11/16x24 TPI, but, for an additional $139, compatible muzzle brakes are also offered in all four of these thread pitches. An aftermarket piston (Nielsen device), and piston-compatible mount, can be affixed for use aboard a tilt-barrel semi-automatic pistol, but the Banish 46's size and weight do somewhat limit the practicality of doing so. Even in its short configuration, the 46 is more than 6 ozs. heavier than the Banish 45 (Silencer Central's dedicated handgun can, with which it shares pistons but not piston-mounting modules) in its long form. Like the rest of the Banish line—but unlike most centerfire suppressors on the market—the silencer is user-disassembleable by way of the provided Torx wrench and tool key, which allows the owner to clean the accessory as frequently as he or she would like.


Built for serious hard use, the Banish 46 has an impressive maximum cartridge rating of .458 Win. Mag., meaning that not only can it handle anything a .30-cal. suppressor is capable of, but it will also digest many popular safari cartridges and .338 Lapua Mag. loads. Rifleman's protocol for evaluating the effectiveness of a silencer is to shoot a five-shot group through the suppressor while using a sound meter to record the volume in decibels (at a location 6" off from the shooter's ear), followed by another five shots through the unsuppressed host gun at the same spot. In this case, the Banish 46 was mounted to a .45-70 Marlin Model 1895 SBL for the official sound meter testing, but additional function testing using a .308 Win. POF Rogue, a 350 Legend CMMG Resolute and a 10 mm Auto Springfield XD-M OSP Threaded also took place with highly satisfactory results.

Our testing protocol for centerfire rifle suppressors doesn't include a cleaning requirement, as most such designs are sealed units that aren't intended to be fieldstripped, but given the Banish 46's ability to be easily disassembled by the user, we felt it would have been a waste to not take advantage of this feature. The silencer was cleaned using a Hornady Hot Tub ultrasonic cleaner between the shooting of each load and when switching between its long and short configurations.
Hornady's 410-grain Subsonic .45-70 load measured 154.12 dBs unsuppressed through the 19"-barreled Marlin, and the Banish 46 decreased that result to 137.14 dBs in its shortened arrangement and 135.97 dBs in its full one. Meanwhile, the suppressor dampened the sound signature of Federal's supersonic 300-grain HammerDown ammunition from 159.30 dBs unsuppressed to 142.16 dBs in its short form and 139.88 dBs when using all nine baffles. Throughout our testing, no baffle/end cap strikes were encountered.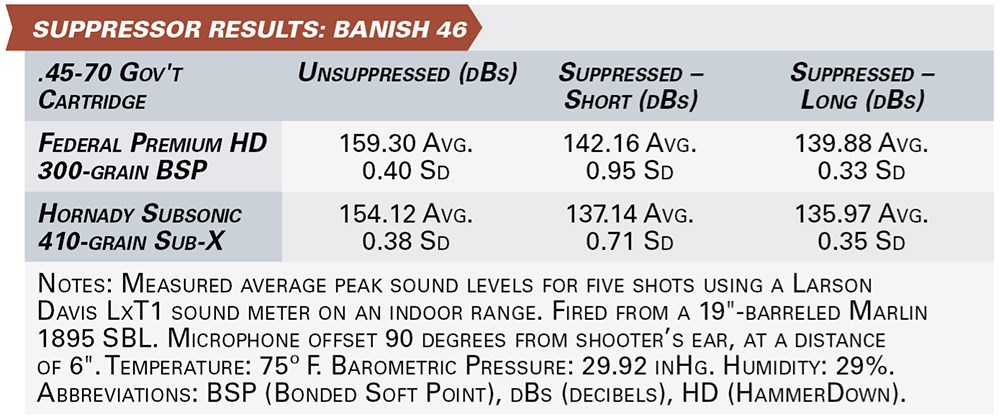 Use of the Banish 46 with a big thumper like .45-70 Gov't made the recoil-cutting benefit of the suppressor even more apparent; felt recoil of the Federal load was cut substantially by the can—our subjective guess would put the mitigation somewhere in the vicinity of 20 percent. The rifle's points of impact did shift a good bit with both loads when the suppressor was attached; the Hornady's moved about 5" to the right at 100 yards and the Federal's shifted 6" straight up, and whether the long or short configurations were used did not seem to make much of a difference in this.
As alluded to above, .30-cal. rifle cans have long been the option of choice for shooters who were seeking a singular "do-all" suppressor that could be used on a multitude of their rifles. But by adding big-bores, semi-automatic pistols and .338 Lapua Mag. to its list of potential hosts, Silencer Central's Banish 46 takes that adaptability to an entirely new level. Given its versatility, tremendously high maximum cartridge rating, numerous mounting options, simple maintainability and relatively reasonable price tag, the "one-and-done" suppressor buyer will have trouble finding a better option than the Banish 46.