Support NRA American Rifleman
DONATE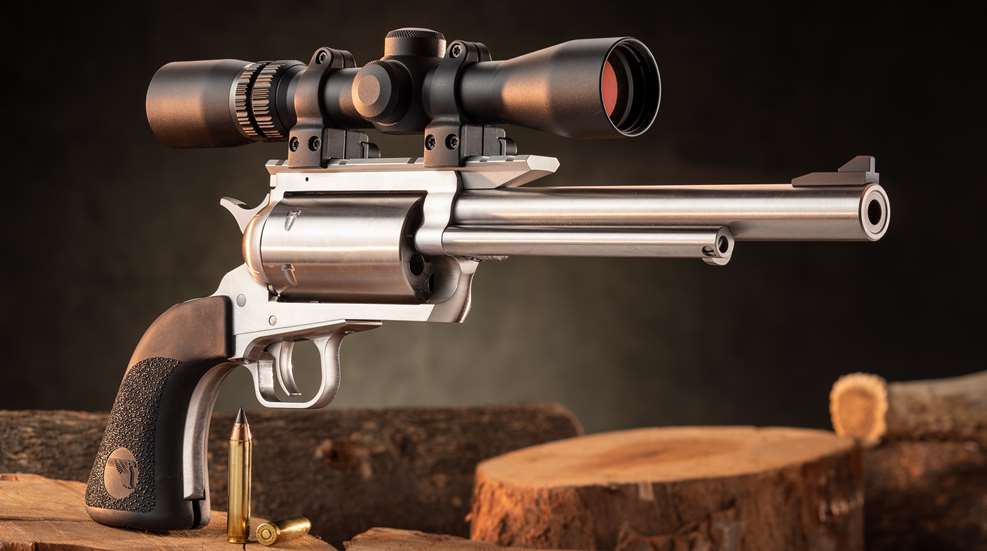 The single-action revolver may seem like a fixture from our shooting history's past. Some may think of it as a 19th-century relic that's kept in production only by nostalgia and enthusiasts who enjoy the Single Action Shooting Society's weekend competitions. But two decades ago, Magnum Research, Inc., recognized that this sturdy, reliable and accurate design had the potential to continue evolving beyond its Old West roots.
The BFR acronym that Magnum Research used to name its series of single-action wheel guns stands for Big Frame Revolver, and it began as a concept gun developed by a company called D-Max back in the 1990s. Using the Ruger Blackhawk as a starting point, the goal was to build a single-action revolver with a longer frame and an extended cylinder chambered for rifle cartridges.
In 2000, Magnum Research purchased the rights to the beefy D-Max revolver, slightly tweaked the platform and put it into production. Through the years, the company has continued to expand the BFR's chambering options to include a diverse selection of rifle and big-bore handgun options, in both short- and long-cylinder configurations.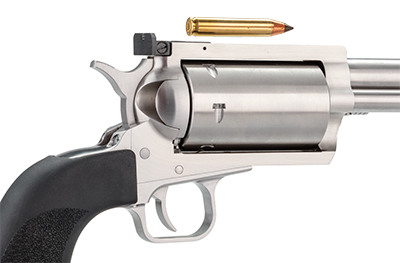 Winchester Ammunition launched a new rimless straight-wall rifle cartridge called the 350 Legend in 2019; its 2.25" overall length, relatively slim profile and maximum average pressure (MAP) of 55,000 p.s.i. made it an ideal fit for the long-cylinder, six-shot BFR. And Magnum Research has teamed up with distributor Bill Hicks & Co. to offer exclusive 7.5"- and 10"-barreled 350 Legend-chambered BFRs; this evaluation takes a closer look at the 7.5" version.
It should be noted that Magnum Research does not simply offer production-grade BFRs—although ready-to-ship models are available, each BFR is assembled, fitted and inspected by hand here in America. The stainless-steel components are made from five different stainless alloys to ensure each part is properly hardened to withstand the rigors of firing high-pressure cartridges.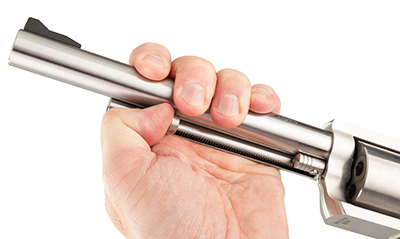 Barrels are hand-lapped, precision-rifled and given a recessed crown. Rifling twist rates and front sight blade heights are adjusted according to the gun's chambering. The barrel-to-cylinder alignment is held to under 0.002" of concentricity for improved accuracy.
The company employs proprietary sizing processes to confirm the receivers, grip frames and cylinders are all precisely fitted together. The receiver alone is subjected to a 70-point check after machining to verify that it's ready to use. Specialized Allen-head frame screws are used to prevent the gun from shaking apart under recoil.
BFRs are outfitted with free-wheeling cylinders to allow the shooter to turn the cylinder either clockwise or counterclockwise when loading fresh cartridges or removing spent cases. This is an especially useful feature for managing stuck brass. The BFR's slim hammer spur is grooved for improved purchase. The hammer is also fitted with a transfer-bar safety to ensure the revolver will not fire unless the hammer is cocked and the trigger pulled. This BFR ships with a silver-satin stainless-steel finish, a round-profile barrel, a 5.25" stainless-steel ejector housing and an unfluted cylinder.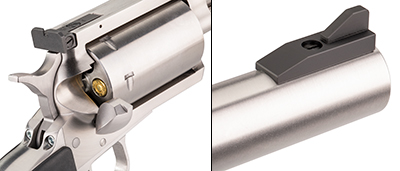 For testing, the rear sight was traded out in favor of a 5.5"-long one-piece aluminum base that ships with the revolver in order to mount a handgun hunting scope. The "plough share" grip frame arrived wrapped in a comfortable rubber Hogue Monogrip. The single-action trigger broke cleanly at 2 lbs., 12 ozs., of pressure.
A few of the spent cases from the 145-grain Winchester full-metal-jacket practice load used for sighting-in were resistant to removal using the ejector rod. It was necessary to tap these cases out of the chambers using a cleaning rod. A pair of Winchester's 150-grain Deer Seasons were also difficult to eject. However, the brass of Winchester's 160-grain Power Max Bonded hollow-point and Federal Premium's 180-grain Power Shock soft-point hunting loads ejected easily without any issues.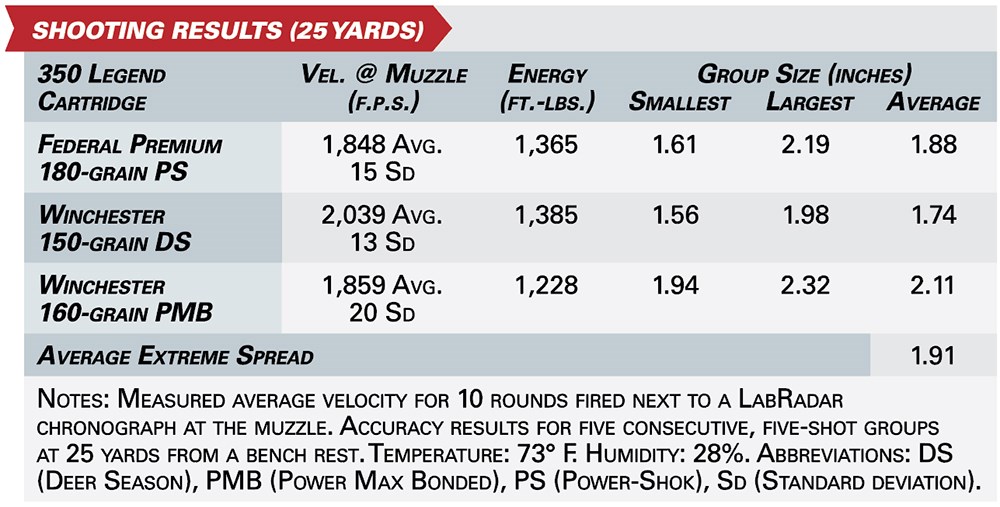 This is a good reminder of the importance of testing hunting loads before heading out into the field. Felt recoil was stout but manageable with all loads tested. Formal accuracy testing at 25 yards printed five-shot groups ranging in size from 1.56" to 2.32". A few informal groups fired at 50 yards yielded sizes of about 3".
Firing cartridges designed for rifle barrels through a 7.5" revolver results in a marked reduction in ballistic performance. When compared to the manufacturer's listed muzzle velocity and energy numbers, the 350 Legend loads tested lost between 252 and 366 f.p.s. of velocity and corresponding drops in bullet energy of between 417 and 531 ft.-lbs. However, the revolver still generated between 1,228 and 1,385 ft.-lbs. of muzzle energy—which is more energy than the .44 Mag., but it is not quite as hard-hitting as the .454 Casull.
The 350 Legend may only be a few years old, but it has enjoyed great success for a newborn cartridge, particularly in states mandating straight-wall hunting cartridges, and a wealth of rifle and ammunition options are already available on the market for it. Although wheelguns that fire rifle cartridges aren't for everyone, the Magnum Research BFR lives up to its name, and, in this case, it incorporates an intriguing chambering into a compact, exciting new platform.