by
posted on May 20, 2021
Support NRA American Rifleman
DONATE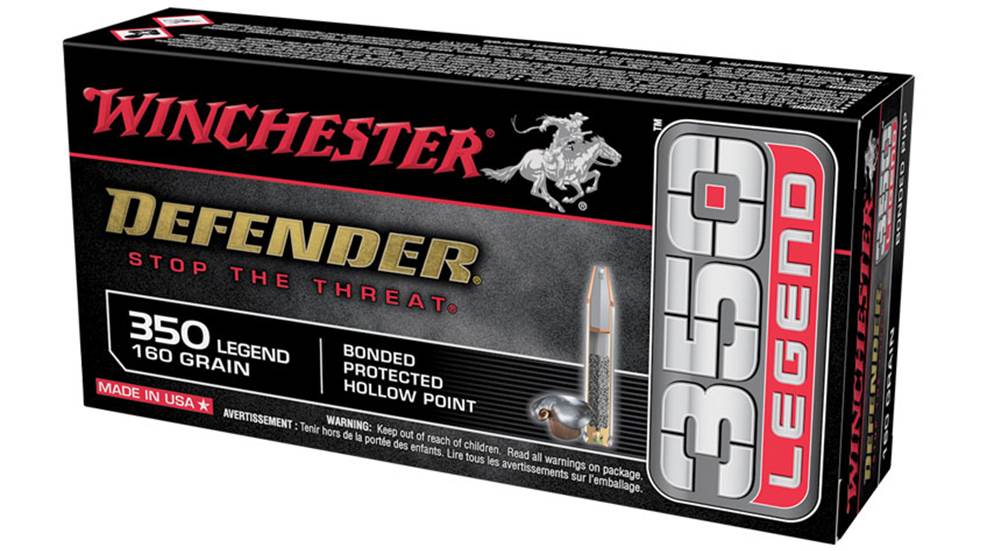 For the first time since the cartridge's 2019 release and SAAMI standardization, the 350 Legend is available in a purpose-built defensive option—and it may not be surprising that it comes from Winchester Ammunition, the chambering's creator.

The new Defender load's 160-gr., bonded-core, protected-hollow-point projectile was designed to retain its weight upon impact with the target, while also reliably expanding to facilitate a rapid energy dump. Winchester specs the new Defender to run 2,170 f.p.s. (1,673 ft.-lbs.) from the muzzle of a 16" carbine-length barrel.

Along with the bonded-core hollow-point, the modernized cartridge design with its straight-walled profile and rebated rim ensure reliability and consistency when feeding. The cartridge cases used in the Defender line are also nickel-plated, which enhance lubricity for improved feeding. These cases also pick up light more easily in low light, so you can do a chamber check and be confident that your rifle is ready to shoot when needed.

The suggested retail price on the new Winchester Defender 350 Legend load is $35 per box of 20 rounds. For more information, visit winchester.com.