Support NRA American Rifleman
DONATE
CMMG, located in central Missouri, started out as a small family operation back in 2002. The company, owned and operated by Jeff and John Overstreet, has enjoyed steady growth thanks to their dedication to high-quality products and customer service. Today, CMMG offers a variety of complete AR-pattern rifles, rifle sections, parts kits and individual components they manufacture in house.

Recently I had an opportunity to work with a few of CMMG's components in conjunction with a first-time AR-15 rifle build. Impressed by the products, I was interested in finding out more about their complete firearm offerings. Among their long guns is the recently released Mk4 PDW pistol chambered in 300 AAC Blackout (300 BLK). As a fan of pistols chambered in rifle calibers, I looked forward to testing this abbreviated .30 caliber.

The Mk4 PDW is a gas-impingement operated semi-automatic AR-15 pistol. Because this gun leaves the factory configured as a handgun, it does not require the additional tax stamps required to convert a rifle into a handgun or for short-barreled rifles. However, attaching a shoulder stock or a vertical grip to the hand guard of a pistol like this one will change its legal status. Attaching a single-point to a pistol like this one is a good idea. Not only does it provide a handy way to carry the pistol in the field, using the single to create a push-pull tension against the shooter's body will stabilize the pistol almost as much as shoulder stock.
.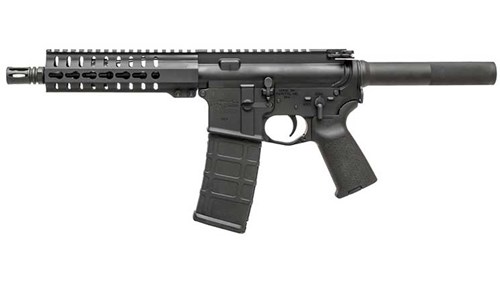 The pistol arrives without a sight system. However, the top of the receiver and the RKM7 KeyMod free-floating hand guard provide a total of 13.5-inches worth of Picatinny railing to support removable sights and optics. KeyMod accessory rails can be attached to the 3, 6, and 9 o'clock positions of the handguard to mount accessories like lights and laser modules.

The upper and lower receivers are formed of precision forged 7075-T6 aluminum and treated with a matte black hard anodized finish. The 8" medium-weight 4140 chromoly steel barrel features a black nitride finish and is fitted with a standard removable A2 flash hider. The fluted anodized buffer tube supports an ambidextrous sling mount where it connects with the lower receiver.

The controls for the Mk4 PDW, including the charging handle, bolt release, safety lever and magazine release, are all located and operated in typical AR-15 fashion. The trigger is of the single-stage mil-spec variety. It demonstrated a 5 lb. 15 oz. trigger pull when checked with a digital trigger gauge. The rest of the gun's features have been provided by Magpul, including a 30-round Gen 2 PMAG magazine, an MOA over-sized polymer trigger guard, and an MOA textured polymer pistol grip with a storage compartment.

Like CMMG's other mid-priced products, this pistol is neither frilly nor fancy looking but the fit and finish were first rate. The metal coatings were all evenly applied and free of blemish. The controls cycled and operated smoothly and correctly with the magazine locking into place tightly when inserted. Pushing out the take-down pin and separating the receivers revealed the same close attention to detail inside the pistol as that of the exterior.

I was looking forward to taking the Mk4 PDW to the range. This would be my first opportunity to shoot 300 BLK in a pistol platform, so it would be interesting to see how the cartridge performed down range when fired from an abbreviated barrel. It was also a good time to try out two new sighting systems.

Laserlyte recently updated their Center Mass rifle & shotgun green laser sight system. The original incarnation, the CM-15, produces a 9-dot pattern that spreads apart at the rate of about 1-inch per yard creating the equivalent of an on-target laser reticule. Mounted to the Mk4 PDW, this light pattern made target acquisition from contact distance to 25 yards in normal daylight quick and easy.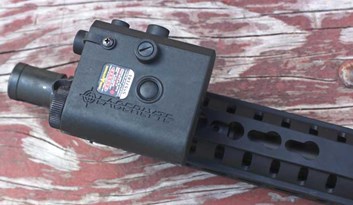 Unfortunately, at distances much past 25-yards, the laser pattern becomes too diffuse to be useful. The new CM-K15 version solves this problem by moving the laser-splitting lens out of the sight's housing into a tethered rubber cap that can be manually moved to one side. This allows the user to switch between the close range 9-dot laser pattern and an undivided single green laser beam for extended range shooting. Transitioning from targets at 7 to 25 yards using a single-point sling for support was quick and accurate with shots landing on or around the central laser point.

Off the bench the 300 BLK cartridge proved to have a manageable, moderate level of felt recoil not unlike that of 7.62x39 mm when fired from an AK-type pistol. The Mk4 PDW successfully digested all of the full-metal jacket and hollowpoint ammunition it was fed throughout the course of testing. It was so fun running the pistol off of the bench that the ammo came close to drying up before the formal accuracy testing could be completed.  

When this pistol did finally make it to the bench rest, formal 5-shot group accuracy testing was conducted at 50 yards using a TruGlo Triton 30 mm Tri-Color Tactical (TG8230TB) red dot scope. The 5 MOA center dot is encircled by a four-section ring to aid in quick target acquisition. The reticle can be viewed at three levels of brightness in red, blue, or green. This scope arrives with an integral Weaver and Picatinny compatible mounting system, a sun shade, lens caps, and a connection port for an external pressure switch.

The best single group of 0.73" was produced using Gorilla Ammunition loads topped with 124gr Sierra Match King hollow point bullets. This load also provided the best average of 0.85-inches. The other two loads tested were neck-in-neck for second place. Remington's UMC 115gr CTFB full-metal jacket round yielded a best single group of 1.14-inches with an average of 1.36 inches. The Double Tap Barnes 110gr TTSX Lead Free ballistic tip round's best group was 1.10-inches, with an average of 1.38-inches. This is a very satisfying level of accuracy from an 8-inch barrel pistol with a mil-spec trigger.

The CMMG Mk4 PWD semi-auto AR-15 pistol offers a top-notch level of fit and finish, accuracy and reliability at a more affordable mid-price point. Chambered in the popular 300 BLK cartridge, this handgun offers some interesting possibilities. Thanks to the threaded barrel, it arrives from the factory ready to fit with a sound suppressor so as to make the most of sub-sonic ammunition offerings. For those who are looking to reduce their ammunition costs, this pistol is also available in 9 mm and .22 LR, which promise to be as enjoyable to shoot as this one.

Specifications
Manufacturer: CMMG
Model: Mk4 PDW Pistol
Action: Gas-Impingement Semi-Auto
Caliber: 300 AAC Blackout
Receivers: Forged 7075-T6 Aluminum M4 Type Upper, AR-15 Type Lower
Trigger: Single Stage Mil-Spec
Grip: Magpul MOE Pistol Grip
Hand Guard: CMMG RKM7 KeyMod
Barrel: 8.00 Inch Medium Taper 4140 Chromoly Steel
Muzzle: 5/8-24 Threaded A2 Compensator
Gas Port Location: Pistol
Sights: None
Overall Length: 25"
Weight:  5.30 Pounds Unloaded
Capacity: Accepts AR-15 Magazines
Twist: 1:7" RH
Rifle Grooves: 6
Accessories: One 30-Round Magazine, Owner's Manual
Suggested Retail: $1,049.95