by
posted on July 25, 2023
Support NRA American Rifleman
DONATE
Century Arms has launched a new flagship AK-pattern rifle chambered in 7.62x39 mm. Called the BFT47, it's designed to be a step up from basic semi-automatic models while maintaining an affordable price point. Although Century Arms continues to offer imported AKs, this is an American-made rifle, which allows for hands-on quality control at every step of the manufacturing process while using a U.S.-based labor force.
The BFT47 offers a traditional AK-47 profile and control set while incorporating preferred features and noteworthy upgrades. Its gas-operated, semi-automatic action is driven by a long-stroke piston. The rifle is treated with a matte manganese-phosphate finish that is listed by the maker as black but leans toward more of a slate gray color. The rifle's name stands for Bulged Forged Trunnion, which refers to the forged 4140 steel front trunnion that has design cues borrowed from the VEPR trunnion, for increased strength and stability. Century installs a total of four front trunnion rivets instead of just two.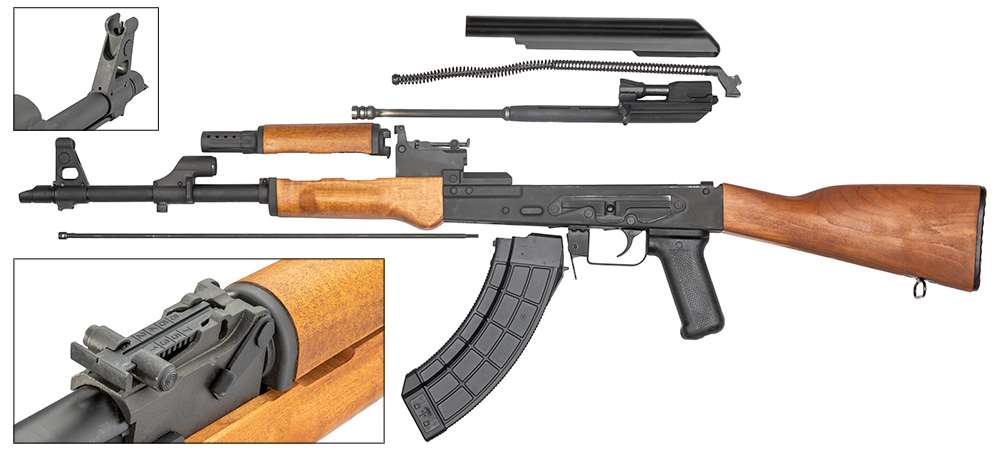 The chrome-moly 4150 steel barrel, listed as 16" long, measured at 16.25" on our test sample. It is cut with 1:10", right-hand-twist rifling, and the muzzle features metric 14x1 left-hand threading in order to accept a variety of AK-pattern muzzle devices. Century fits the rifle with a Russian-style slanted brake at the factory that is secured by a spring-loaded detent set into the front sight.
The front sight block contains a shielded, height-adjustable post paired with a notched rear tangent sight calibrated from 100 to 800 meters. The gas block features a bayonet lug, and a steel cleaning rod is provided. The gas tube is vented by way of two sets of small round ports. Both the upper and lower handguards, along with the fixed shoulder stock, are made from American maple that is treated with a matte oil finish.
Century Arms stamped the receiver from 1.5 mm-thick 4130 steel—0.5 mm thicker than many receivers—and then heat-treated it for added strength. The dustcover snaps firmly in place without any room to rattle or wobble. Removing it reveals a bolt-carrier group fitted with a rotating bolt made of carburized 4140 steel. We found the interior of the bolt carrier to be cleanly formed without the roughness or machine marks often found on imported carriers. A reciprocating charging handle is attached directly to the bolt carrier and located just below the right-side ejection port.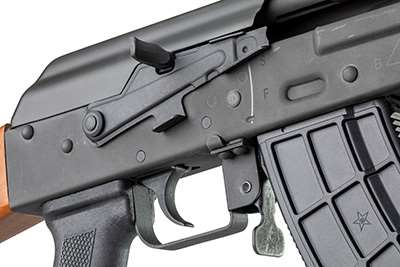 An external safety lever is located in the traditional right-side position, and swings up into the Safe position and down into the Fire position. Century made two simple but handy modifications to the safety. One, a notch along the top edge can be used to secure the charging handle in order to lock the action open. And secondly, along the bottom edge of the lever is an extension that allows the safety to be manipulated with the trigger finger so as to maintain a shooting grip. The left side of the receiver features an optics-mounting rail secured by three rivets. A sheet steel trigger guard is secured by four rivets, and it features an extended T-shaped magazine-release lever. The removable textured pistol grip is molded from black polymer.
Century Arms ships the BFT47 with its single-stage RAK-1 trigger group, and its release surfaces have been machined for a smooth, consistent trigger pull that weighed in at 4 lbs., 12 ozs., with an arc of travel that measured 0.40". The hammer profile has been modified to prevent bolt carrier hangup, and the disconnector has been shaped to eliminate trigger slap. We found the resulting trigger to be a real pleasure to work with.
Length of pull on the shoulder stock measured a short 12.88", and the stock is fitted with a steel sling loop and capped off with a ridged steel buttplate that omits a cleaning kit storage compartment. This rifle arrived with one waffle-pattern U.S. Palm AK30R 30-round magazine molded from black polymer. Translucent body models, with black or tan followers and bases, are also available. The BFT47 weighed in at 7 lbs., 13 ozs., with an empty magazine.
At the shooting range, the BFT47 upheld the AK platform's reputation for workhorse-like reliability; there were no mechanical issues throughout the evaluation. Formal bench-rested, 100-yard accuracy testing was conducted using a Bushnell AK Optics 1-4X 24 mm riflescope secured via an OEM dual rail scope mount. Four U.S. Palm 30-round magazines were employed to fire Century Arms' Red Army Standard full-metal-jacket, Barnaul's soft-point and Tula's hollow-point loads, all of which use steel cartridge cases.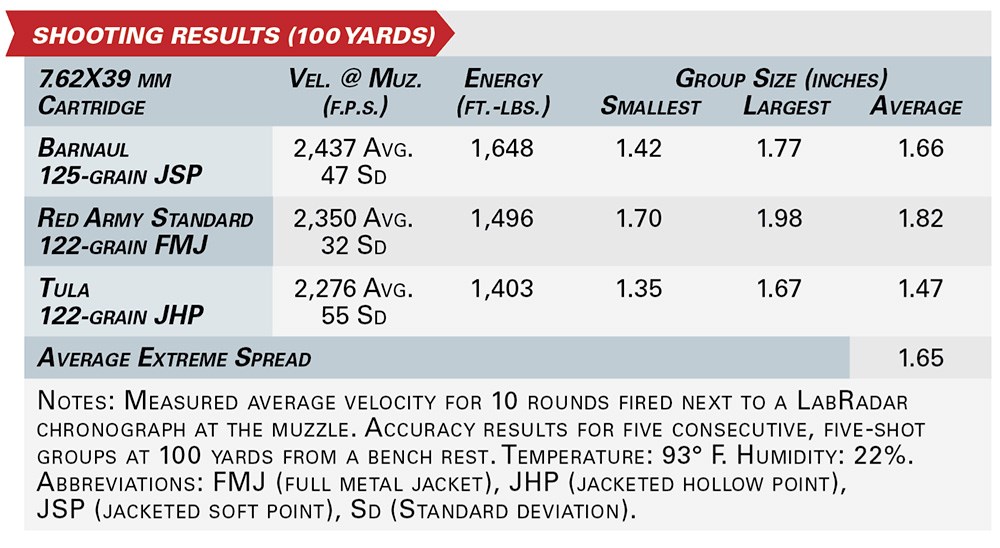 The soft-point loads were a tight fit inside of the polymer magazines, which led to two failures to feed. These were the only malfunctions in the course of testing. Firing five shots at a time yielded groups ranging from 1.42" to 1.98" in size for an average extreme spread of 1.65".
Shooting sports enthusiasts who appreciate the merits of the AK platform will find the BFT47 to be a rugged, reliable, well-made rifle. It offers a step up in quality and features when compared to entry-level AKs thanks to its clean fit and finish, the reinforced receiver assembly and the smooth handling of the RAK-1 trigger group. With an MSRP of $830, this gun can easily go toe-to-toe with rifles that typically cost hundreds of dollars more.