posted on September 26, 2020
Support NRA American Rifleman
DONATE
Everybody wants a "mil-spec" 1911 until they actually fire a mil-spec 1911. Owning one of these iconic American pistols was the first reason behind applying for my New York State Pistol License. The process involves interviewing with the police, fingerprinting and a questionnaire (complete with references) that is in a word, intrusive.

Well, lo and behold, 8 months later, I had that piece of paper in my hands as I purchased my long-awaited M1911A1. I took it to the range to fire my first shots and quickly realized that a military pistol is made to be a workhorse, not a recreational target gun. Now that doesn't mean it is "junk." To this day, I use it to train students and even carry it on occasion. However, it isn't the best pistol in my collection for when I need an accurate, easy-to-control, centerfire handgun.

That being said, I am not alone in wanting a classically styled 1911 that can perform like a high-dollar target gun. In other words, I want a Cabot pistol that doesn't look like a Cabot pistol... so I turned to Cabot. No, that isn't the quarantine getting to you, you read that correctly. Cabot offers pistols that are built to the company's demanding specifications, without the extra flair and the associated price tag.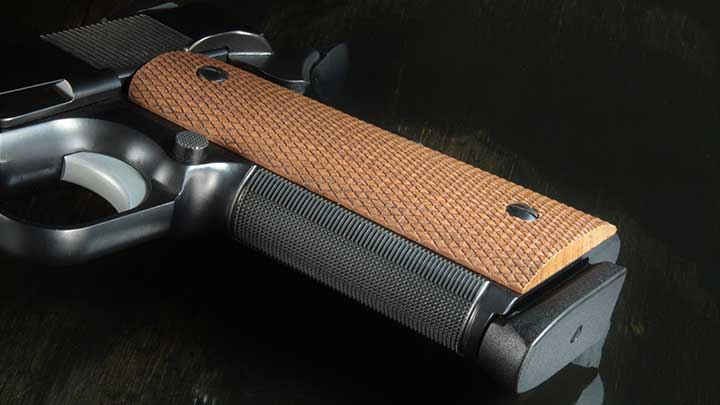 The Indiana pistol maker does this through its Alchemy Custom Weaponry division, and the story of how that came to be is interesting enough to warrant its own article. I will say this though; it revolved around one man: legendary 1911 gunsmith Robert Schauland. Cabot wanted him so badly that they bought his company. After looking over the lineup, I decided to request the division's full-size Government model, aptly named the "Prime," to see exactly how they blended the two company mission statements to deliver a gun that "looks mil-spec" yet performs like a custom pistol.
When my pistol arrived at Long Island Gun Source, I have to say, at first glance, it looked like a pretty normal Model 1911 pistol. Mission accomplished! I looked down and saw a gun that resembled the ones that I drooled over in war films such as "Saving Private Ryan" and "Band of Brothers." However, upon closer inspection, I quickly noticed enhancements, like a fully adjustable Novak rear sight and fiber-optic front sight.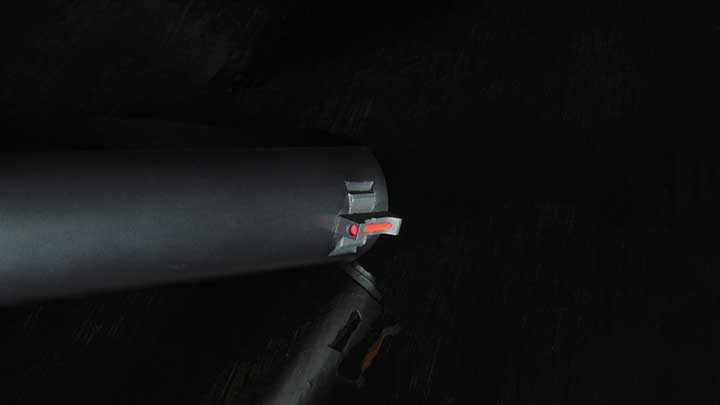 A second glance also drew my eye to the finely checkered front strap and mainspring housing. I liked that they kept the grip safety smooth, as it not only keeps with tradition but aids in comfort as well.  Also in that area, I examined the oversized beavertail and upgraded skeletonized hammer, reducing lock time and the effects of shooter error. During my status check, the overall quality became easily apparent.

As I depressed the magazine release to just about the halfway point, the eight-round magazine forcefully ejected from the magazine well. Next, as I racked it open, I was able to experience the zero-tolerance hand-fitting of the slide to the frame. The match-grade, 5" barrel is also hand-fit to its bushing to tighten everything up and help deliver that accuracy promise of sub-1.5" at 25 yds. Even the cosmetic details, such as the deeply blued finish and smooth beveled edges, are obtained only through the hands of a highly qualified gunsmith.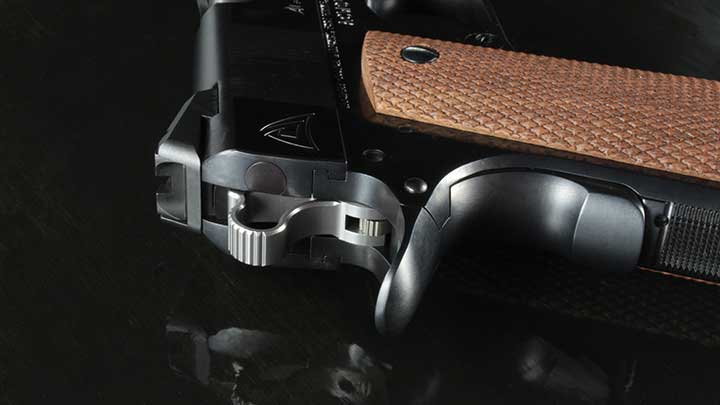 The trigger group is also hand-fitted and polished, which is apparent by its crisp break, short pull and reduced weight, which we measured at just 3 lbs., 8 oz. Excited to get some rounds through it, I took the pistol and two types of the manufacturer-recommended ASYM Precision ammunition to the range on what was a less-than-calm spring day, with wind speeds gusting at 25 m.p.h. across my local range.

Although unpleasant, the airborne sand and dust make for a perfect environment to test reliability, so in that function, I appreciated it. Starting with the 185-gr. JHP National Match offering, I conducted the standard "five-by-five" group test with just a Caldwell BR rest supporting the heels of my hands. My best group measured 1.64" with an overall average of just 1.83".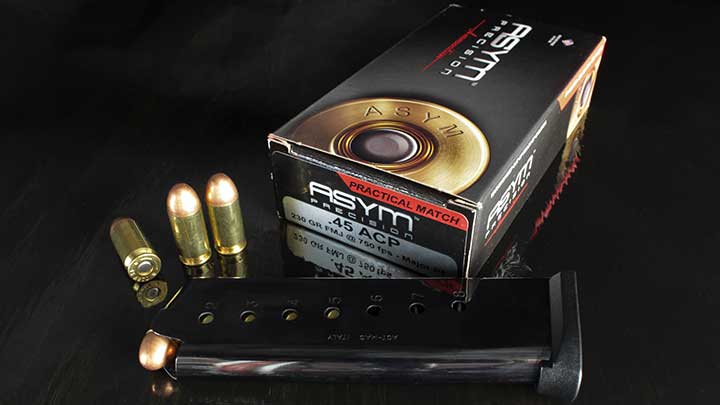 With the 1.5" guarantee group being fired by a robotic ransom rest at an indoor facility, I can't fault them for an extra .33" on a windy day in the hands of a human being. While wind barely affects a bullet's flight within 25 yds., this day, it was strong enough to add a wobble to the gun and shooter, even in the benchrest position. During my test, I didn't have any problems with feeding or ejecting, largely due to the lowered ejection port, throated barrel and polished feed ramp.

After my accuracy test, I rose to my feet and I switched over to the 230-gr. "Major PF" ammunition and performed some drills designed to test the controllability and repeatability of the pistol itself. Here I appreciated the deep undercut below the trigger guard that allowed me to obtain an astonishingly high purchase, getting me closer to the axis of the bore. This allowed for greater control and reduced muzzle rise.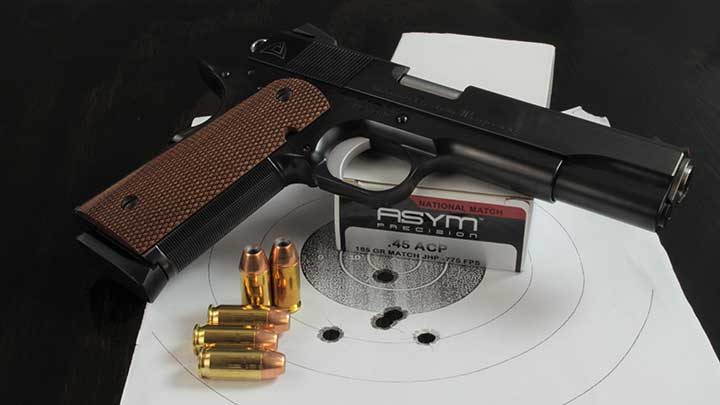 The by-products were faster split times and transitions. During this portion of the range session, I also appreciated the beveled magazine well, as it greatly aided in on-the-move reloads. Stepping off the range, I was entirely happy with the Alchemy Prime 1911, as I expected that much from something that came out of the Cabot plant.

However, what I didn't expect was the price-tag of $2,745 ($2,595 with basic fixed sights). While this is expensive for a pistol, it isn't expensive for one that is built with this level of hand-fitting from a company synonymous with five-figure 1911s. At the end of the day, it's an easy price to swallow for a firearm that is truly hand-built and performs better than I can shoot. For more information or to order your own visit, alchemy1911.com.