Support NRA American Rifleman
DONATE
I enjoy punching paper targets just as much as the next guy, but spicing up your trigger time with reactive targets is a great way to increase the challenges and adds an element of fun when visiting the shooting range. These days there are plenty of options that shake, swing, rattle and explode to choose from. Here are a few options I've tried for myself that are well worth investing in:
Birchwood Casey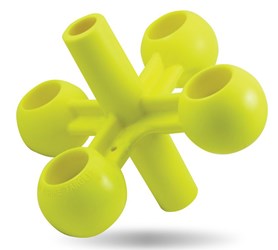 You'll be hard pressed to find another company with the diversity of reactive targets offered by Birchwood Casey. The Ground Strike series of brightly colored synthetic targets, including the Hex Ball ($34) and oversized Jack (shown here, $27.40 ), spin, fly and dance around on the ground when struck. Rated for use with rimfire and cente-rfire cartridges, these targets are designed to withstand hundreds of impacts. The company recommends setting them up no closer than 30 yards. Ground strike targets are not for use with BBs, pellets or airsoft guns.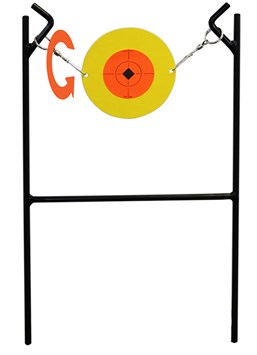 Birchwood Casey also offers steel targets for .22 rimfire pistols and rifles. The Little Rattler Spinner  ($68.40) provides instant feedback with intense spinning action of the bracket-mounted target plate and a loud plink with each bullet strike. A minimum distance of 25 yards for the shooter and observers is recommended for this target. An extra set of swivels is included with every Little Rattler.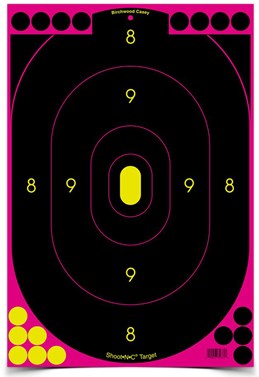 Generally I wouldn't consider a paper target reactive but the Shoot•N•C target series is an exception. When a bullet strikes the target, the black coating on the surface flakes away to create a bright, easy-to-see ring around the bullet hole. In the case of the target shown here, the 12" x 18" Pink Silhouette (5-Packs $15.20), the ring will be bright pink. The self-adhesive backing allows them to be hung without staples or tape.
Each target arrives with a set of pasters to cover bullet marks so the target can be reused. 
Champion Targets
Champion's series of three dimensional Challenge Targets are available in a variety of shapes and sizes. One example is the new bright green DuraCan ($21.95). This target is hollow, like the soup can it's modeled after, and can be filled with water or chalk dust to provide additional feedback with each shot. The can's lid is designed to be hung with string so as to swing and spin when struck. Constructed of self-sealing DuraSeal polymer, these targets allow rimfire and center-fire bullets to pass through them with minimal damage.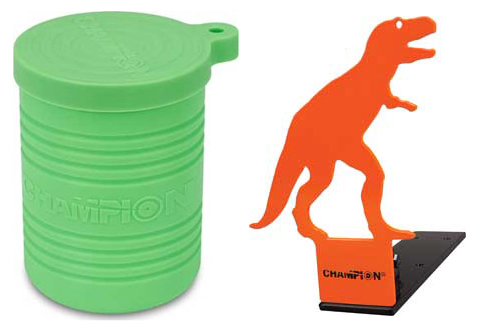 Champion is now offering seven new .22 rimfire pop-up steel targets designed to appeal to all shooting experience levels. These high-visibility targets are available in designs ranging from bowling pins to coyotes and dinosaurs (T-Rex shown here, $29.95). The targets are designed to swing back up into an upright position after each bullet strike and to maintain their shape. Four 6" stakes are included with each target to ensure it stays where it's placed.
GOFV Biodegradable Target Systems
Although this is not a new target system, it's a very reliable one. Yes, I'm talking about "good ol' fruits and vegetables." When enjoying informal shooting sessions in the great outdoors, these targets provide an all-natural, biodegradable resource. Whatever chunks and pieces get left behind when the day is through will enrich the soil or feed the little critters. Plus, they explode when struck by high-velocity hollow points. They can be set on the ground, hung from tree branches and stuck onto sticks. A quick slice with a knife allows them to be wedged along the top edge of a cardboard target.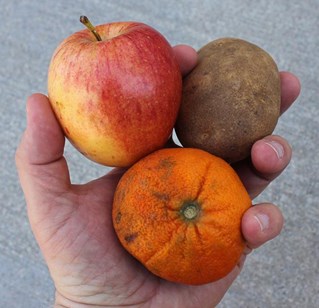 But don't waste money by shooting up food that's still edible. Start by cleaning out the crisper in the refrigerator to find those apples and oranges that are too funky for lunch but perfect for the range. If there's not enough to target at home, head on over to the produce department of your local grocery store the night before you go shooting. Talk to a member of the department near to closing time to see if they have produce that's going to be thrown out. If your timing's right they'll have a box or two of vegetable matter headed to the dumpsters that they'll be willing to give you for free.
Grizzly Targets
Grizzly Targets is a company that builds tough, heavy-duty target systems using thick plates of AR500 steel for regular use with center-fire pistol and rifle ammunition. All of the steel components are hot-dip galvanized to help prevent rust and provide extended wear in outdoor environments.
Weighing in at 50 pounds out of the box, the IPSC Torso 2-in-1 Combo Target (starting at $199) is intended for shooters who want to practice for popular action shooting events including 3-Gun, IPSC, and IDPA competitions. It arrives with a target plate, bracket, a multi-purpose target stand and four ground stakes. The target style plate is constructed of 3/8-inch thick laser-cut A500 steel and shaped to mimic the IPSC standard target dimensions minus the D zone. It is attached to the bracket at a 27-degree angle and hinged to swing back when a bullet strikes. The plate's angle and freedom of movement work to direct bullet splatter safely to the ground and to reduce the chances of ricochet.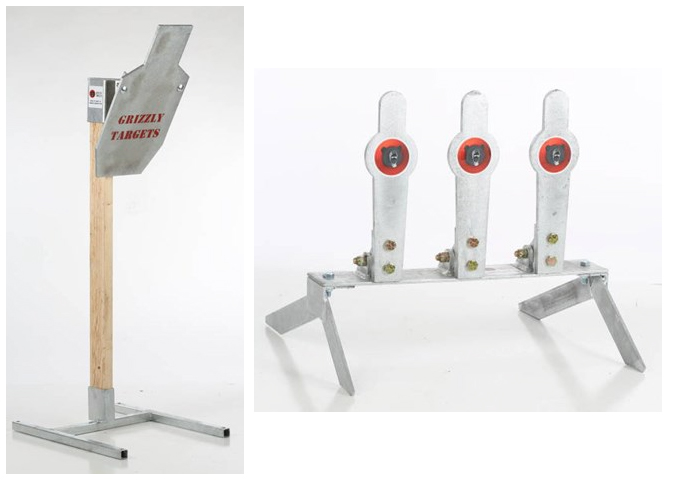 The AR500 Trifecta Reactive Target System ($279) features three 14"- high reactive, auto-reset popper plates which are fitted with heavy springs and Grade 8 Bolts. The plates fall back on impact then the springs pop them back up. There's no need to walk down range to re-position the target. Despite its toughness, the Trifecta is compact enough to fit in a car trunk and light enough to be moved by one person. Like Grizzly's other products, this system is American made in Tampa, Fla.
       
MGM Targets
MGM Targets produces steel targets of all shapes and sizes for professional and recreational shooting applications. Although many of this company's products are designed for use with hard hitting centerfire loads, it does offer some fun options for fans of the .22 rimfire.  The MGM 22DTC Dueling Tree ($204.97) features four 5/16" thick, 4" diameter AR500 steel plates which swing from left to right in a 24.5" tall angled post.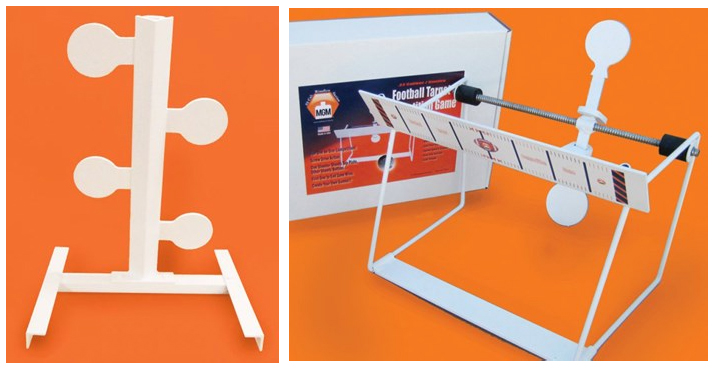 The MGM 22FFT Football Target ($132.87) is a spinning design intended for friendly competition. Shooters can pick either the top or bottom plate attached to a central post that, when hit, spins toward one of the two goals to win the game. Both systems worked very well when tested and they are tough enough for regular use. It should be noted that MGM says its rimfire targets must be at least 15 yards away from the shooter when using .22 handguns and no less than 50 yards away when shooting a rifle.

The Target Factory 
The Target Factory Complete Target Frame system ($129) is a folding 3' by 3' A-frame with brightly colored hanging bottles. The frame and bottles are constructed completely from low-density polyethylene. Unlike some target systems that are restricted to .22-cal., the Target Factory system can withstand hundreds of bullet strikes of any caliber. The system shown here arrives with a single frame, six bottles and the cord necessary to hang the bottles so that they will swing when struck. An additional row of bottles ($39.99) can be hung from the lower crossbar. The top of the frame is flat with a groove down the middle. Balance bottles along the top edge to knock them off one at a time or use the groove to balance clay pigeons. This is a terrific system for teaching new shooters or keeping the old salts entertained.
Laserlyte Laser Training Systems
Not all reactive targets require live ammunition for practical and enjoyable training exercises. Laserlyte is one of the top providers of laser training systems that can be safely used at home. The targets can be engaged using your preferred defensive revolver or pistol in dry-fire practice by installing a laser module (LT-PRE, $120.95) into the barrel. If you would rather not use a real handgun, Laserlyte offers blue polymer laser trainers with grips, sights and triggers that are modeled after popular pistols and revolvers. The company recently added a new trainer which is modeled after the Smith & Wesson J-Frame (LT-TT85, $149.95), shown below left, with a long, double-action trigger pull of 5.5 lbs.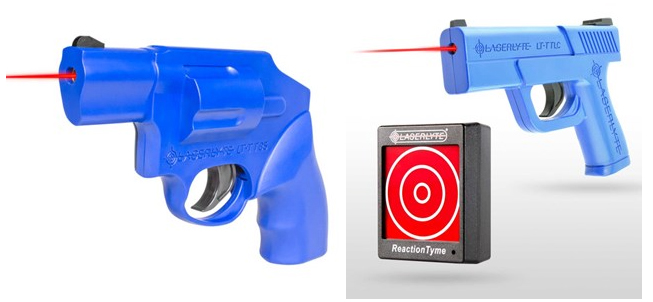 Interactive Laserlyte targets are available in various sizes and styles with, or without, a blue laser trainer included. The new Laser Reaction Tyme Kit (TLB-LRT, $219.95), shown above right, arrives with one target and a Compact blue pistol style trainer. This target operates in two modes to challenge the shooter's skills. The Reaction mode features random LED signals in intervals of three to seven seconds. The Training mode allows users to practice trigger control and accuracy with an always-on and ready-to-be-shot mode. When a hit is made, the target sounds two beeps and an LED flashes.

The Color Guard Trainer Target (TLB-CG, $153.95), below left, is designed to keep shooters on their toes by testing their situational awareness in low light situations. This target presents "friendly" and "enemy" targets by randomly alternating between four illuminated colors. Each color flashes quickly and requires the user to choose to shoot or not shoot. Shooting the target when it flashes blue or green scores a point on the integrated LED scoreboard. Shooting red or yellow subtracts a point.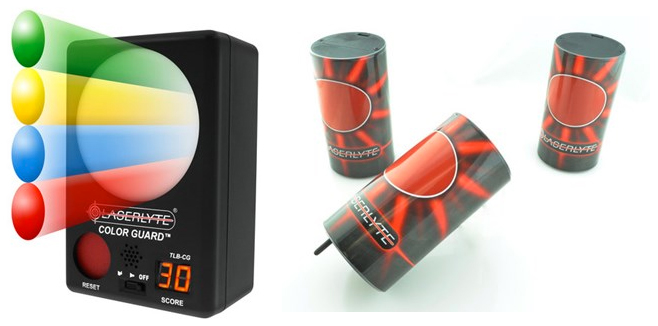 One of the most fun reactive targets Laserlyte offers is the Trainer Target Plinking Can (TLB-BWC, $115.95), above right. Sold in packs of three, these polymer cans jump and fall over when the front-facing sensor is struck by a laser. One 9V battery provides enough power for an individual can to be knocked over about 8,000 times. These targets can be used for indoor or outdoor practice.