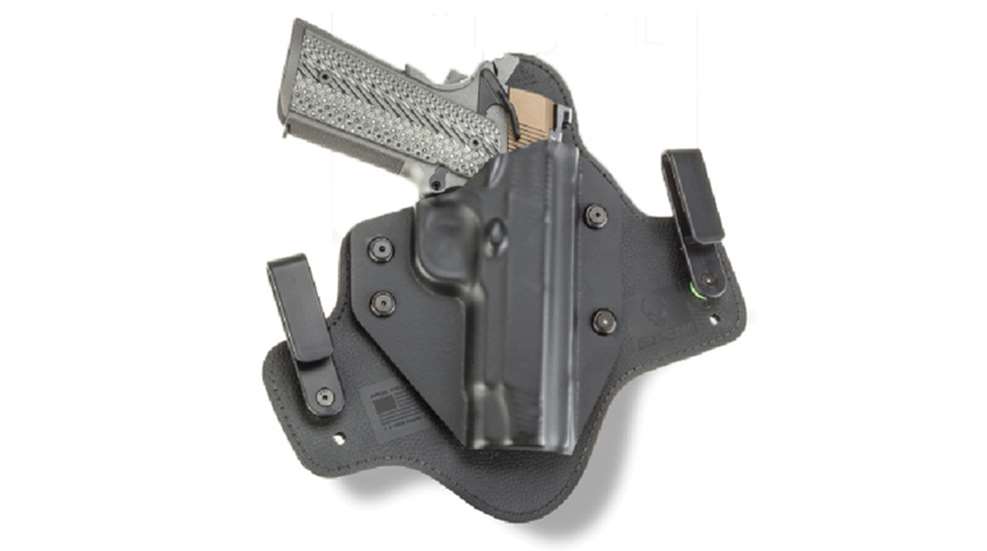 Alien Gear did not invent the winged IWB handgun holster, but the Idaho-based company's Cloak Tuck 3.0 has evolved the design in terms of construction, comfort and value. The key to the 3.0's success is its layered design, especially its spring steel core. The thin steel sheet flexes for comfortable wear while still providing a solid infrastructure that seats the gun firmly into the molded holster. A layer of ballistic nylon and a neoprene backer provide a cushion between the gun and its wearer, and a leather-like thermo elastomer face protects the gun and, thanks to its "alien skin" texturing, helps hold it in place. The holster shell itself is molded polymer—Boltaron—and exhibits clean lines and full coverage from the trigger guard to the muzzle and front sights.
Adjustment of the holster's cant, ride height and retention is facilitated by screws, nuts and spacers, and the clip attachment ports (three on each wing). In terms of belt attachment, the 3.0 is available with several options, from standard nylon belt clips to leather loops. As with other Alien Gear products, the Cloak Tuck 3.0 also comes with the company's triple guarantee that includes a 30-day buyback, shell trade-in and a warranty on parts.
In reviewing this holster's immediate predecessor, the Cloak Tuck 2.0, in an IWB "Round Up" earlier this year, I found it to be an excellent value, but in need of refinement in terms of fit and retention. I tested the 3.0 with three different guns—Springfield XD Sub-Compact (9 mm Luger, 24 ozs.), Kimber Super Carry Pro (.45 ACP, 28 ozs.) and Republic Forge Patriot (.38 Super, 40 ozs.)—over the course of two months, and was impressed by its comfort, concealment and ease of carry, regardless of the pistol's weight. By listening to critics and continuing to evolve, Alien Gear has developed a holster that not only boasts best-in-class value, but also offers first-tier performance. Price: $44. Contact Alien Gear Holsters, (208) 215-2046.