by
posted on April 6, 2015
Support NRA American Rifleman
DONATE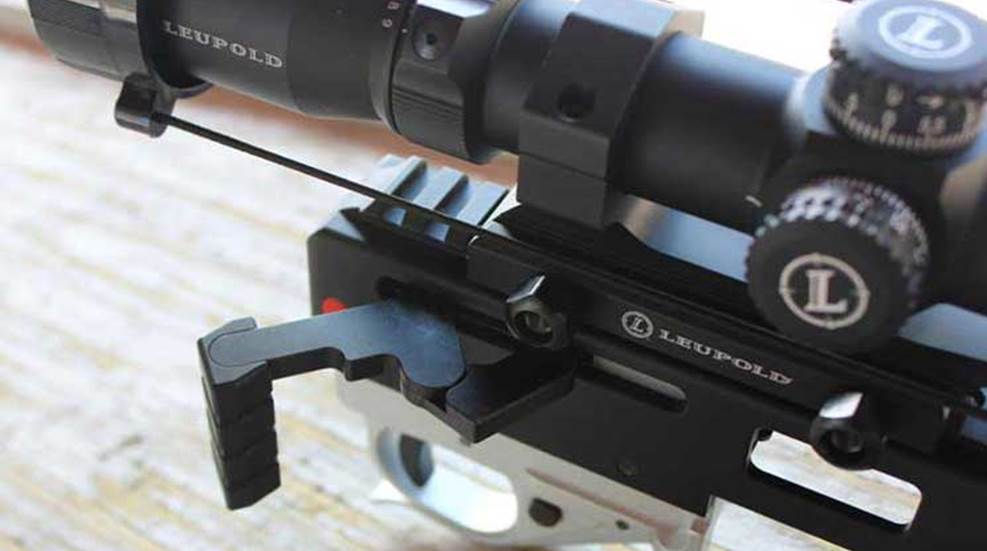 Last year, I had the opportunity to meet with Primary Weapons Systems (PWS) of Boise, Idaho, at a trade show. On display, along with the AR-pattern rifles and big-bore, long-range bolt-actions, was the company's unique T3 Summit Biathlon Style 10/22-compatible action. This complete receiver assembly caught my eye because of the unusual T-shaped bolt handle mounted on the right side.

The T3 Summit's cammed action is based on the quick and accurate straight-back-pull, straight-forward-push bolt design favored for Olympic biathlon competitions. Because the T-shaped bolt handle does not require the up-and-down motion of the traditional bolt action rifle, it can be cycled more quickly. The toggle-style bolt handle does not need to be grasped to be cycled. Instead, it is light enough to be flicked, or toggled if you prefer, back and forth with just the tips of the trigger and middle fingers (operators with longer fingers than mine can often cycle the bolt with just the trigger finger).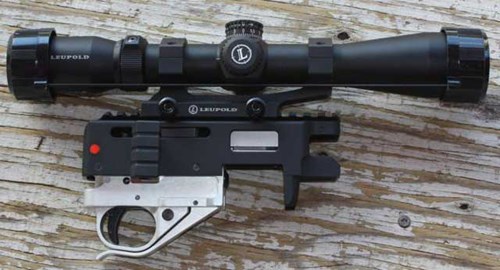 But no matter how fast a bolt action's cycle rate may be, it can't match the speed of a semi-auto, so there had to be more to the T3 Summit's story. The folks from PWS went on to explain that they started exploring a bolt-action in order to provide a 10/22 compatible platform that would run reliably with sound suppressors, sub-sonic ammunition, and inexpensive practice loads that may not cycle reliably in a semi-auto. It was an intriguing design, so I just had to give the T3 Summit action a test drive.  

The T3 Summit is shipped fully assembled and ready to use. The matte black receiver is topped with a milled-in 20 MOA Picatinny scope rail to accommodate a wide variety of optics. The T3 bolt is fitted with two extractors, instead of just one, for added reliability. It arrives with a v-block (barrel retainer), two hex-head v-block screws, a red polymer bolt stop buffer, a takedown screw, and a package of barrel shims. Remember that a 10/22-pattern receiver, like the lower receiver of an AR-15, is legally classified as a gun. This means that when the action is ordered it will be shipped directly to an FFL dealer of your choice. Once your FFL has it in stock, it will be necessary to provide the same paperwork and fees required for any other long gun transfer.

While waiting for the PWS action to arrive, I started researching the rest of the rifle's components. The trigger group selected was a Timney Triggers Ruger 1022 drop-in unit featuring a one-piece housing CNC machined from a 6061-T6 aircraft grade aluminum billet. The trigger, sear and hammer are constructed of wire EDM cut heat-treated steel. This trigger group is listed as having a 2 lb. 12 oz. trigger pull. The unit tested was slightly heavier at 2 lbs. 14 ozs. of pull but the extra two ounces did not detract from the trigger's crisp, clean break and short reset. These triggers are available in either black or silver housings with a variety of trigger shoe colors. A pair of receiver cross pins (used to hold the trigger group in place) will need to be purchased separately.

After reviewing several options, a Green Mountain Rifle Barrels Model 901962 Heavy Fluted Bull Barrel was chosen for this build. With a length of 17.5" and an external diameter of .920" at the chamber, this blued 4140 steel barrel has been button-rifled with a 1:16" twist rate and fitted with a tight Bentz chamber for optimum performance. The last 4" of barrel, including the target-crowned muzzle, has a diameter of 1.06" to act as a muzzle weight for improved stability. Both the muzzle weight and the length of the barrel have been deeply fluted.

If you are in the market for a 10/22 stock that is both comfortable to use and interesting to look at, then Revolution Stocks (a division of Keystone Sporting Arms) is a company that provides several unique options to choose from. One of their seven different 10/22 wood laminated stock offerings is the Talon. This model lends itself to bench-rest shooting with an ambidextrous grip shape, a raised cheek rest and a fore-end with a flattened base for increased stability when using a sand bag or rifle rest. Revolution offers several different color schemes, ranging from traditional browns to hot pinks. For this test, the vibrant Hornet Gray and Yellow laminate was selected.





The receiver assembly, trigger group, barrel and stock all fit together as expected without any sanding or gunsmithing required. The only tools needed were a set of hex keys and a screwdriver. Only one simple adjustment needed to be made. PWS recognizes that minute differences in other company's barrel chamber dimensions can cause feeding problems or keep the toggle bolt from closing properly. And so a set of metallic barrel shims are included with the T3 Summit action. The shims, which look like very thin washers, are placed between the receiver and barrel to slightly increase the chamber distance as needed. For this particular rifle build, three of the five shims were installed to provide the best barrel-to-bolt fit.

Fitted with a Leupold VX-R Patrol 3-9x40 Firedot TMR scope, using a Mark 2 IMS integral mounting system, the T3 Summit-based custom target rifle proved to be just about everything I hoped it would be at the shooting range. The Revolutions stock was comfortable to hold on and off the bench with just the right amount of height in the cheek piece for a clear view of the scope. The ambidextrous pistol grip allowed the shooting hand thumb to stay hooked in place while moving the bolt, which was fast and easy to cycle. Best of all, the rifle was accurate.

However, this particular rimfire build experienced failures to feed when using 25-round 10/22 magazines. I tried several brands, including Ruger BX-25, HCMAGS, Black Dog Machine, and Butler Creek Hotlips models. The magazines drooped, leaning forward, just enough to cause the tips of the bullets to catch on the rim of the chamber and not feed properly. Switching over to a factory Ruger 10-round rotary magazine caused the feeding problems to evaporate and so the testing continued with positive down-range results.  

The folks at Green Mountain noted that the Bentz chamber of their fluted barrel was optimized for Standard Velocity .22 Long Rifle target competition ammunition. In other words, the use of High Velocity, Hyper Velocity, Sub-Sonic, or bulk-box ammunition is not going to yield the same level of accuracy. With this in mind, the rifle was sighted in and formal bench-rest accuracy testing at 50 yards was conducted using Standard Velocity target rounds.

Using Opsgear Skills Targets to measure the five-shot groups fired for three different target loads, the rifle configuration favored CCI Green Tag 40-gr. lead round nose (LRN) target loads. This round produced the best single group of 0.51" and the best average of 0.67". Wolf Performance Ammunition 40-gr. LRN loads yielded a best single group of 0.79" with an average of 0.95", followed by Remington 22 Target 40-gr. LRN rounds with a best group of 0.79" and an average of 0.99".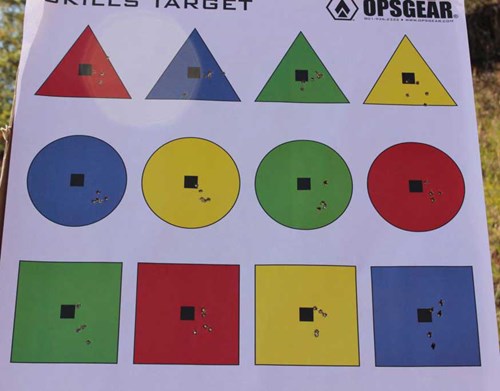 With the formal accuracy testing out of the way, it was time for some informal plinking to focus on the T3 Summit action's reliability. The rifle was fed at least a little bit of everything I could find. Bulk box loads, sub-sonic, high-velocity hunting hollow points, and so on. Using the 10-round magazine, everything the rifle was loaded with chambered, fired, and ejected properly. The only exception to this was a couple of bad primers, which are to be expected with affordable plinking ammunition.

So was building a bolt-action 10/22 worth it? Despite the 25-round magazine hang up, I'm going to give this project a thumbs-up. The Primary Weapons Systems T3 Summit Biathlon Style 10/22-compatible action is a real pleasure to work with. It successfully provides the accuracy of a bolt action with quick and easy cycling. Timney, Green Mountain, and Revolution Stocks also provided note worthy products that I'm looking forward to working with in the future.

But what about the feeding issues with the 25-round magazines? As I've met with several of the aftermarket 10/22 component providers around the country to discuss various at-home 10/22 builds, all of them have been careful to mention the possibility of compatibility issues. Each said that their proprietary parts are designed to be compatible within their own catalog set or with Ruger factory standard components. However, slight differences in tolerances and dimensions between various aftermarket bits and pieces can cause malfunctions.  

And so it was with informed consent that I mixed and matched high-quality components resulting in a target rifle that shoots beautifully, but not with 25-round magazines. With more time and tweaking I'm confident the magazine issue can be resolved. For now, I'll be satisfied to punch nickel and dime-sized groups ten rounds at a time.

As .22 Long Rifle ammunition shortages continue to linger, rimfire fans are forced to shoot the rimfire ammunition they can find, not what they would prefer. Having a bolt-action 10/22 like the T3 Summit that can run reliably with what's on hand seems like a wise investment. If you can lay hold of target-grade rounds, this action supports top-notch down range accuracy for precision shooting. For those enthusiasts who are not interested in building a rifle from scratch, Primary Weapons Systems offers a line of complete target grade T3 Summit rimfire rifles ready to go from the factory.

Custom Bolt-Action Target .22 Rifle Components:
Receiver Assembly: Primary Weapons Systems (PWS)
T3 Summit Biathlon Style 10/22 Compatible Action
MSRP: $399.95

Trigger Group: Timney Triggers
10/22 Complete Assembly, Silver Housing, Black Trigger
MSRP:  $229.95

Barrel: Green Mountain Rifle Barrel Co., Inc.
901962 Heavy Fluted Muzzle Weighted Barrel
MSRP:  $169.95

Stock: Revolution Premium Aftermarket Stocks
Talon Ruger 10/22, Hornet Gray & Yellow Laminate
MSRP:  179.99