Support NRA American Rifleman
DONATE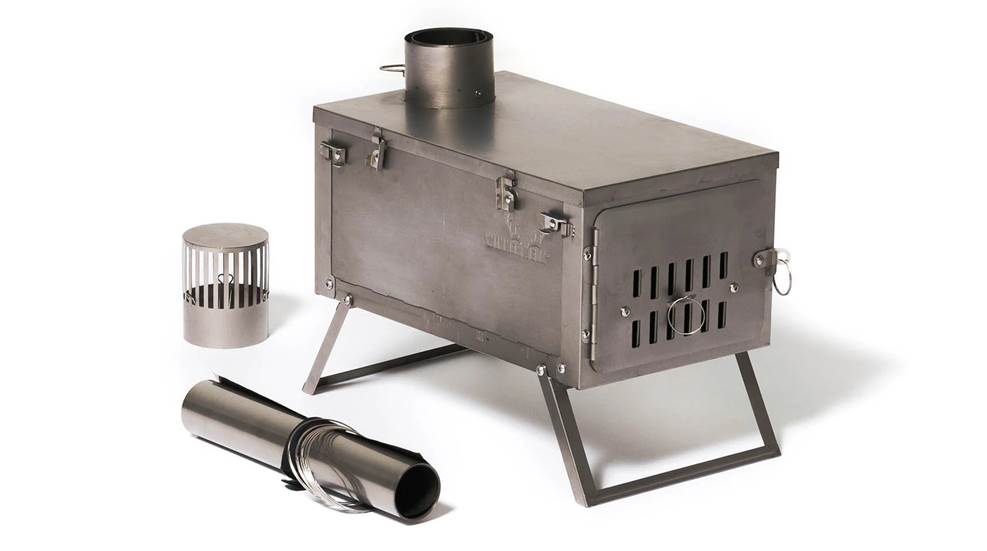 Winnerwell, in partnership with Dwell Outdoors LLC for U.S. distribution, has upgraded its line of stainless steel tent stoves to include a design that is lightweight with increased durability provided through the company's use of titanium.
The Winnerwell Fastfold Titanium Camping Stove is a zero-tools-required, super-light and -compact wood-burning wonder that comes in at only 4 lbs. Likely the most intriguing feature of the Fastfold Titanium Camping Stove, other than its lightweight construction, is the unit's ability to be packed down into a profile of only 15"x9"x2". Add in a few accessories such as a titanium flue pipe, spark arrestor and carry bag for a nominal weight increase—the flat-packed, sub-5-lb. package sells for $499.
Assembled in just minutes, the Fastfold-series stove contains a 900-cu.-in. firebox with 108"-long flue to burn seasoned firewood and effectively clear smoke from the unit. Winnerwell integrates an air dampener on the bottom side to control burn rate, and at the top end of the unit is a supplied arrestor to mitigate unintentional wildfires. Guy attachment points are given to help secure the vertical flue.
In addition to performing as tent-based camp stove, the Fastfold has the versatility to function as a lightweight fire pan in those areas ground-based fires are prohibited. It is important to note that only only are the shear-cut edges of the Fastfold unit are sharp, the included titanium flue pipe requires assembly prior to field use—users are instructed to shape the rolled titanium sheet material from its shipped position into a cylinder. Winnerwell notes the Fastfold Titanium Camping Stove should only be employed in well-ventilated areas and is not approved for residential use.
To learn more about the Winnerwell Fastfold Titanium Camping Stove, please visit winnerwell.us.